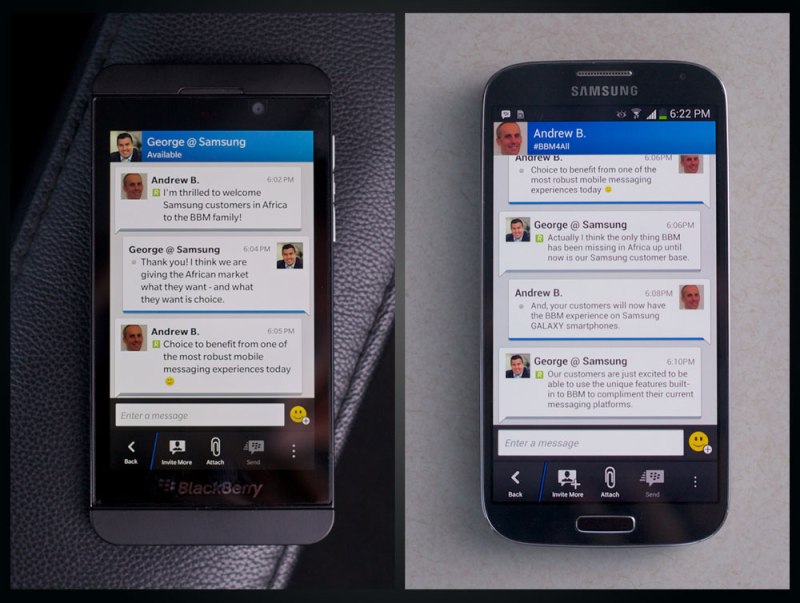 In sub-Saharan Africa, Samsung and BlackBerry are working together to promote BBM – BlackBerry's iconic mobile instant messaging platform. We're pleased to announce BBM is now available to all Samsung GALAXY smartphone owners in sub-Sahara Africa from the Samsung App store.
Samsung customers in sub-Sahara Africa will enjoy three-day exclusive period before BBM becomes available to other Android and iPhone customers around the world.
For Samsung customers in Africa, BBM will be part of Samsung Messaging Hub, complementing the range of propriety and third party messaging services that customers currently enjoy.
Now that Samsung GALAXY smartphone users in Africa have full access to the BBM social network, they are able to enjoy BBM chats, multi-person chats, BBM Groups and share photos and voice notes, as part of the BBM community.
Andrew Bocking, Executive Vice President for BBM at BlackBerry met virtually via BBM with George Ferreira, VP and COO of Samsung Electronics Africa, to discuss the launch of BBM on Samsung GALAXY smartphones in Africa. We've captured the conversation below for your reading pleasure:
---
AB: I'm thrilled to welcome Samsung customers in Africa to the BBM family!

GF: Thank you! I think we are giving the African market what they want – and what they want is choice.

AB: Choice to benefit from one of the best and most robust mobile messaging experiences today

GF: Actually I think the only thing BBM has been missing in Africa up until now is our Samsung customer base.

AB: And your customers will now benefit from the best and most robust mobile messaging experience on their Samsung GALAXY smartphone.

GF: Our customers are just excited to be able to use the unique features built-in to BBM to complement their current messaging platforms.

AB: As with the current 60 million users, I'm sure they will love the "D" and "R" notifications.

GF: Absolutely! And it gives more control?

AB: Customers can choose which contacts they'll connect with and how they share their information. Every BBM user has a unique PIN, so you don't have to share your phone number or email address in public.

GF: And what does it do for business users?

AB: We know many businesses love using BBM for collaboration. It can be a great business tool.

GF: You bet! I've just added BBM to my Samsung Messaging Hub.

AB: Talk to you soon George.
---
We hope you enjoyed this exclusive look into a BBM chat between executives at Samsung in Africa and BlackBerry. Now you can try BBM for yourself visit BBM.com now to download the app and connect with your friends for free.*
If you have questions for Andrew Bocking about the launch of BBM, please let us know in the comments and we'll work to get them answered for you. Who knows, maybe Andrew will even open a BBM Q&A some time soon.