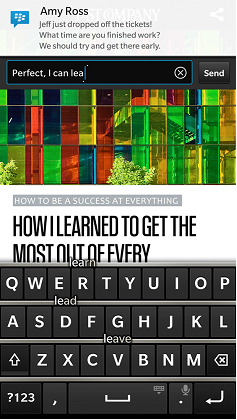 We've got some exciting news for BlackBerry 10 customers out there— today your favorite smartphone is getting even better with the release of BlackBerry 10.2 OS, which will available for download starting this week.
BlackBerry 10.2 OS introduces new features like BlackBerry Priority Hub, BlackBerry Natural Sound, and BBM now in any app that will help you be more productive and stay better connected when it counts. Plus, with hundreds of new refinements, BlackBerry 10.2 makes the things you do every day faster and easier. Here are just some of the new features you're going to love in BlackBerry 10.2:
BlackBerry 10.2 Highlights:
Priority Hub
Keep your important conversations closer than ever with the new Priority Hub. Always at your fingertips, Priority Hub learns what conversations are most important to you and automatically puts those messages at the top of your inbox, helping you to stay focused on the critical items. On top of that, the new attachment view helps you organize files and documents across your messaging accounts and within specific message threads.
BBM Video with Natural Sound
BBM Video has always allowed you to have a live face-to-face conversation with anyone, anywhere. Now, with Natural Sound, BBM Video and Voice conversations between BlackBerry 10 smartphones sound more natural and realistic. It's the next best thing to being in the same room. We're able to accomplish this because BlackBerry Natural Sound captures a wider sound spectrum, so you can hear subtle nuances that are lost in most cellular calls.
Instant Previews of BBM, SMS and Email from any app
Stay in the flow. BBM, SMS and E-mail messages now find you no matter what you are doing on your BlackBerry. See email, BBM and SMS message previews appear in any app – you can even respond to your BBM or SMS messages in any app or go to the BlackBerry Hub with a single swipe to respond to your email. Perfect for keeping the conversation going while you browse the web, watch a video, or use other apps. Of course, you can tailor these notifications to the way you work to ensure you're only notified as much as you want to be.
BlackBerry Keyboard
The smartphone keyboard that knows your next move just got even smarter. With personalized next word suggestion, auto-correction, and the distinctive BlackBerry keyboard layout, we've built this keyboard to help you have conversations with speed and accuracy. And on the BlackBerry Z10 and BlackBerry Z30, improved audio feedback with distinct tones for specific keys like backspace, and shift helps you type more confidently because you'll have more reassurance you've hit the right key.
Copy and Paste Enhancements
Copy and paste just got easier. Not only does BlackBerry 10.2 offer more precise cursor control, text selection is now easier. Once you select text, a pop up menu gives you editing options and direct sharing with BBM, Facebook and Twitter – so you can quickly copy, paste and share
Faster, Easier Sharing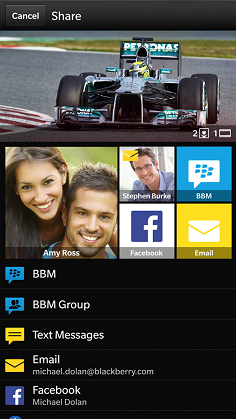 BlackBerry 10.2 learns how you share and who you share with, helping you reduce the number of steps and amount of time it takes to get your files, photos, or documents to where they need to go. Touching "share" in any app provides suggestions on who and how to share your files based on how you've shared in the past, and the feature only gets smarter the more you use it.
Lock Screen Notifications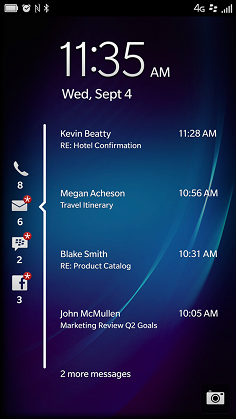 When the red light on your BlackBerry 10 smartphone is flashing, you don't have to unlock the phone to see your message. Notifications on the lock screen now let you take a peek at the latest email, text, BBM, or notification to see if that's the message you've been waiting for or one that can wait a while. You can customize which accounts appear on the lock screen and scroll over the icons to display the sender and subject line.
Reply Now
Reply Now lets you respond to incoming phone calls, even when it's not a good time to answer the phone. Easily send a response through BBM, SMS or email – choose from a list of standard automated responses or respond with a personalized note. Perfect for ensuring that important contacts are always given your attention.
Calendar Enhancements
BlackBerry Calendar now comes with an 'I'm running late' function so you can instantly let meeting participants know if you'll be late. You can even specify a new time in your notification. And, with a redesigned interface that makes adding an event easier, managing your time is simple.
BlackBerry 10.2 OS gives you a lot of new reasons to love your BlackBerry 10 smartphone, and we haven't even mentioned the updates to Docs to Go, a new BlackBerry Hub icon, camera enhancements—but the best way to experience all BlackBerry 10.2 has to offer is to try it for yourself. Remember to back up before updating
BlackBerry OS 10.2 is expected to start rolling out in the following regions pending carrier availability:
Africa: Starting this week
Asia Pacific: Starting this week
Canada: Starting this week
Europe: Starting this week
Latin America: Starting in November
Middle East: Starting this week
US: Starting this winter
How to update to BlackBerry v10.2
When the update becomes available on your carrier, here's how you can update for free:
To update your BlackBerry smartphone to BlackBerry 10.2 software, look for the alert in the notifications section of the BlackBerry Hub. You can also check for software updates through the System Settings menu and selecting Software Updates. The download will happen in the background, so your information remains safe and you can continue to use your smartphone as it downloads. As always, we recommend you make a current backup of your BlackBerry 10 smartphone. For more information on how to update your BlackBerry 10 smartphone, visit http://www.blackberry.com/update
Be sure to let us know what you think in the comments below.
*Not all carriers will be releasing this update.