Twitter v 10.2.2 is now available for download in the BlackBerry World storefront — 02/06/2014
---
The Holidays are an important time for communicating. Whether you're checking in with loved ones, or staying connected with friends around the globe, we've updated the Twitter app for BlackBerry 10 to make it that much better. Designed to be the best way to stay connected to Twitter on your BlackBerry 10 device, the Twitter app for BlackBerry 10 v10.2.2 comes packed with new features:
Twitter v 10.2.2 Highlights: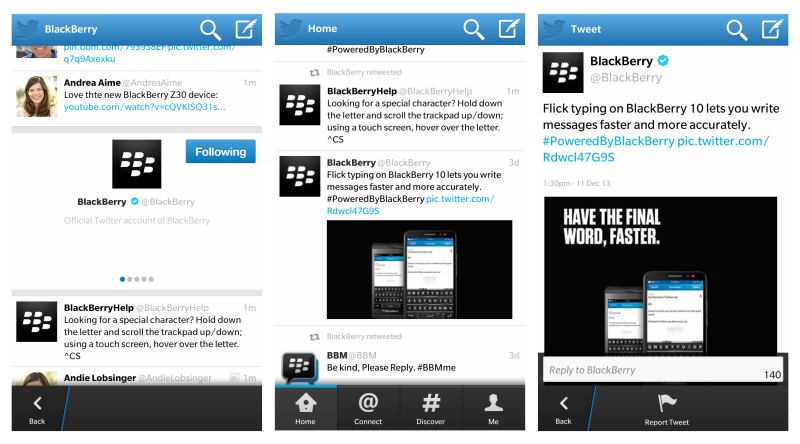 Home Timeline Photo Preview – Tweets with Twitter photos let you be part of the moment. Image thumbnails are now displayed on the Home timeline for all pic.twitter.com images – just tap the image to reveal the full screen version.
BBM™ Connected – If you love BBM and Twitter, you'll love this update. Now Tweet and update your BBM™ status at the same time.
Reply within Tweets – It's now easier to reply to Tweets with a built-in Tweet composer that appears when you tap to see details of a Tweet.
Improved Search – Now relevant accounts will appear in search after you enter your query.
Report spam or abuse by clicking on the Tweet details screen.
This release also features performance improvements to help you access your content faster.
Be sure to download Twitter for BlackBerry 10 and let us know what you think in the comments.
Twitter version 10.2.2 is available globally for handsets running BlackBerry 10 version 10.0 or higher.
*Please note that it can take up to 24 hours for releases of new app versions to appear on BlackBerry World.