A popular refrain ringing through the enterprise mobility community is that IT departments must evolve their mobile management approaches from device centric to app centric. The reasoning is that while mobile devices enable users to do their jobs at any time or from any location, the apps running on those smartphones and tablets are the engines that propel end-user productivity.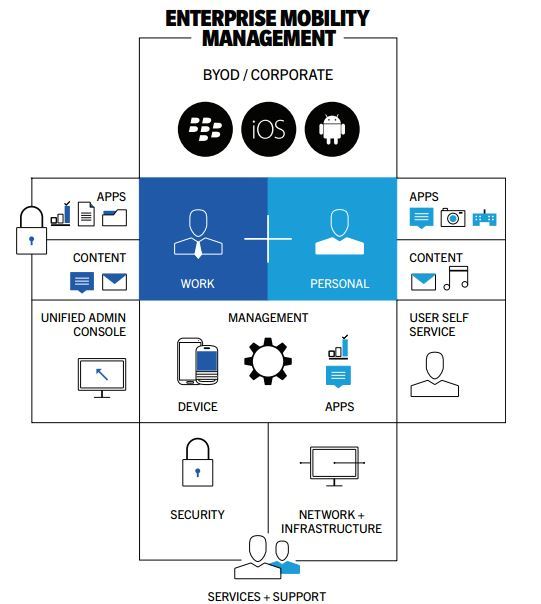 Elevating the Argument
While the logic is unquestionably sound, why not push it to the next level?
If employee productivity, which drives business productivity and profitability, is the ultimate aim of enterprise mobility, it only makes sense that the most efficient approach to EMM is one that's focused on the end user. In the end, only a user-centric EMM strategy will deliver the flexibility and focus required to wring the maximum value out of the mobilization of businesses and organizations.
Here's a few reasons why.
Workforce enablement, the prized objective of enterprise mobility, cannot be achieved with broad brushstrokes. Workforces of even mid-size organizations are marked by a diversity of roles.  Though it's impractical to create separate profiles for each employee – especially in large organizations — an effective EMM solution is one that allows for the application of policies with a fine brush. IT administrators must have tools that give them the latitude to maximize the productivity of nearly all end users by matching them with the devices, apps and network access policies most suitable to their roles.
No Win Situation
A user-centric approach to EMM also makes sense because it's aligned with the sensibilities of line of business (LOB) managers and, at some companies, even the CEO. Like it or not, as enterprise mobility increasingly impacts P&L, LOB leaders will have a greater say in shaping enterprise mobility strategy.  IT leaders who continue to operate as if their sole reason for being is to protect the network by restricting the number and diversity of devices and applications that access it will find themselves at odds with executive management. And given the bottom-line implications of workforce mobilization, it's a battle that IT can no longer win.
It follows, then, that a potentially painful byproduct of a user-centric approach to EMM is a shift in mindset of the IT department. At some point, IT workers will have to accept the fact that their job descriptions have been rewritten. They need to remove the friction from their relationship with end users. Adopting a user-centric approach to EMM, where a job well done is measured by end-user productivity gains, is a huge step toward that goal.
Next-Gen Enterprise Mobility
A user-centric approach to IT is also more suited to the next step in the evolution of enterprise mobility. Enterprises are beginning to transition, say researchers at IDC, away from an enterprise mobility phase defined by the impact of consumerization. The massive influx of consumer-oriented devices and applications into the enterprise has forced IT departments into a mostly reactive posture, focused almost exclusively on managing devices. The next phase of enterprise mobility evolution, following IDC's Mobility Maturity Model, will be focused on end-user productivity and driven by strategy, rather than reaction – the perfect prescription for a user-centric approach to EMM.
In the end, the recent uptake in calls for an application-focused approach to EMM is all well and good. With end-user productivity the principal objective of enterprise mobility, though, a user-centric approach will paint a much more compelling picture.