Limited BlackBerry Z3, Jakarta Edition available exclusively to Indonesian customers.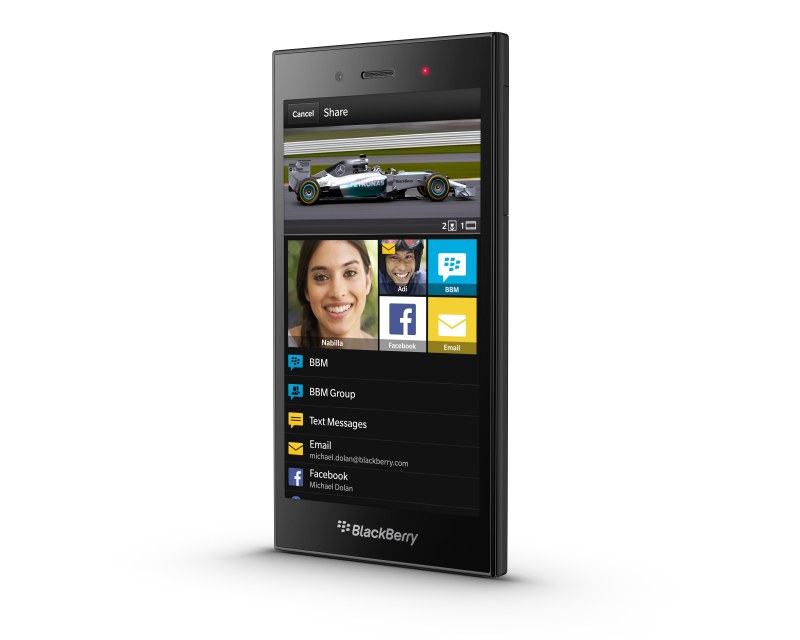 During Mobile World Congress (MWC), we announced our plans to launch the BlackBerry Z3 in Indonesia. Since that time, it's been one of our most popular posts on Inside BlackBerry and you've been waiting patiently for more information. Well, today in a press release, we announced that customers in Indonesia can now pre-order the BlackBerry Z3 smartphone through leading telecommunications operators in Indonesia, Indosat and XL! Keep reading for full details including pricing and key features.
Made for the next generation of BlackBerry customers in Indonesia, the stylish new BlackBerry Z3 is customized with local apps and content, features a modern design with a 5" display, long lasting battery and comes with BlackBerry 10 OS version 10.2.1.
In the press release, John Chen, Executive Chairman and CEO at BlackBerry had this to say:
"The BlackBerry Z3 was designed with our Indonesian customers in mind, to keep them productive and connected with family, friends and co-workers while on the move. Embodying all that BlackBerry 10 offers, the BlackBerry Z3 has a stylish, modern, all-touch design with exceptional productivity features and reliable communications."

---
BlackBerry Z3 features include:
BlackBerry Hub – The ever present BlackBerry Hub lets you access all your work and personal email, BBM text messages, social media updates and notifications in one place, with the ability to "peek" into the BlackBerry Hub from anywhere, so you're always only one swipe away from what matters to you. The Hub can be customized to identify priority messages and to filter the message list by various criteria that you can then activate with a simple pinch gesture.
BBM – BBM on the BlackBerry Z3 includes all the latest features of the popular mobile social network, customized for Indonesians. You get BBM voice and video chatting with Screen Share and support for BlackBerry Natural Sound, letting you hear nuances and variations in tone in a BBM Voice chat, and making the conversation sound like you're in the same room. BBM Channels features a variety of Indonesian channels as well as a package of BBM stickers that have been specially designed by an Indonesian artist.
BlackBerry Keyboard – The BlackBerry Keyboard learns what words you use and how you use them, then offers them up to you so you can type faster and more accurately. It gives you the best Bahasa Indonesia typing experience on a touchscreen, complete with multi-language support that lets you type in up to 3 different languages at the same time.
Time Shift & Story Maker – The BlackBerry Z3's astonishing Time Shift camera feature lets you capture a group shot where everyone is smiling with their eyes wide open. You can also use Story Maker to bring a collection of photos and videos together, along with music and effects, to produce an HD movie that you can instantly share on YouTube.
BlackBerry 10 Browser – The BlackBerry 10 browser sets the industry benchmark for HTML5 performance on smartphones, and is incredibly fast, with fluid and responsive scrolling and zooming. The browser includes many advanced features, supports multiple tabs, lets you browse sites privately, includes a reader mode, and integrates with the platform for easily sharing content. You can even save web pages for later viewing.
Instant Previews & Reply Now – Be more timely and responsive with Instant Previews that bring BBM, SMS and email message to you no matter what you are doing on your BlackBerry Z3. You can even reply to your BBM or SMS messages in any app, or swipe to the BlackBerry Hub to respond. If you get a phone call that you can't answer right way, you can instantly silence the call and send a Reply Now response through BBM, SMS or email to let the caller know you're busy.
Fast, Easy Sharing – The BlackBerry Z3 learns how you share and who you share with, helping you reduce the number of steps and amount of time it takes to get your files, photos, or documents to where they need to go. Touching "share" in any app provides suggestions on who and how to share your files based on who you've shared with in the past, and the feature only gets smarter the more you use it.
FM Radio – The new BlackBerry Z3 includes a built-in FM radio. You can listen to local FM stations, which does not require any network connection.
Pricing and Availability:
BlackBerry expects the device to be priced at IDR 2,199,000. The official unveiling of BlackBerry Z3 is scheduled to take place in Jakarta on May 13th, 2014. BlackBerry also announced today the availability of a limited edition model – the BlackBerry Z3, Jakarta Edition – which will be made available to Indosat and XL customers for a limited period. This model will feature the inscription "Jakarta" on the back of the device to commemorate the launch of the first BlackBerry smartphone built specifically for the Indonesia market.
Customers may pre-order BlackBerry Z3 from today.
For more information about the BlackBerry Z3, please visit www.blackberry.com/blackberryz3. Are you going to pre-order the new BlackBerry Z3? Let us know in the comments below.