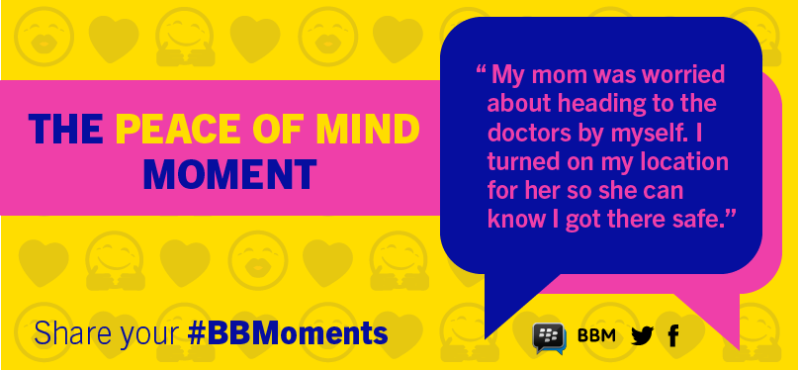 Since our #BBMoments blog post, we have heard a lot of great stories from you, and we're looking forward for more to come.
For our first feature story, we reached out to Felisha M to talk more about how she uses location sharing powered by Glympse. As most mothers do, Felisha's mom worries when she's travelling alone. Glympse allows her to put her mom's mind at ease. "I use a map app to tell me the time it takes for me to get there and I put on that amount of time on the Glympse timer," explains Felisha.
She adds, "I also use Glympse when I travel at night so my friends know where I'm at. New York City is big so it's always useful. I love it!"
We asked her if there were other BBM features she loves to use. Not surprisingly, BBM Stickers and emoticons were the answer, "My favorite BBM feature is the stickers! When emoticons can't express an emotion enough I use them instead…The emoticon I use the most is the smile who has his finger to his chin and he looks up like he is thinking. I can be sarcastic so it's perfect for me."
I couldn't agree more, Felisha! One of my favs.
To learn more about sharing your location powered by Glympse, check out this article.
We want to hear your #BBMoments. Tweet @BBM with the hashtag and we'll select the funniest/most interesting/romantic/productive for the next great feature.