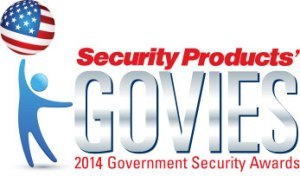 This week, Security Products magazine – a media outlet for security professionals – recognized BlackBerry's strength and expertise in providing secure mobile solutions for the public sector with two Govies Government Security Awards. BlackBerry was honored in the categories of Data Security and Access Control for BlackBerry Enterprise Service 10 (BES10) and Secure Work Space for iOS and Android respectively.
The Govies honor companies for providing outstanding security products and solutions to federal, state and local governments in categories critical to security executives and decision makers. BlackBerry has been in the business of protecting governments' mobile communications for more than a decade, and these awards showcase our ability to meet the demands of organizations with the highest security demands. We take great pride in the fact that the public sector trusts us for secure mobile technology – including all seven of the G7 governments and 10 out of 10 of the largest global enterprises in each of the pharmaceutical, law firm and automotive industries.
The Govies recognition complements other recent security accomplishments in the government space. In March, Secure Work Space for iOS and Android became Federal Information Processing Standard (FIPS) 140-2 certified. This means security-conscious organizations, including U.S. and Canadian government agencies, can confidently separate sensitive corporate data from personal content. Immediately following the FIPS certification, BlackBerry 10 became the first and only mobility solution to earn the Defense Information Systems Agency's (DISA) coveted Full Operational Capability (FOC) designation to run on U.S. Department of Defense Networks.
(As of February 2015, BlackBerry holds 70+ security certifications and approvals from governments.)
For more than 20 years, security has been a core strength for BlackBerry. The Govies awards are another great testament that whether customers need to manage an open, BYOD environment – supported with Secure Work Space for iOS and Android – or a strict deployment of corporate liable devices such as those found in government, they can trust BlackBerry to meet their needs.
Give the winning teams a much-deserved shout out in the comments!