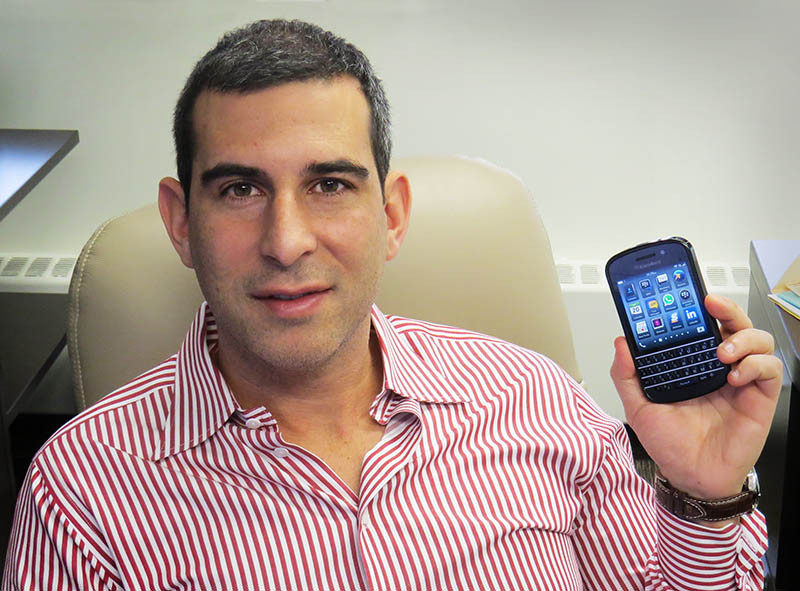 We're now three interviews in, and we've spoken to three different professionals who've all chosen very different career paths but all demand nothing but the best from their cell phones. If there is any one thing that we've learned from this project so far, it's that productivity is career-agnostic. Case in point, today's interview is with Mr. Isaac Ziskind, personal injury lawyer at a Toronto-based law firm. When he isn't managing several files at once, Isaac is all-in #TeamBlackBerry, so we caught up with him at his North Toronto office to discuss why, despite the options out there, he stays true to his BlackBerry device.
---

CH: Isaac, thank you kindly for taking the time to talk to me!
IZ: Of course, my pleasure!
CH: So, with all the options available, can you answer the daunting question: Why BlackBerry?
IZ: Very easy, I'll give my top six reasons

Layout of BlackBerry 10 and ease of retrieving multiple emails.
Ability to manage my folders within my email client (Microsoft Outlook), while seeing it on the BlackBerry in pretty much real-time.
The BlackBerry Hub is a huge benefit, for me.
The keyboard is second to none, solely because of the amount of emails I need to respond to in a day — more than 150.
BlackBerry 10 bridges the gaps in what I need from my phone. Really can't see myself using anything else again.
Size, battery life, design and fit.
CH: What is it about BlackBerry 10 that allows you to be productive?
IZ: How quickly I can respond to emails. The ability I have to view documents on the go (zooming in and such). Multi-tasking is unreal. Even during calls I can easily multi-task.
CH: What apps do you use to stay focused?
IZ: I don't really use apps at work aside from what is already built-in. My calendar, the BlackBerry Hub, LinkedIn and browser are my core apps. Oh, and BBM, of course. But I do know that the majority of apps I would use outside of work will run on BlackBerry 10, which is great.
CH: On average, how many emails do you get a day? Does the BlackBerry Hub help you keep track of them?
IZ: Again, I get about 150-300 emails daily, so I need a messaging powerhouse. And yes, the BlackBerry Z30 helps me manage them because I have it all organized and separated. I only have one caveat, as mundane as it sounds, is that it should be easier to change my signature. Other than that, working in a secure and confidential environment, I enjoy the piece of mind that data is getting delivered safely, securely and the moment I need it.
CH: How do you measure productivity? — Or how do you know you've operated at peak efficiency?
IZ: When I can leave the office with a clear head, I know I've gotten work done. Happens at least four days a week. I'm in the office for a full work day . . about nine hours, for me. I don't really take lunches and I work from home a lot. That's why I love using BlackBerry…. I am always go-go-go. When I am in court I can stay on top of things so I don't feel lost after a day out of the office.
CH: Aside from greeting your children, of course, what's the first thing you do when you wake up?
IZ: Check my emails, brush my teeth, kiss my kids; and of course, breakfast! I've got to stay powered for the full day, which reminds me. . . . the battery life on the BlackBerry Z30 keeps me going all day, even if I do skip breakfast.
CH: Any words of advice to aspiring business owners?
IZ: Starting your own business is like taking a leap of faith…. You just need to do it and hope you land safely. Don't be afraid to take the leap. You're only going to see rewards if you plan ahead, focus on your landing and take the leap.
That wraps up this session, keep following the BlackBerry 10 challenge, read our previous entries and leave us a comment about how you're using BlackBerry solutions to stay productive.
---
Corey Herscu is a paid contributor to Inside BlackBerry and has been compensated for his work on the program. BlackBerry provided participants with devices.