Introducing Twitter v10.3 for BlackBerry 10
If you're using a BlackBerry 10 device and love spending time on Twitter, we've got a nice treat for you to kick off the month of May. That's right, an update to the Twitter app for BlackBerry 10 has arrived. With it comes exciting new features and enhancements that allow you to connect, express yourself, and discover what's happening.
For me, Twitter is always one of my favorite ways to stay on top interests that I love. I use it to connect with people and get unfiltered access and unique behind-the-scenes perspectives. I share photos, videos and comments with my followers right from my BlackBerry Z30. I also am always among the first to know as I discover what's happening and get real-time stories, conversations, ideas and inspiration live in my timeline.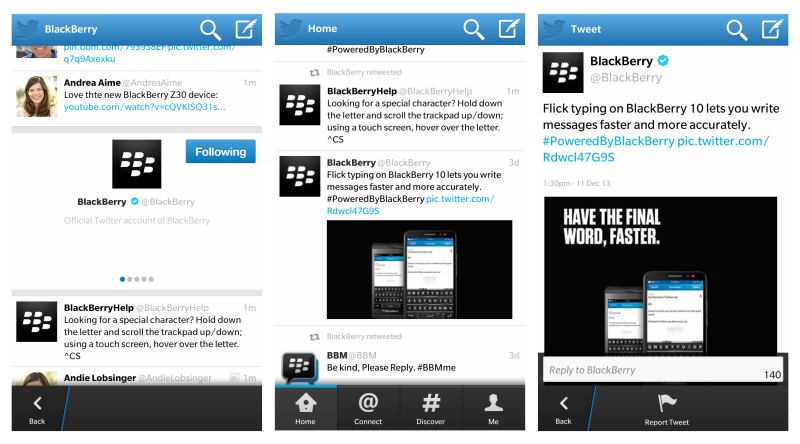 What's new in Twitter v10.3 for BlackBerry 10:
Draft Tweet support so you can save that spur-of-the-moment thought for later if you get distracted.
Swipeable Timeline to 'Activity' and 'Discover' tabs for quicker access to content
Multiple photo enhancements – Photos In Direct Message, toggle pictures on/off in the home timeline, and retake picture option in case that magic moment was less than perfect.
Age gating – updating with a tool to verify a fellow user's age when following accounts that require age gating
This release also features performance improvements to help you access your content faster.
Be sure to download Twitter for BlackBerry 10 for free and let us know what you think in the comments.
---
Twitter version 10.3 is available globally for handsets running BlackBerry 10 version 10.0 or higher.
*Please note that it can take up to 24 hours for releases of new app versions to appear on BlackBerry World.