A couple of weeks ago when we launched our latest BBM update for iPhone and Android devices we said we had a special release up our sleeves for BlackBerry users.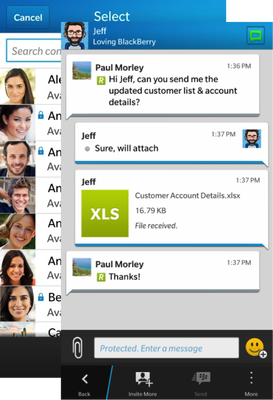 Well, today's the day – we have new versions of BBM coming to BlackBerry World for BlackBerry 10 and BBOS smartphones. Let's take a quick look at what's in store.
BBM Enterprise
We're proud to announce the availability of BBM Enterprise today, (formerly known as BBM Protected) ahead of schedule. BBM Enterprise is a new service designed for our security-conscious enterprise customers. BBM Enterprise adds an additional layer of security to the BBM security model for added protection of BBM conversations between employees.
We know you have lots of questions about BBM Enterprise and the eBBM Suite. Head on over to BBM Enterprise for more information.
---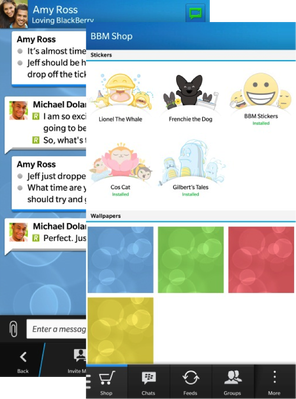 Chat wallpapers – now available in BBM Shop
We've heard you asking for more ways to personalize the BBM experience and today, we're excited to introduce a new feature which will help you customize you BBM chats. Introducing chat wallpapers! Chat wallpapers will be available to download from the BBM Shop giving you a way to add some colour to your BBM Chats.
---
16 new emoticons
We know BBM users love their emoticons – in fact they use tens of millions in BBM chats each and every day! This release introduces 16 new emoticons that include many suggestions from our BBM users collected through Facebook, Twitter, our BBM Channel and right here on IBB.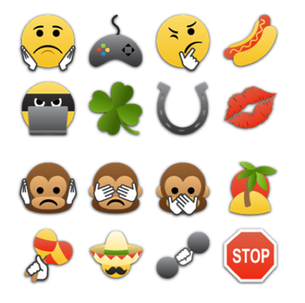 Improved experience for adding new BBM contacts by email
This release also makes it easier to add new BBM contacts through email. Today, it's a somewhat cumbersome and complicated process. This new release will simplify the process so that when you receive a BBM invite by email, all you have to do is click the link and presto, you're BBM contacts. No need to send a PIN invite back.
Updates tab has been re-named 'Feeds'
We've also re-named what you know today as the 'Updates' tab. We've changed the name to 'Feeds' to better represent what you find there – the latest statuses and profile photos from your BBM contacts and the newest posts from the BBM Channels you follow.
Increased file transfer limit for BBOS users
Today, we increase maximum attachment size to 16MB for BBM users on BBOS devices. This will allow BBM users on BBOS devices to send longer videos, larger files and bigger photos.
As I mentioned earlier, BlackBerry is releasing these new BBM features at YOUR requests. We're always trying to listen to our users. So let us know what you think about these new features and what else you're looking for!