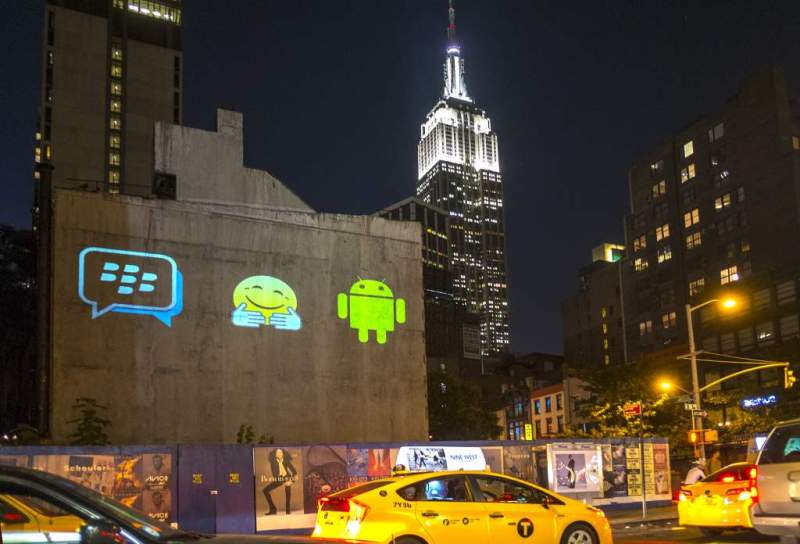 It has been a banner year for messaging apps. With BBM now available cross platform on Android, iOS, BlackBerry and soon Windows Phone I'd like to take a look at why you should consider it as your app of choice when it comes to keeping in touch.
A recent article in the New York Times highlights alternatives to traditional SMS text messaging, which lags in features and, depending on where you live, can be very expensive. As the pioneer of free data-based messaging, BBM not only has those features but is the only major platform that can confirm your beloved messages have been sent, delivered and, most importantly, read. Even if you end up switching phones or platforms your BBM messages will be delivered when you sign in to your existing BBM account on a new device. That's unlike Apple's iMessage, which is the subject of a lawsuit over messages it failed to deliver to Android users.
That's why both the New York Times and CNET suggest that you should give BBM a try:
"There are too many alternative messaging systems now to keep using iMessage," writes New York Times columnist Molly Wood. "… try BBM — formerly known as BlackBerry Messenger — whose fans are devoted and convinced of its unshakeable security. BBM can do everything iMessage can do, but without ever touching your text messages."
During its World-Wide Developer Conference (WWDC) yesterday, Apple didn't address iMessage's delivery issues, though it announced a few new features such as cross-platform voice chat and location-sharing that publications such as Gizmodo Australia noted already existed in BBM.
Also, read some of the #BBMoments shared by our large and devoted fan base every week.
BBM Groups — going beyond group chat
If you're still not convinced, consider that BBM has advanced group collaboration that is perfect for small businesses, clubs, families and sports teams. You can share calendars, photos, files and tasks. My adult softball team uses BBM to connect. We have a calendar set up with every game that syncs to every player's phone. A group chat lets us work on our strategy on game day – and see who will be absent. We use the lists feature to coordinate who's responsible for bringing the cooler of post-game beverages.
Location sharing powered by Glympse integration
As I noted earlier, BBM already offers this very helpful location-sharing feature. Essentially, with BBM you can share your location at any time with another contact – this will allow them to visually see where you are on a map for a set amount of time. It also plots out your path on a map. I use Glympse with my wife, we share a car – so she can see when I leave the office and where I am on my commute to pick her up. It takes the guesswork out of "I'm on my way, be there soon" moments.
BBM Stickers — enhanced emoticons to get your point across
These emoticons are guaranteed to get a reaction. You can creatively integrate a BBM sticker into a chat when having fun. I use the massive 'Thumbs Up' and the huge 'Hug' daily. With more and more sticker packs from artists and brands coming each month, it's easy to get hooked on sending these digital stickers.
Connect with brands and personalities on BBM Channels
BBM Channels is a unique way for you to connect with some of your favorite brands.
Security — For enterprise peace of mind
Security and privacy are part of the DNA of BBM. When it comes to security, BBM uses several layers of encryption to secure BBM messages today. TLS encryption is used to secure the connection between the device and server. This protects messages against eavesdropping and manipulation. And through that secure pipe we further secure BBM messages with a triple DES BBM scrambling key. So you have a secure message flowing through a secure pipe. Plus, with the "ultra-secure" (Engadget's words) BBM Enterprise (formerly known as BBM Protected) launching next month we add yet another level of encryption. Messages sent between BBM Enterprise users are encrypted using a public / private encryption key pair unique to those two users and controlled by the enterprise. BBM Enterprise will be the only secure instant messaging service to use a FIPS 140-2 validated cryptographic library meaning that it has met a series of strict U.S. government requirements.*
Do you use BBM? Let us (and our readers) know how with #BBMoments in social media and in the comments.
---
*Feature initially supported on BlackBerry OS devices; available on BlackBerry 10 devices in Fall 2014. Source: List of Validated FIPS 140-1 and FIPS 140-2 Cryptographic Modules at http://csrc.nist.gov/groups/STM/cmvp/documents/140-1/140val-all.htm as of May 28, 2014. For more information on the National Institute of Standards and Technology's Cryptographic Module Validation Program (CMVP), including FIPS 140-1 and FIPS 140-2 conformance claims that are used by some vendors that fall short of indicating NIST validation, see the FAQ document at http://csrc.nist.gov/groups/STM/cmvp/documents/CMVPFAQ.pdf ).
As of February 2015, BlackBerry holds 70+ security certifications and approvals from governments.