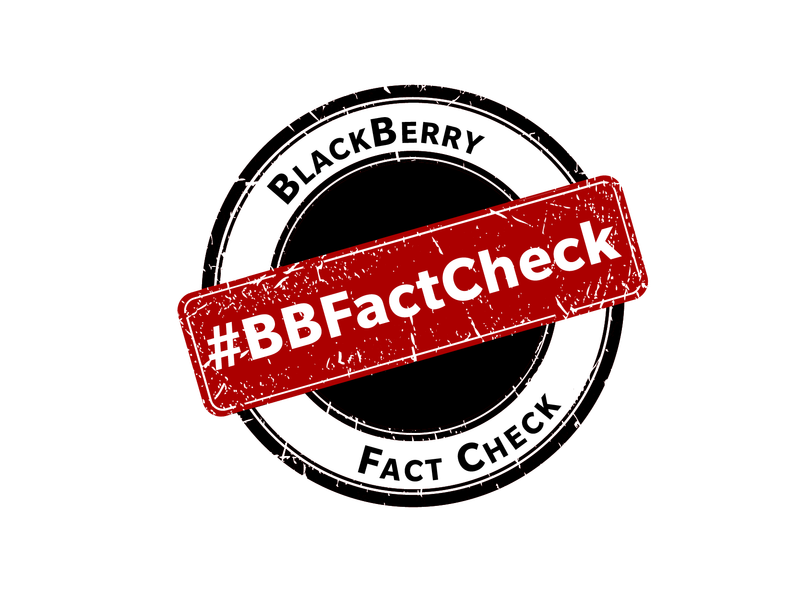 BlackBerry has been in the limelight for many reasons, with people talking about everything from the unmatched reputation of our security to the latest device rumors to our vision for the Internet of Things. We expect this; we know we're one of the most watched brands out there and our transformation is on public display.
As we've been working through this transition, there have been many vocal voices from competitors trying to incite fear, uncertainty and doubt about BlackBerry. In doing so, sensationalized reports surrounding our viability and misperceptions about our product portfolio have crowded the airwaves.
Given this environment, we must fight back. And BlackBerry's best offense is to present the facts.
Today we are launching the BlackBerry Fact Check Portal on the Inside BlackBerry Blog, a place for us to hold our competitors accountable for what they say, when what they say is wrong. We'll provide evidence that BlackBerry continues to be a leader in mobile, and we'll expose "smoke and mirrors" marketing tactics by competitors.
This Portal will be your one-stop reference for all things #BBFactCheck. We'll also bring you content that you can't find anywhere else and highlight the news, insights and stats that you can't miss. From mobility management to messaging, devices to security, we will make sure that you get the real story.
The BlackBerry Fact Check Portal is a two-way platform – so if you see a work of fiction from one of our competitors, we want to hear about it. Tell us about it here and make sure you frequent the Portal for the latest in our fight for the facts.