Things continue to get better at BlackBerry, shown in the strong earnings report released on Thursday, detailing our Q1 2015 financials.
Besides reporting a $23 million profit, our total cash, cash equivalents, short-term and long-term investments grew 16% ($429 million) to $3.1 billion, up from $2.7 billion at the end of the previous quarter.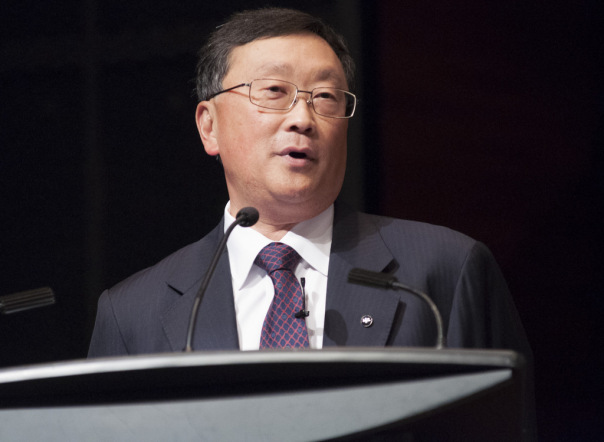 CEO John Chen speaking at shareholder's annual general meeting on Thursday. Credit: Donny Halliwell
"With a Strong Earnings Report, BlackBerry Shows Signs of Stabilizing," read the New York Times headline. "The results were a notable improvement over recent quarters, and shares in BlackBerry rose more than 11 percent by early afternoon," they said.
As reported on Financial Post, Colin Gillis, a BGC Analyst, said, "The short trade is over in this name for now … They've got enough liquidity, (and) they've given us clear profitability targets."
Operating expenses have been reduced by 57% year over year and 13% quarter over quarter, making BlackBerry more nimble and better able to respond to changes in the market.
CNET said, "CEO John Chen's efforts are having a positive effect," while ZDNet wrote "BlackBerry is in the midst of turning from hardware to services, and the restructuring appears to be fruitful."
Yahoo Finance: "Chen has laid out a credible game plan for a recovery while removing costs and reducing risk by outsourcing some manufacturing."
"Chen should be congratulated for accomplishing what Palm was unable to do: transition its business into something sustainable," said Mashable's Christina Warren. "Even if that means the resulting company is smaller and more focused, at least BlackBerry is showing signs of staying in business."
Wall Street analysts are also bullish. On Barrons.com, Evercore analyst Mark McKechie said of BlackBerry, "[The] turnaround efforts have been extraordinary."
Barron's also quoted RBC Capital Markets's Mark Sue, who revised his price target upward by a dollar: "BlackBerry's making progress in its turnaround and the path to cash-flow break-even looks within reach. Service declines are slowing, handsets are nearly profitable, a new round of hardware is about to be launched, and enterprises are giving BlackBerry a chance."
Other Twitterverse-based reaction:
Woo! $BBRY Climbs over 12% pre market in midst of Q&A on earnings call Go Johnny! #BlackBerry – make way…this mighty ship's turning around

— Anne Kiteley (@AnneKiteley) June 19, 2014
Everybody loves a comeback story.