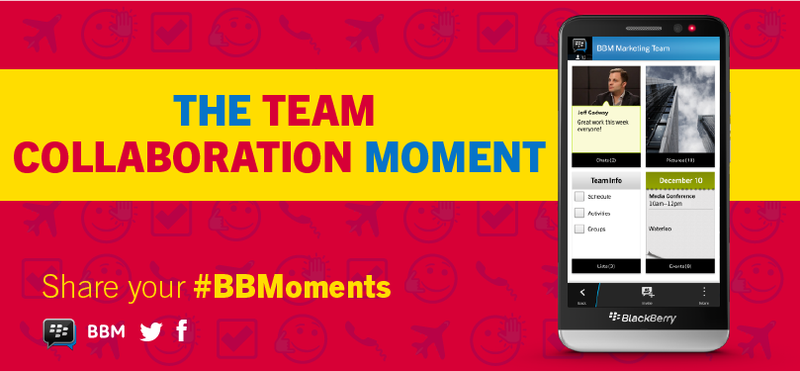 My BBM moment is simple – it's all day, every day. BBM is at the heart of how we keep the BBM team at BlackBerry running. The BBM team at BlackBerry covers the world! We have engineers, developers, business development and marketing people across the globe from here in Waterloo to our nation's capital in Ottawa, from sunny Miami to bustling Singapore and from our offices in the UK to the East Bay of California. With a global team focused on a single goal – to make BBM a leading world class IM service – communication and collaboration is paramount.
BBM Groups help us break down the barriers posed by distance and time. Because our team spans the globe, the 'BBM Marketing Team' BBM Group is active nearly 24 hours a day 7 days a week. We use the group chats to talk about successes and share ideas. The shared group calendar helps us to track all our marketing programs globally. And the lists function lets us assign tasks to the team as we plan for our software releases. We share photos of the campaigns that we've rolled out – like the new in-store merchandising we've added to the BlackBerry Shop in Dubai to feature stickers and the BBM Shop.
BBM Voice is perfect for a global team like ours because it allows us to make voice calls anywhere in the world at the touch of a button. I was recently using BBM to chat with my marketing counterpart in Singapore about a BBM program we were working for the BlackBerry Z3 launch in Indonesia. Instead of setting up a conference bridge with local dial in numbers, we turned our BBM chat in to a BBM Voice call. And because we were both on Wifi at our offices, the call was free too!
Location Sharing powered by Glympse – The team has attended a number of industry trade shows like the New Media Expo and CES in Las Vegas. These shows give us a great opportunity to tell the story of BBM and recruit new brands to join the BBM Channels community. When you're in a busy city like Las Vegas and have a crazy schedule like you do at CES it's easy to get split up from your team. Instead of giving some kind of vague directions, we use Glympse to share our exact location. Makes it easy to meet up in a city you don't know well!
Privacy and the PIN – I love talking to our customers. I love to hear about how they're using BBM, what they love, and what they want to see improved. Often times I'll add customers who reach out to me on Twitter, or Facebook to my BBM contact list because it's the fastest way to chat live. With that said, I don't want to give out my phone number or my personal email address in order to become contacts – that information is reserved for my friends, family and colleagues. So I give out my PIN instead!
This is just a sampling of the ways that the BBM team uses BBM each and every day!