I was in Jakarta recently, and when I was driving on the freeway from the airport, I saw several billboards advertising handsets from tier two and three manufacturers. Each billboard advertised that the featured device was "BBM ready." In the Indonesian market, being BBM ready is a must-have.
But more important, BBM is no longer synonymous with "BlackBerry." BlackBerry used to refer to the device, the operating system and the messaging app. And BBM was only available on a BlackBerry handset running BlackBerry OS. Not anymore.
BBM is going cross-platform. We're opening up the BlackBerry ecosystem to other players, other operating systems. Earlier this year, we released BBM apps for iOS and Android. In Indonesia, a market where we have over 34 million mobile active users on BBM, more than half use non-BlackBerry devices.
Next up is BBM for Windows Phone, coming next weekavailable today. When we announced the private beta a few weeks ago, all 10,000 testing slots were taken within 24 hours. The excitement is there. The numbers are there. The momentum is there.
Going cross-platform is all about scale—and we're not done yet. Stay tuned for more announcements in this space in the coming months.
BBM for Windows Phone
The new app (see screenshots below) leverages the clean, modern look and feel of the Windows Phone interface. As with the iOS and Android apps, this version of BBM 2.0 keeps the process of signing up, signing in and adding contacts simple and streamlined.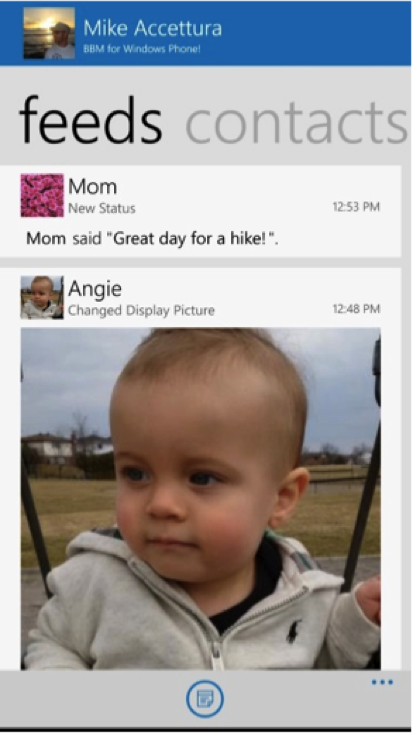 The main interface has all the essentials: contacts, chats and feeds. Contacts list both your individual contacts and any Groups you belong to. Chat lets you connect one-on-one, with multiple people, or with a BBM Group, sending text, photos, voice notes or contacts. Feeds let you and your contacts to keep up with each other's status updates and profile photos.
In the coming months, we'll add more great BBM features, including stickers, BBM Voice, Channels and location sharing.
Early feedback is positive from the public, the press and beta testers. We're seeing a lot of excitement and enthusiasm—and restlessness for the official release. The beta went live on July 10. We released an update with bug fixes and other improvements July 22.
Why Cross-Platform?
Taking BBM to other platforms is an important move for BlackBerry. Sure, it's an invitation to former users to come back. We know that people love BBM, but may have stopped using it in recent years because they couldn't use it on other handsets. We'd love to have them back.
But the bigger story is that cross-platform mobile messaging apps are big and getting bigger. That's in part because they're competing with—and winning against—SMS services.
Mobile messaging sends your data over the Internet, providing free (or nearly-free) chats with no limits. SMS travels through cellular networks, is tied to your phone plans, and costs money based on how many you send. If you're chatting internationally, mobile messaging wins again, making it simple and either free or close to it. International SMS is expensive and can be unreliable due to carrier platform incompatibility. As an added bonus, many messaging apps will work on whichever device you happen to be using, popping up on your phone, tablet, laptop and desktop. SMS, of course, requires a device that's connected to a mobile network.
Going cross-platform also opens up BBM to new possibilities. As I mentioned in my last post, messaging is becoming the #1 way to interface with the new economic ecosystem.
BlackBerry can leverage cross-platform messaging to offer more valuable services through BBM. Just last month, we launched BBM Enterprise (formerly known as BBM Protected), which provides an extra layer of encryption for our enterprise users, so employees in regulated and security-conscious industries can experience the productivity benefits of mobile chat. BBM Enterprise is the first solution in the eBBM Suite, a family of products and services specifically for enterprise customers. We have more on the roadmap for consumers as well.
This new economic ecosystem is mobile and social. It's also global and diverse. No single company will control it. Consumers and businesses have choices, and they're making purchasing and downloading decisions based on what they need. BlackBerry can't be everything to every one of them, but we'd like to offer the best possible solutions and products that both build on our core strengths of security, privacy and innovation—and also take us into the future.