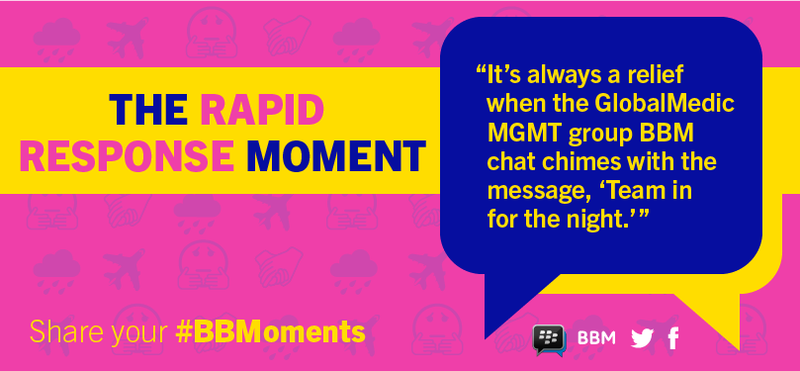 Our #BBMoments continue this week with a great story straight from the team at GlobalMedic, an operational arm of the David McAntony Gibson Foundation, a registered Canadian charity, who use BlackBerry and BBM to stay in touch amidst chaos and disaster:
BBM is our life line in the field and helps save the lives of families affected by disasters. When a disaster strikes, we respond immediately. Our teams consist of professional rescuers (paramedics, police officers and firefighters).
In the majority of disaster situations, local communication is often down. For safety, security and logistics, we need to communicate. BBM is what keeps us in touch when everything else has been knocked offline. Over the years, we have used various models of the Pearl, Curve, Bold, Z10 and Q10. GlobalMedic has used over 50 Blackberries in the field. Some are battered, many are older. Each has a story to tell of the lives it affected.
We first used BBM in Haiti during our response to the horrific earthquake in 2010. Port-au-Prince and surrounding areas had been largely reduced to rubble. People needed help. GlobalMedic had multiple teams on the ground providing help. Our massive response needed strict coordination. BBM made this happen. Through the group messenger, our teams kept in touch with one another, as well as our home base back in Toronto. The result? Our teams were able to move around life-saving water purification units, essential medicines and field hospitals to those that needed the most help.
The bottom line: In Haiti, BBM helped us save lives.
Since 2010, we have used BBM on every deployment (there have been over 50). Just as in Haiti, we use BBM to coordinate the movement of supplies, but it also keeps us safe. We move around some pretty dangerous countries such as Somalia, Mali and Pakistan. Our teams constantly inform Toronto that they're safe and doing well. This is all done via BBM.
It is GlobalMedic policy that teams check in when they are done for the day. It's always a relief when the GlobalMedic MGMT group BBM chat chimes with the message, "Team in for the night".
During GlobalMedic's response to Typhoon Haiyan in the Philippines in November 2013, BBM helped us coordinate a fleet of trucks that delivered clean drinking water to affected families. We would hear of an affected area, and use BBM to tell our drivers where to go. This made helping people in need much easier.
When the team does not have internet, a daily Situation Report are sent using Blackberries. These SitReps give our HQ in Toronto important information from the field like numbers of patients treated that day, number of litres purified, and updates on the wider recovery efforts. We also use our Blackberries to gather GPS coordinates for locations where we have distributed aid or treated patients.
BBM has proven much more reliable than calling. Our A team can communicate with our B team that there is a soccer stadium in Carrefour full of people that need food. Instantly, the B team replies saying a truck with rations is on its way.
When we do need to talk to our HQ in Toronto, we often use BBM Voice as it saves us costs. The line is often much clearer than using local phone lines.
Our teams work hard in tough conditions for several weeks at a time. Lying on a sleeping mat under a bug net at the end of a long day, it is always nice to be able to send a BBM home to your loved one that says, "I'm thinking about you".
BBM allows GlobalMedic to stay safe and provide life saving aid to those most in need around the world.