Having given a glimpse of the BlackBerry Passport's square 4.5-inch touchscreen, we wanted to continue this series examining something else that many are curious about.
Great keyboards are in our DNA. With BlackBerry Passport, we set out to create a smartphone that would break some cherished rules in order to set a new bar for real productivity. In particular, BlackBerry Passport's keyboard will show there is an easier way to do more.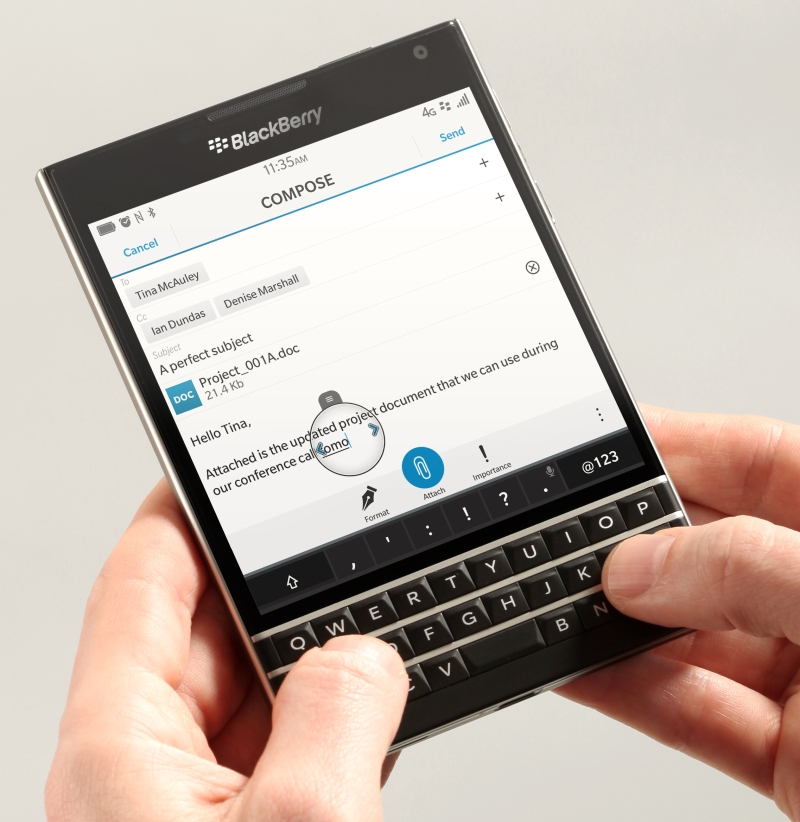 The Keys to Successful Productivity
BlackBerry Passport is a unique device that was built with productivity at its core. The revolutionary new physical keyboard is responsive to touch, so you have more ways to control your smartphone without having to use the touchscreen. With rows of touch-sensitive physical keys, BlackBerry Passport combines the efficiency of tactile typing with touchscreen-like navigation to deliver on that productivity promise.
This way, you'll be able to keep your eyes on the goal – getting things done. (If you're a developer, head over to the Developer blog to learn how you can take advantage of the new BlackBerry Passport keyboard in your apps.)
With the BlackBerry Passport's touch-enabled keyboard, you'll be able to navigate web pages, apps and e-mails by lightly brushing your fingers over the keys, which helps with things like scrolling and cursor placement. It's a minimalist design that maximizes BlackBerry Passport's already-awesome amount of screen real estate. You'll be able to read documents faster, as well as keep your fingers close to the keys, ready to type.
But what does this Mean?!
The BlackBerry Passport's keyboard also sports some custom commands that can boost your productivity.
Let's take a look:
Faster scrolling: As noted above, you can use the keyboard to swipe up and down to scroll on long lists in a document or on a browser page, keeping your fingers off the screen and focused on what's happening.
More intuitive cursor control and text selection: This is a classic BlackBerry productivity enhancement reinvented for the BlackBerry Passport. Double-tap the keyboard, then drag your finger across the keyboard to drop the cursor at precisely the right point. Or select the text just as you would on an older BlackBerry: hold the SHIFT key while dragging your finger across the keyboard to extend a selection.
Smart, contextual virtual keys: The BlackBerry Passport's QWERTY 3-row keyboard creates a clean-looking, right-sized layout. There is also a virtual 4th row on-screen that smartly shifts depending on context. So if you're typing a password on-screen, the 4th row would automatically include numbers and symbols commonly used in passwords. If you're typing an e-mail, the '@' symbol will be displayed, and when surfing the Web, the colon and backslash characters needed to type in a URL will be displayed. Like I said, smart! With a little practice, most BlackBerry Passport users should find themselves typing faster than ever before.
Flick to type: Stuck on a word? BlackBerry 10's next word suggestion feature learns from you to give you smart, personalized choice of words you're likely to type. You then just flick up to complete the word.
Easier delete: Made a mistake? No problem, just swipe back (left) to Delete the last word, just like on our virtual keyboard!
Entering an accented character? Hold the letter key down, and then lightly tap on the key to add the appropriate accent!
As you can see, we've taken something great – the BlackBerry 10 keyboard – and innovated with the boundary-breaking design of the BlackBerry Passport form factor, while staying focused on one thing: YOUR productivity.
Stay tuned as we look forward to continuing to bring you more details in the near future!