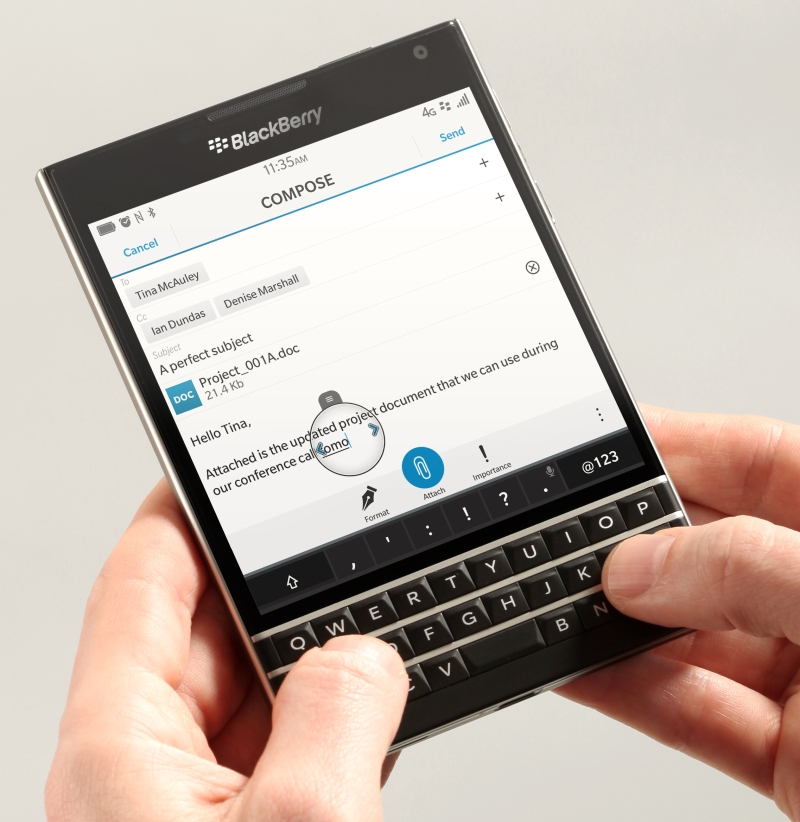 The BlackBerry Passport is proving that it is hip to be square, as early glimpses of the device's  massive, trend-bucking screen and innovative, touch-enabled keyboard last week attracted huge media attention and plenty of positive comments from readers (read: potential buyers).
"BlackBerry's square-screened phone to free us from our 'rectangular world,'" went the headline of Andrew Cunningham's piece in Ars Technica, one of many pieces that propelled the BlackBerry Passport near the top of industry news aggregator, TechMeme
BlackBerry Passport's boundary-breaking design and oversized 1,440×1,440 screen resonated with many writers. "One of the obvious reasons for BlackBerry Passport's square form factor is the need for innovation," wrote Softpedia's Cosmin Vasile. "In a market where design matters a lot, BlackBerry found out that there weren't too many square handsets available and has decided to go for it."
TechCrunch's Darrell Etheringon agreed. "BlackBerry is at least taking a different approach to the smartphone/tablet/whatever-mobile-computer, the design of all which has been largely normalized over the past few years."
So did Jon Fingas of influential gadget blog, Engadget. "They're interesting ideas, and the unusual form factor might just work for BlackBerry's suit-and-tie audience.
Even BGR's Brad Reed was moved to write that "the BlackBerry Passport wasn't designed for iSheep and Fandroids who want to play Candy Crush all day — it's for people who want to do real work, and that means having a physical keyboard that can fire off emails like no other phone."
Predictably, some publications took a cautious approach to the BlackBerry Passport's innovations, opting to defend a status quo dominated by an endless conveyor belt of entertainment-driven, homogenous devices.
But when everything tastes like chicken, maybe it's time for a different flavor.
Clamoring Consumers
Besides the media coverage, the number of reader comments indicated the strong interest. BGR's post drew 170+ comments; the Ars post drew more than 240 comments, while Engadget's blog drew nearly 380 comments. Let's not forget the 120+ comments at our blog as well as the combined 800 comments at CrackBerry!
These comments tended towards the passionate and insightful.
"As a matter of fact the touch-sensitive physical keyboard is certainly far more inventive than anything Apple or the Android camp so far managed to pull up when it comes to text entry," commented one reader of The Register's piece.
At ZDNet:
Over on TechCrunch, commenters interacted via Facebook…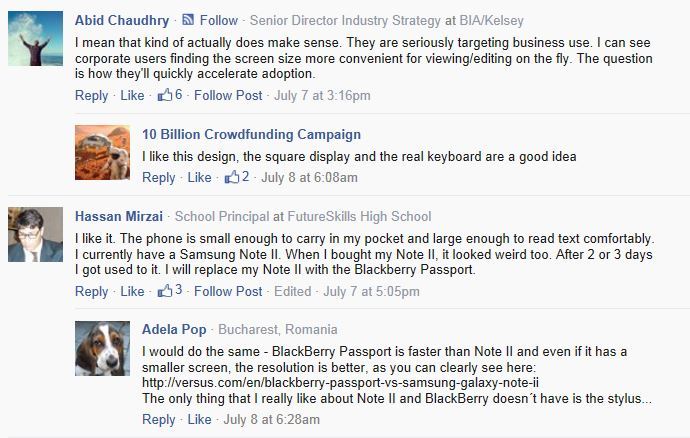 …while at CNET: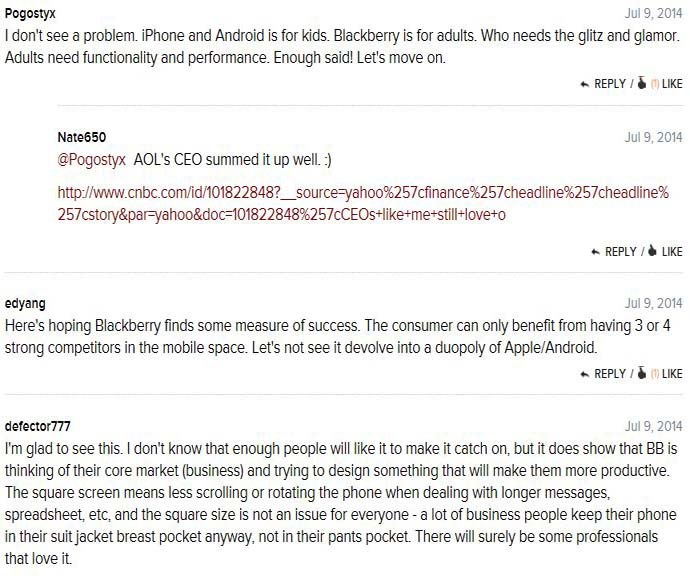 Meanwhile, the Twitterverse had its say:
Trying to decide between #bbpassport or #iPhone6

— Tim DaGraça (@timdagraca) July 12, 2014
The @BlackBerry #Passport is unmistakably & undeniably different from anything else in the mobile space. The BlackBerry of today.

— Ben (@BB10VW) July 8, 2014
Even Android loyalists showed their interest in the BlackBerry Passport:


We look forward to following the conversation's evolution as we reveal more information and people get over the shock of – gasp! – something different.