Don't believe everything you read on the Internet. In the past few weeks since John Chen announced the BlackBerry Passport at our Annual General Meeting, rumors and speculation about the device have been rampant. And frankly, I won't stand for it.
Today, I'd like to take one of those rumors right off the table and replace it with an actual image of a white BlackBerry Passport… on a table (click on the image below to see an even larger version).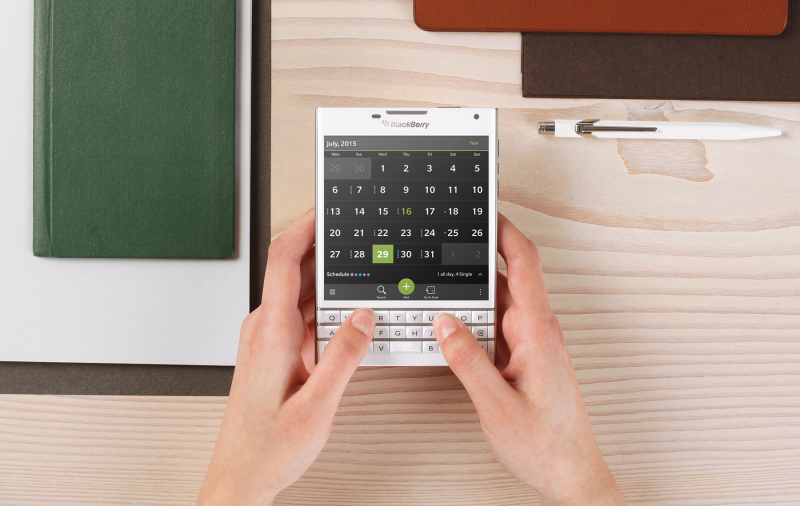 I do have to admit: some of our friends on the Internet DID beat us to the punch with a picture of the white BlackBerry Passport (I'm looking at you, Bla1ze). On the one hand, I love the enthusiasm; on the other, I wanted to be the one showing it off first. Score: Team BlackBerry: 1, Donny: 0.
However…you all know I've got my hands on a black BlackBerry Passport and have been sharing stories from my actual use. To answer some of my questions around the white BlackBerry Passport, I asked Brian Paschke and Joseph Hofer, designers of the BlackBerry Passport here at BlackBerry:
Q: What are some of your design philosophies informing the white BlackBerry Passport?
Paschke: Our team chose this exact shade of white to work with the warmth of the unique, stainless steel frame. The color is custom to BlackBerry.
Hofer: On a detail level, the white color has been further tuned for each individual part and material in order to create overall color harmony.
Q: What inspired the look, feel and materials of the white BlackBerry Passport?
Paschke: The rear cover uses a 'porcelain feel' coating that is smooth to the touch while providing grip and complementing the soft touch coating used on the black Passport. So they work as a family.
Hofer: In fact, all of the surfaces for both the black and white Passport have been gently softened for comfort while maintaining a modern look. The finish along with the smooth shaping creates a refined experience.
Q: Tell me what makes the BlackBerry Passport so special to you in general?
Paschke: The Passport leverages our strengths and heritage, yet is new and innovative. As the name implies … the format is inspired by a traveler's passport; a familiar and universal symbol of mobility. This familiarity has potential to leverage existing systems and standards.
Hofer: Though the layout may be unique, the experience of using Passport will feel familiar to many.
*Bonus
Q: As Editor of Inside BlackBerry, may I have one in white?
Paschke: No, no you may not.