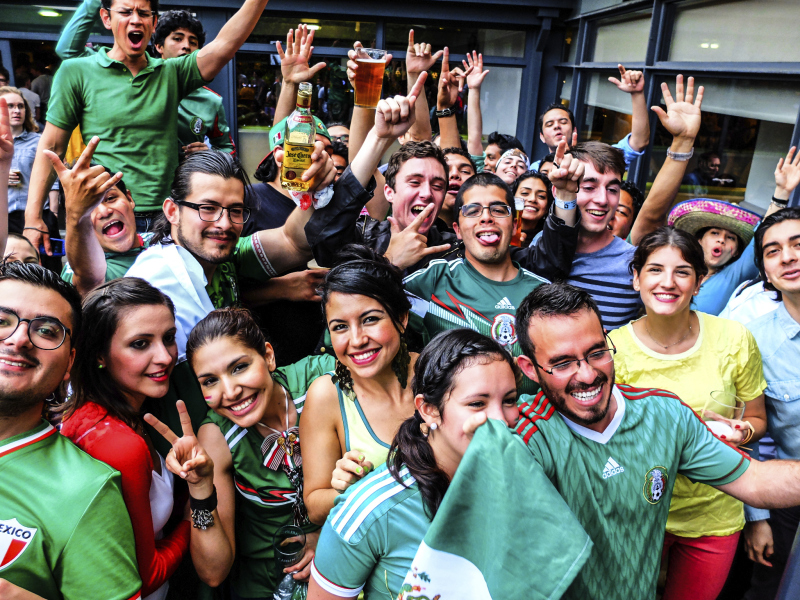 As the number of teams still in it to win it dwindles down to just two, we're seeing some fascinating stuff about BBM usage during the games. A few weeks ago, we told you which country seemed to have caught a bad case of Football Fever, but with the competition getting stiffer, we wanted to step back and take an even wider view at a bigger pool of data.
This time, we looked at the messaging activity of users from 36 different countries around the globe in order to compare their BBM activity during game times (regardless of teams playing), to their everyday average usage rates. That's right – we counted ALL BBM's sent by ALL 36 countries during ALL games up til July 3rd and we found some crazy cool results that we thought you might find interesting.Filling in spots 3, 4 and 5 in our standings, we have a fairly close battle with all three countries increasing their usage between 45 and 48 per cent between the kick off and final whistle. Football-crazed fans in Spain (no. 5), Belgium (no. 4) and Portugal (no. 3), respectively, seemed glued to their second screen, all the while painstakingly bearing witness as Cristiano Ronaldo and team took an early exit and Robin van Persie's amazing header helped trounce the reigning champs, who were then eliminated by Chile.
Given our first look at the pandemic of Football Fever, it should come as no surprise that the United Kingdom would come in second place with an increase in nearly 60 per cent during game times. Even with their beloved English team now hanging up their red and white jerseys for another 4 years, the UK overall still proves they love their football – and no doubt have a backup allegiance in place.
But who topped the chart for largest increase in BBM usage during the games? With an average increase in BBM usage of more than 80 per cent during the matches, the crown goes to the small but football crazed nation of South Africa. Interesting, given that they didn't even have a team in the tournament this year, but the country did host the previous 2010 tournament and while an in-stadium ban kept them out of Brazil, you can bet the South Africans brought out the infamous vuvuzela. It also goes to support the notion that, when it comes to sports, Africa becomes one country – cheering on their teams as one continent combined. This may explain some of the excitement given that there were 5 teams from Africa.
Overall, 30 of the 36 countries we looked at increased their BBM usage during the time when a football match was in progress. These ranged from a meager 2 per cent, all the way up to over 80 per cent increase and included top tier football countries as well as those without a stake in the tournament this year. While we don't pretend that there's strong scientific evidence here, we're pretty confident in saying that it's clear that even for just a few weeks; the world caught a fever whose only cure is the claiming of a golden orb and the sound of Shakira.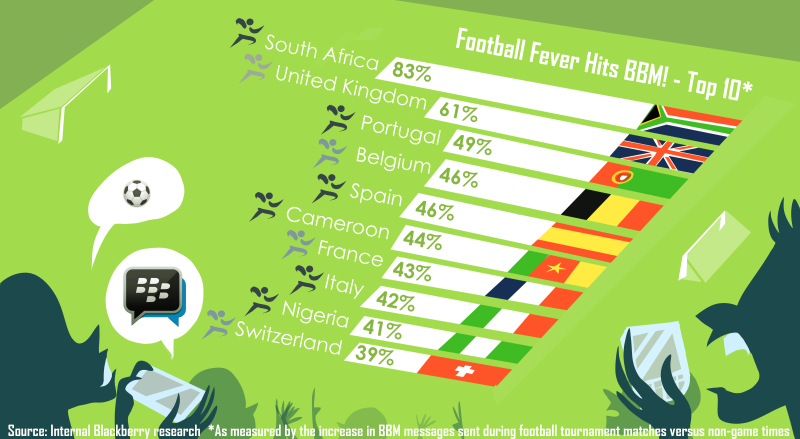 (Click on the graphic to view a larger version that you can right-click to save to your PC or share.)
Special shout out to Nadia Novikova, BlackBerry Data Mining Analyst for helping us dig into this data and divine a winner during this Football Fever season, and Samantha Vilifort for the infographic.