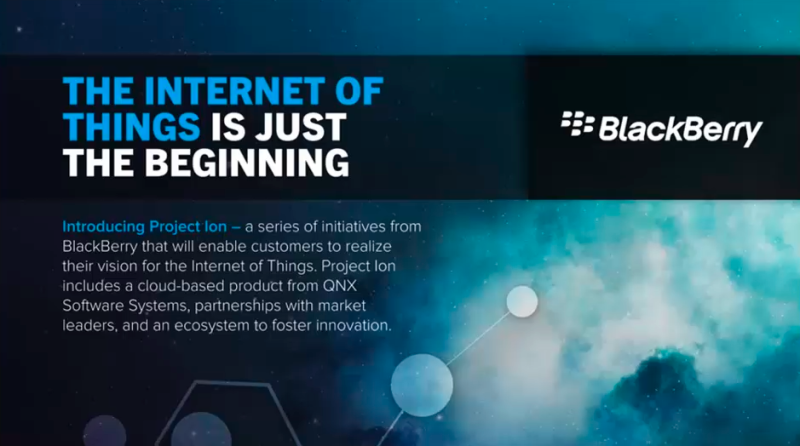 Hundreds of curious people tuned in last week to learn more about Project Ion, the Internet of Things (IoT), and what the QNX Cloud team has been working on.
Watch the webcast, available on demand! http://elqforms.qnx.com/transform-business-with-iot
Steve West is a senior director on the QNX Cloud team and led the participants through an in-depth presentation, answering questions and giving examples of how IoT can accelerate time to market, and enhance the experience of customers.
Here's a quick way to think about it: Imagine that your company makes kiosks that sell movie tickets. You've got a brand new product in locations around North America. With the cloud-based secure applications platform from QNX Software Systems, you can remotely debug, acquire logs, and push software updates to every kiosk simultaneously, dramatically accelerating the development cycle. Gone are the days of sending a technician to plug in, and download logs from hundreds (or thousands!) of machines by hand.
It doesn't stop there. The secure public applications platform can dramatically enhance the customer experience. Imagine the kiosk recommending a movie at the theater based on a customer's Netflix history or suggesting food by tapping into previous Yelp! reviews!
Here are some more of the highlights from the hour-long session:
Security
Security remains top of mind for anyone considering an IoT strategy for his or her company or product. We heard that message loud and clear — almost half the questions asked were about security.
Security is never a simple topic, but in simplest terms, the secure applications platform has you covered, end to end. The platform leverages BlackBerry's pedigree in security to protect your data as it moves from device to cloud, and then back again.
Cross Platform Support
Another question that's been popping up is around supported platforms. The secure application platform is cross-platform. Yes it will work with QNX OS-based embedded devices, and BlackBerry technology – but we are also providing support for Android, iOS, and Linux if that's your preferred flavor.
Developer Support
With Alec Saunders leading the QNX Cloud team you know that developers are going to be treated like royalty. We've designed the secure applications platform from the ground up to be developer friendly, with tons of APIs and pages of documentation. There are going to be more details for developers as we approach the public launch of the program, so keep an eye on the BlackBerry Developer Blog.
What possibilities are you imagining?
We are currently working with select partners, and are always looking for more. If you think your business is a good match for what we've been showing, please reach out to businesstransformation@qnx.com for an opportunity to get early access. The Internet of Things is just the beginning, and with the secure applications platform, you've got a head start.