As the world has been following the World Cup in South America over the last month, it's clear that there's a new way to watch and share: mobile messaging.
The world is shrinking. I've been thinking that a lot lately, watching (and participating in) the global enthusiasm around the FIFA World Cup this last month.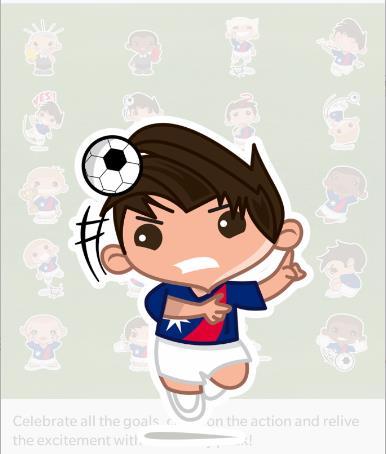 I bought the Aussie sticker pack (see example above) through the BBM Shop (inside BBM; mentioned this in my interview last week), and sent stickers to my friends and family back home to join in the fun, even though I wasn't in Brazil or Oz. Didn't seem to help the team advance, though. Nil for three? Ouch.
It's not just BBM fanning the football flames. Many messaging apps have been very active promoters of the month-long event, encouraging fans to embrace the 'second screens' on their mobile devices to connect with friends and others around the world as they watch the games.
It makes sense, as recent BlackBerry research revealed that the main reasons people use messaging apps are:
1. To keep in touch with friends and family
2. To communicate amongst groups
3. For spontaneous, surface-level communication and entertainment
4. Emoji, emoticons and stickers make it easier to express emotion
Role Call: Messaging Apps on the Bandwagon
BBM launched not only the football Sticker Packs, but also an updated PIN Card generator that lets you customize your BBM PIN to show support for the home team.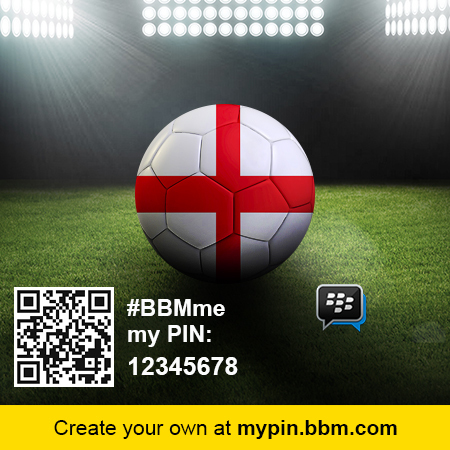 Kirusa, a messaging app with a focus on emerging markets (and its largest customer base in Africa), has partnered with Goal.com to deliver daily updates via its Sports Connect service.
With the recently ridiculed Yo, you can sign up to receive a "yo" message when and if your team scores.
Line has also partnered with Goal.com to give its users updates. It also launched a sticker pack (but only for England Football fans).
Tencent has gone all in. It's the holding company for WeChat and Mobile QQ messaging apps, plus Tencent News, Video, Game Watching App, and online content. This Ad Age article sums up the company's massive coverage of the event. Highlights: 120 journalists, 55 companies signed up as marketing campaign sponsors. The move is initially surprising, as China isn't exactly known for its football fans.
WeChat is the #1 messaging app in China. And, as I said before, the world is shrinking. China's national team didn't qualify for the World Cup, but the Chinese still want to follow along. Some are football fans. Some are more casually interested simply because it's a worldwide event that only happens once every four years, much like the Olympics.
The most interesting ingredient in the WeChat + World Cup mix is in this Holmes Report interview with Tencent executive Sy Lau. Lau calls WeChat "an interface with the new economic ecosystem established by the mobile Internet."
Wow. Lau also makes the case that mobile has overtaken the 'PC internet', print, TV, and others as the most important medium for reaching consumers. As I mentioned above, we're using our mobiles as 'second screens' to enhance and share our experience of TV, gaming, sporting events, etc. And, we're using mobile messaging to connect with friends and family, particularly groups, for spontaneous communication, to express ourselves emotionally.
Sounds a lot like watching a football game, no? In fact, our own BBM data shows activity spikes in countries when their national team is on the pitch—particularly when there's a goal.
And if mobile messaging is a way to interface with the new economic ecosystem, well then, it looks like Tencent is running down the pitch ahead of the pack, poised to make a cracker shot. It's not just goals that matter.
Mobile messaging is the new way to participate, the new way to connect, and the new way to share. If Lau is right—and this is consistent with what we believe—it may also become the new way to brand and the new way to sell directly to consumers.
Messaging as a platform
BBM offers lots of features for consumers to participate, connect, and share. Stickers, available in the BBM Shop, are a fun way to communicate with friends and family—and cheer on your team. If you also set up a BBM Group, you can reach everyone at once. BBM Voice lets you make free calls. BBM Channels connect you with your favourite brands. Location and music sharing make it easy to let others know what you like and where you are, and DropBox integration allows you to share large files easily. These are just a few of the services we've started to launch, all offered on the foundation of the best security in the business.
BBM Money, an app BlackBerry has been piloting in Indonesia, takes it a step further and you can start to see real commerce combined with social. Today it enables peer-to-peer money transfer through BBM, plus bill payment and top-up. You can send money to friends and family in your BBM Contacts, or receive money from them whilst in a chat session.
People around the world are using mobile devices as a way to enhance their experience of world events especially with sport. From tweeting news as it happens, to sharing joy (or disappointment!) in your team's World Cup performance, the mobile channel has truly become the most important medium.
And as mobile itself becomes more social, messaging is coming into the spotlight, full of possibilities.