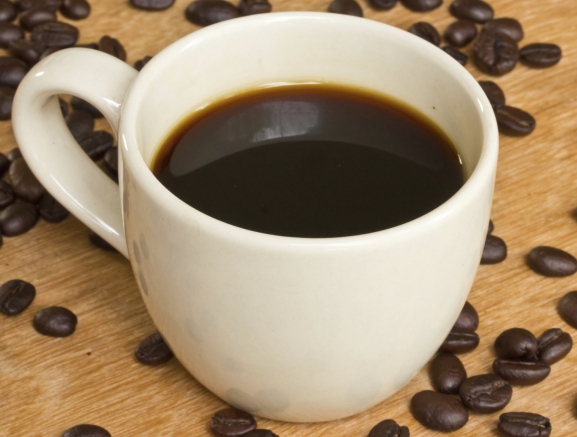 The BlackBerry Passport's an attention-getter with compelling productivity features and thoughtful time-saving innovations that we aren't afraid of being different. As we recently pointed out, that combination is stoking passions and igniting chatter across the web, with thousands of comments across multiple articles and message boards.
Judging by the sampling of comments we've collected below, many people are announcing their plans to walk away from Android or iOS and come – or, in many cases, return – to BlackBerry.
They're waking up and smelling the coffee.
Naturally, we like ours black.
"The Passport Screams 'Business Professional'"
On Berry Review, user "Felix" certainly got the BlackBerry Passport's appeal right away.
"With a physical keyboard and large square screen, the Passport screams 'BUSINESS, PROFESSIONAL,'" wrote Felix. "I fully expect a whole host of software to make sure it performs to the high demands of professionals . . . I currently use a Galaxy Note 3. It is a wonderful device but forget doing any kind of serious typing, for me. I will buy a Passport without giving up my Note 3. I will simply use both of them. As to price, less than $1000 is OK as long as it include a nice suite of apps."
Tired of "Walking the Wastelands" of Other Platforms
"I literally can't wait," wrote user Dennis in response to our reveal of the BlackBerry Passport's touch-enabled keyboard. "After walking the wastelands of iPhone and Samsung soft keyboards after so many years of great BlackBerry phones, I can't stand it any longer. I need a large smartphone. I need a real keyboard. Why, I asked month after month, could no company put the two together? Please release ASAP. I want to come home."

The original post certainly had people excited:
"I have to say, as a devout Android user, I really, really like this," wrote Martin Golder. "I've always had an odd soft spot for BB, despite never owning one of their phones . . . But the Passport is just so different it is intriguing me and I want one."

"My Daughter has a Windows Phone and Does Not Like the Phone"
Meanwhile, L. Enrique Moreno has a demanding daughter currently on a Windows phone with keyboard envy: "Now with the Passport she is going to get what she asked for over a year ago… screen real state and a wide nice and smart keyboard that she can use both hands to type with . . . Can't wait!"
"I will Replace My Note II with the BlackBerry Passport"
With its 1,440 x 1,440 4.5-inch screen, the BlackBerry Passport features the same resolution as full HD-equipped phablets. That has TechCrunch commenters Hassam Mirzai and Adela Pop planning to bid adieu to their Samsung Galaxy Note II phablets.
"I like it," wrote Mirzai. "The phone is small enough to carry in my pocket and large enough to read text comfortably. I currently have a Samsung Note II. When I bought my Note II, it looked weird too. After 2 or 3 days I got used to it. I will replace my Note II with the Blackberry Passport."
Adela Pop responded, "I would do the same – BlackBerry Passport is faster than Note II and even if it has a smaller screen, the resolution is better, as you can clearly see here:
http://versus.com/en/blackberry-passport-vs-samsung-galaxy-note-ii."

"The Only Intuitive OS that also has Practical Hardware Designs"
We feel for Engadget commenter "ryboto," who has been getting frustrated with his aging Motorola XT560 stuck on Android's Gingerbread version.
"I'm going to be forced to upgrade as Gingerbread is no longer supported and apps are slowly breaking on me. So I plan to move to the only intuitive OS I can buy, that also happens to have practical hardware designs."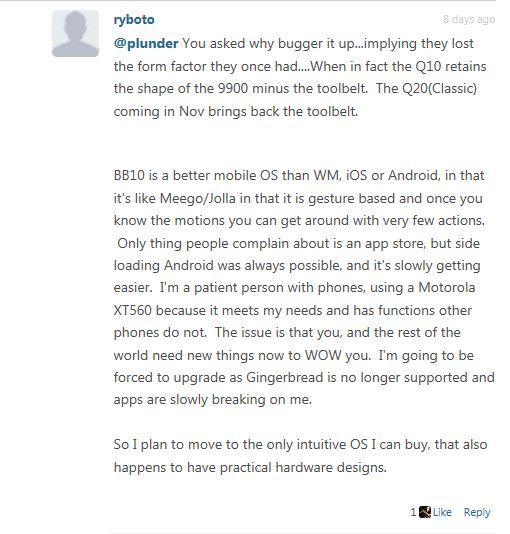 "It Makes Sense, So We Have to Kill It"
Over on DailyTech user "anothermax2" responded to criticisms of the BlackBerry Passport for being too large to type on with one hand.
"If you need a keyboard, you are committed to two handed use," anothermax2 wrote. "If you are committed to two handed use, why not go wider? . . . I'll definitely take a look to replace my aging 4.5″ (16:9) s2x."
"I'm a Huge Emailer and Android and iOS Just Don't Do it for Me"
Over in the unfriendly waters of Android Central, users "patbjackson" and "mstrblueskys" swam upstream:
patbjackson18:
"I want it. Just because it's different, and I like the screen and keyboard. I miss Blackberry [and] I'm a huge emailer, and android and iOS just don't do it for me. I'm all about communication and neither platform is doing the job right."
mstrblueskys:
"Ditto!"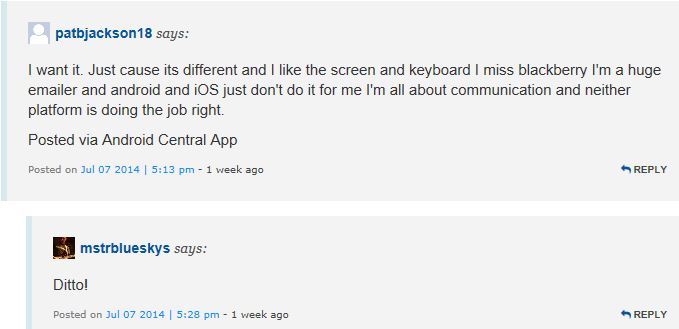 On Twitter:
Trying to decide between #bbpassport or #iPhone6

— Tim DaGraça (@timdagraca) July 12, 2014
"Definitely Dumping My S5"
Android Central commenter "BlackB G" wrote, "Love this phone. Thanks BlackBerry. I'm getting one. Definitely dumping my hardly used S5 android aka wannabe iPhone for this. I'll take the best part of android which is apps… and rock a proper functional phone [that] exudes being NOT a follower. This phone along with my z10 as a backup spells good times ahead."
The Choice is Obvious
CrackBerry was churning up the comments, with posts nearing 500 in total.
Commenter "polytope" is mulling the decision ahead between choosing the iPhone 6 phablet model or BlackBerry Passport. (You know what we think about that.)
"Passport or iPhablet? That is the debate I have with myself."

We think the choice is obvious: BlackBerry Passport is going to deliver the goods in a way no one else will.