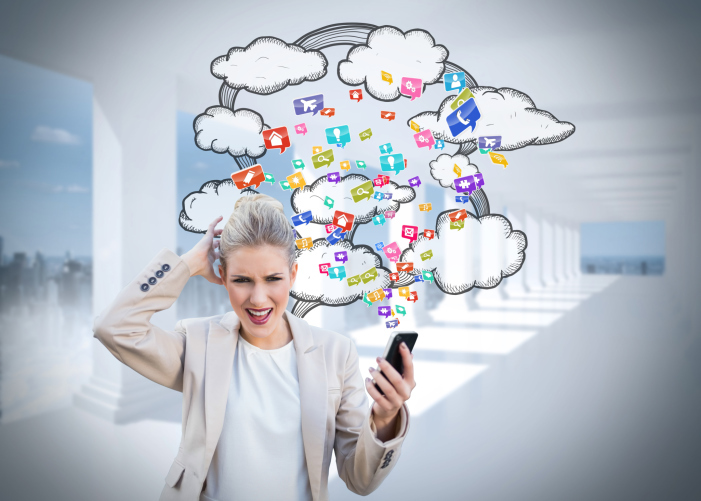 Over on popular tech blog Engadget, we saw a well-meaning, thoughtful article on Tuesday, "Messaging's mission impossible: One inbox to rule them all."
The author, Nicole Lee, pines for an integrated experience to stay on top of all of the various communication channels vying for attention on smartphones today.
She describes a scenario where she gets a text message from her husband, then a Facebook message from her mother, with a direct message on Twitter from a friend followed by a conversation with a colleague on Google Hangouts.
"Realizing it would be easier to handle all of these with a computer, I flip open my laptop so I can chat with everyone simultaneously," Lee writes. "Within the span of a few hours, I've chatted with four different people on four completely different messaging platforms. And the juggling doesn't stop there."
Unnecessary Juggling
On many mobile platforms, Lee's fretting about "too many inboxes" makes a lot of sense. As she puts it: "I shouldn't have to have a dozen different messaging apps on my phone to talk with all the people in my life."
Thankfully, Lee doesn't have to! There's no need for juggling. Not with BlackBerry Hub, our unified messaging platform for BlackBerry 10 devices. It saves you time by marrying your e-mail with social networks and your work messages and your personal, and also letting you read and respond to your messages from within the Hub itself.
With integration with calls, texts, and e-mails to apps ranging from Facebook, Twitter and LinkedIn to WhatsApp, Foursquare and BBM, there's really no need to leave the Hub.
(Also check out all of the great BlackBerry Hub tips on our BlackBerry Help blog.)
Lee does acknowledge BlackBerry Hub's existence, but lumps it in with other solutions about which she claims: "None of these really live up to the dream of that one, true universal inbox for everything. Which is, sad to say, probably more fantasy than reality."
Not so, as many people were quick to point out in the 220+ comments.
Crowdsourcing the Comments
"Maybe you should look at the BlackBerry Hub again," offers BlkScorp33. "I NEVER have to open the actual apps to post a status, or reply to anyone."

Commenter deathcommand went for the face-palm: "You know BlackBerrys have had a universal inbox for like a decade and a half now right?"

"[If] you want functionality like this, move to a platform that offers it," writes user kaydpea, going for a lighter touch. "There's a reason why people using BlackBerrys make the claim that it gets things done quickly, it's because it does. The unified inbox (Hub) on BB10 is THE reason I'm using BlackBerry."

"If I'm playing a game and get a notification, I swipe up and to the right and I'm then in the Hub," AnotherBillJ writes, explaining in detail how Hub streamlines messaging for him: "At no time have I opened an email application or a Facebook app, I'm still in the Hub . . . No other phone does it that easily."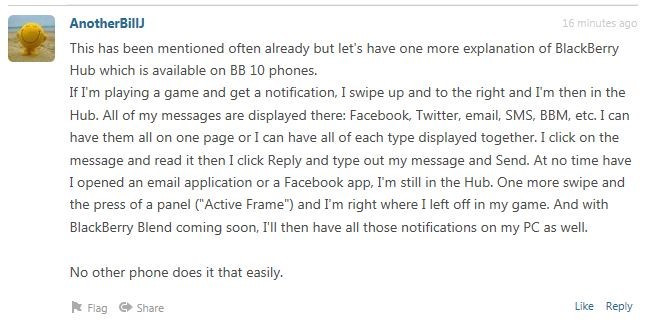 Meanwhile, bilaalsaghir pointed out that Hub works with Android messaging apps running on your BlackBerry smartphone (did you know that hundreds of thousands of Android apps can already be installed and run on BlackBerry 10 devices today? And that Amazon's Appstore will come integrated into the 10.3 update for even easier access to Android apps?)

There were many other positive comments about the Hub – check them out yourself.
Your One-Stop Shop
I think it's a safe bet that the author is more aware today of how powerful a tool the BlackBerry Hub is.
I didn't even bring up the Priority Hub, which does just what its name implies; creating a priority feed that can learn from your behavior and/or be customized to pull out the most important of your bazillion messages – key for us in this Age of Information Overload.
Things are great now, and will only get better. The BlackBerry OS 10.3 update coming on the Passport and other devices will roll out with the voice-enabled BlackBerry Assistant and other new productivity features.
So, if I was to create a catch-phrase as a response, it would be this:
There's a Hub for That.