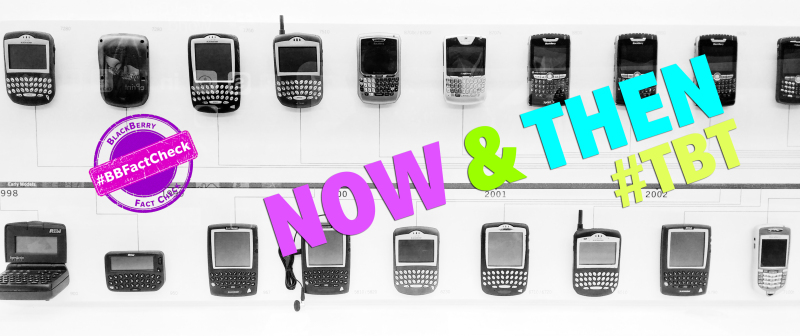 Today we are putting our own spin on the popular hashtag #TBT (Throwback Thursday) to revisit an old news story that could use a little updating. We're taking a fresh look at a December 2013 PC World story that outlines the five reasons to stick with BlackBerry and the five reasons to look at other platforms. While the reasons to stay with BlackBerry – BlackBerry Balance, the BlackBerry infrastructure and our innovative typing, to name a few – are still relevant today, we have also taken important steps that make their reasons to "bail" throwback-worthy.
---
Claim: Lack of apps
THEN: "BlackBerry has gone to great lengths to ensure a reasonable inventory of apps for its new platform. It paid a bounty to developers as an incentive, which has largely worked; BB10 had tens of thousands of apps at launch. Compared to the hundreds of thousands of apps available for iOS and Android, though, this is a drop in the bucket."
NOW: Since then, BlackBerry has signed a deal with Amazon to bring the Amazon Appstore to BlackBerry 10 devices starting with BlackBerry 10.3 coming this fall. We also made a number of upgrades for our developers including a brand new vendor portal.
---
Claim: Consumerization
THEN: "BlackBerry rose to dominance at a time that IT admins were still dictating technology choices. Now, users have much more voice in the decision process, or simply get to choose their own device. If shoppers at Best Buy won't choose a BlackBerry Z10 over an iPhone 5 or a Samsung Galaxy SIII, BlackBerry is in trouble."
NOW: BlackBerry's multi-platform capabilities are now stronger than ever. With BlackBerry Enterprise Service 10 (BES10), enterprises can now give their employees the opportunity to use Android and iOS devices managed with the Secure Work Space containerization solution – backed by the BlackBerry security they have trusted for years. With BES12 launching in the fall, enterprises will also be able to manage Windows Phone devices, but more importantly, BES12 is the new foundation that will help customers begin to manage all the "things" in the Internet of Things.
To further our multi-platform efforts, BBM is now available for iOS and Android devices and just recently launched on Windows Phone devices.
---
Claim: A sinking ship
THEN: "I don't know if BlackBerry will disappear completely, but it's not going to rebound. Scraping single-digit market share to take fourth place behind iOS, Android, and Windows Phone doesn't exactly instill confidence."
NOW: Our leadership team has been hard at work and continues to make significant progress to return BlackBerry to growth and profitability. While the iconic BlackBerry handset made us a leader in mobile, today we provide solutions across devices, messaging, enterprise software and services, and embedded systems. As part of our end-to-end offering, BlackBerry is committed to creating devices that meet productivity and business needs. One example is the forthcoming BlackBerry Passport, which is built with the enterprise user in mind including longer battery life (24+ hours), a wide screen for editing documents and spreadsheets and BlackBerry Assistant for voice commands on the go.
The story goes on to note,
"If your company relies on BlackBerry, this is a good time to choose a new path on your own terms, rather than waiting for the company to cave in on itself."
While many of our competitors will lead some people to believe the "migration myth," BlackBerry continues to have the largest install base, an unparalleled global infrastructure, and the deepest understanding of how to provide secure, productive mobile collaboration and communications in the enterprise space. Additionally, more than 1.2 million BES10 licenses have been issued to security-conscious enterprises as a result of the BlackBerry EZ Pass migration program, which launched just a few months ago. Even workers are demanding their BlackBerry devices back in the workplace.
---
Claim: BlackBerry Fusion
THEN: "One of the best reasons to start transitioning off of BlackBerry is that BlackBerry has made the process easy. BlackBerry Fusion lets you manage iOS and Android devices using your existing infrastructure. Thanks to BlackBerry Fusion, you can test out both iOS and Android without having to commit upfront, and you can migrate to a new platform (or platforms) over time."
NOW: As mentioned above, BES10 customers can now manage Android and iOS devices alongside BlackBerry devices, all from a single, easy to use console that extends our strong reputation for management, security and control. And, BES10 is the most cost-effective multi-platform EMM solution on the market. With the EZ Pass migration program, enterprises on older versions of BlackBerry Enterprise Server can easily upgrade to BES10 to experience the benefits of managing their multi-platform device fleet. In fact, more than 10 percent of total licenses from the EZ Pass migration program have been traded in from competitors' Mobile Device Management platforms.
As you can see the BlackBerry of 2013 is not the BlackBerry of 2014 and beyond. We continue to make the right moves that will enable us to grow and prosper for the customers that depend on us for mobile solutions founded in security, productivity and communications.