BlackBerry OS 10.2 is being heralded as "The World's Best Mobile OS" even as we prepare to launch an even better, updated version.
India's largest-selling computer publication, Digit Magazine, pitted BlackBerry 10.2 against other leading mobile operating systems: Android 4.4, iOS 7.1.2, and Windows Phone 8.1. "We called for the flagship phones from all brands, for the obvious reason that we wanted the smoothest experience in a test that was going to take months of man hours," the magazine said in its August 2014 cover story.
(Also this month, our BlackBerry Z30 phone also won Gold in the Best in Biz awards.)
The magazine broke down the evaluation "into the components of what we use mobile phones for, and how we use them the most," it explained.
It found that while people often think themselves adept with their preferred OS, "there are always hidden features we've never really thought of or used earlier."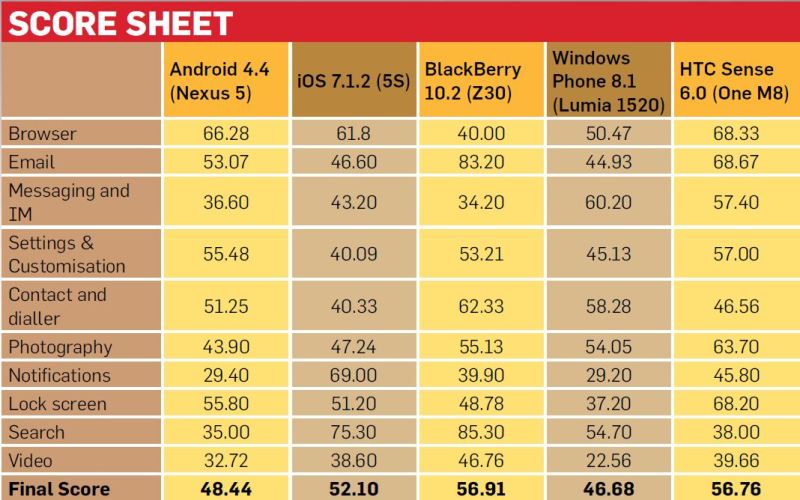 Weighing the Categories
Digit took as much of an impartial, objective look at each OS as possible.
"Once we'd decided what we needed to look at (which basically covers over a thousand individual features or settings in each of the OSes), we then proceeded to list each and every setting / feature that came into each category," it said. "We awarded weights and scored each task, and then totaled it in what could only be called the biggest nightmare of all – Google Spreadsheets."
It's an impressive spreadsheet, and way too long to completely detail here, but the takeaway is that BlackBerry dominated in many key areas:
Email: "How much better can a BB10 device really be than an Android device, for e-mail? Well, 60% better, judging by our sheet! The BB 10.2 powered Z30 got away with an impressive score of 83.2%, leaving Android and iOS at a distant 53.07 and 46.6 per cent respectively. BBs are truly are built with email in mind."
Managing Contacts and Calling: "The OS that outshone all others here was BlackBerry (we're starting to see a trend here . . . Part of the secret to BB's success in this department has to do with its contact management capabilities."
Photography: "We found BB pipping the likes of Windows Phone and iOS to take the top spot here . . . Out of the box . . . the others are a poor match for BlackBerry."
Search: "Surprisingly, Google isn't the master of search on your phone. That title goes to BlackBerry, with a whopping 85.3 percent score!"
Video: "Videos are as integral a part of our lives as photography and the ability to record, watch and share videos is an essential one. BlackBerry, again, surprises us by winning this category handsomely. This was mainly due to the fact that it offers quite bit of editing ability out of the box."
There's More where that Came From
"This was by far the most comprehensive test we have ever done," said Robert Sovereign-Smith, Digit's Executive Editor. "BlackBerry OS 10.2 is a deserved winner of the title."
The thing is, with OS 10.3 right around the corner, they'll be busy all over again.
The BB OS update will feature many notable improvements, from an updated user interface with more polished icons, endless folders, and more app icons displayed per screen to a revamped BlackBerry Hub with greater level of customization and BlackBerry Assistant, which will give Siri a run for its money on BlackBerry Passport.
Additional improvements include tweaks to the camera, calendar, and notification systems, as well as the highly-anticipated implementation of the Amazon Appstore as a pre-installed app.
Either way, the real winner is the user, and it's only going to get better from here.