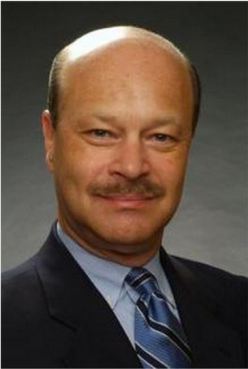 Please join the Inside BlackBerry for Business Blog in welcoming Jeff Ait, BlackBerry's new Vice President and Head of the U.S. Public Sector, who is based in Washington, D.C.
Jeff, who was recently featured in The Washington Business Journal's "People on the Move," joins BlackBerry from Good Technology, where he served as Director of the Public Sector. A 30-year veteran in the technology industry, Jeff brings extensive experience in the government sector and BlackBerry is fortunate to have him join the team. Jeff recently sat down with us to share his clear vision for BlackBerry's role in the public sector and offer his perspective on trends and challenges in government mobility.
BizBlog: You came to BlackBerry from Good Technology. Why did you decide to make the move?
Jeff: I joined BlackBerry because I know what the government is looking for when it comes to mobility, and BlackBerry is best-in-class when it comes to mobile technology. I saw that the U.S. federal government is an extremely important customer for BlackBerry and I felt that with my experience in mobile and the company's experience with knowing where government is headed, it would be a good fit. Second, I was starting to see government put more and more focus on trying to shift to a more native, user-friendly device experience but still needing security that meets regulatory requirements. BlackBerry is the only company that provides a complete offering with end-to-end security and low total cost of ownership, supported by a strong footprint within the federal government.
BizBlog: You've been working in the technology industry for 30 years. How has it changed over that time?
Jeff: The biggest change that I've seen is how the industry has moved from a network focus to a device focus to, now, a more data and information focus. I think that security has moved in the same direction. In the beginning, everyone was worried about securing the network and VPN. Working from home and working remotely were very difficult to do. But in the 90s, there was a shift to a device-based focus on security of desktops, and where we're headed now is focused on protecting the data that's on mobile devices. The speed of technology has changed dramatically, especially in the mobile space, and I see that affecting how government customers secure their mobile devices and mobile applications. With the speed of innovation, the device lifecycle has shortened dramatically – which is especially true when you talk about multi-operating mobile environments where customers want to provide their users with choice. The rate we're moving today brings more opportunity but also makes mobility more complex for customers.
BizBlog: Tell us more about your experience working with government customers.
Jeff: I've worked with a lot of different government customers and technologies over the years. The biggest challenge is providing security to meet regulatory requirements and matching it to the customer's mission, particularly sensitive projects. Trying to figure out how to write a single set of policies that meets all requirements is very difficult and it can yield an unsatisfactory user experience. I'm starting to see the government really try to focus on what goals they want to enable with mobile, and then matching the level of security depending on the mission and use case. The government is getting smarter, and using a platform like BlackBerry Enterprise Service 10 (BES10) that provides the ability to have multiple use cases with a single management function is important.
BizBlog: What are your focus areas as Head of U.S. Public Sector?
Jeff: My main focus area is the federal government, as we have a strong and proud history of serving these customers. One unique opportunity for BlackBerry is the Department of Defense (DoD), now that the BlackBerry 10 platform is the only mobility solution that has earned Full Operational Capability to run on their networks. We also will have a revitalized focus on civilian agencies as well as state and local government. We want to build our brand, create awareness and tell the BlackBerry story. Many customers don't know what our new story is and we want make sure they know about today's BlackBerry and everything that BlackBerry 10 offers, from devices to apps and messaging to Enterprise Mobility Management (EMM).
BizBlog: What security threats should governments be aware of?
Jeff: Mobile devices are the new edge. In many cases, customers are trying to apply the same security methods and standards that they use for desktops and it does not work the same in mobile. The amount of malware attacks on mobile devices is growing at an alarming rate. There are all types of dangerous threats out there – including new malware variants with evasive capabilities, source code leaks and ransomware – that are going to challenge all mobile users including governments to protect their information on mobile devices.
BizBlog: How is BlackBerry going to stay ahead of the curve when it comes to secure mobility for public sector customers?
Jeff: Security is in our DNA. It's not an afterthought or add-on. From having the hardware, a secure operating system and a suite of applications that have security embedded into them, BlackBerry is the only Mobile Device Management (MDM) solution out there that provides the necessary level of security to meet the high standards of the DoD. We build everything at the DoD-grade level, and finance, healthcare and other regulated industries benefit from this degree of security from the get-go.
BizBlog: How is BlackBerry adapting to new trends in government mobility, such as consumerization of IT?
Jeff: Federal government users are struggling to adopt BYOD because of legacy issues and legal and policy-based issues. The consumerization of IT is driving cloud-based services with strong policies around data protection and security. If there are BYOD cases that allow iOS and Android, then our Security Technical Implementation Guide (STIG)-approved Secure Work Space enables us to meet those BYOD capabilities and offer agencies a multi-vendor management environment that enables non-BlackBerry smartphones and tablets to be protected as well as BlackBerry devices.
In addition, we are launching services such as the eBBM Suite. The first product in this portfolio is BBM Enterprise (formerly known as BBM Protected) for secure enterprise-class messaging. And once our agreement to acquire Secusmart is complete, it will further enhance our anti-eavesdropping capabilities on voice and data communications.
BizBlog: Switching gears to something more light – what is your favorite thing about living in D.C. area?
Jeff: I was born and raised in the Northern Virginia area and I have lots of friends and family here. This is my third time returning to the area. My favorite things are the four seasons and the close proximity to the oceans and mountains. Additionally, if you're interested in cultural events and activities, D.C. offers many museums, concerts, shows, phenomenal places to eat, and great places to ride bikes or go hiking.
BizBlog: What device do you use and what are your go-to apps and tools?
Jeff: I use the BlackBerry Z30. My go-to tool is the Hub. It allows me to configure my work email, personal email, text messages, BBM, Facebook and LinkedIn into a single, unified view that keeps my personal and work lives separate from a security perspective, giving me a common interface to see all of my messaging in one place. My go-to tools are my integrated calendar, contacts and my BBM. I'm living on the phone all day long and I still have not run out of battery life a single day.