Onstage today at the BlackBerry Passport events in Toronto, London and Dubai, we showed off BlackBerry Blend. This new wireless app allows you to display content from your BlackBerry, such as conversations, calendars, files, contacts and more, on other screens such as computers and tablets.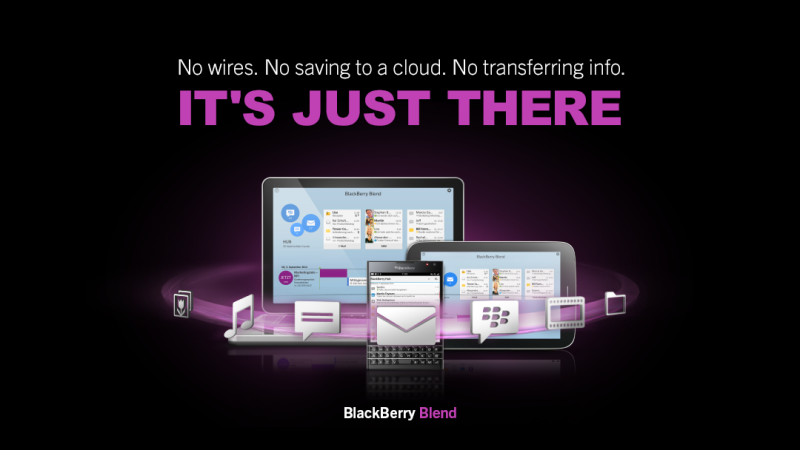 While the concept may seem simple, the implications for both the customer and IT manager are massive. No more unnecessary e-mailing or searching around for USB thumb drives – Blend enables you to work seamlessly across multiple platforms, while maintaining BlackBerry's trademark security. See how it works in the video below.
Available here as a free download, Blend runs on Windows, Mac and Android operating systems. It's another example of how BlackBerry is opening up and going cross-platform, and how we are making your BlackBerry 10 devices even more useful. Let's dive into Blend's key features and show off a few use cases likely relevant to you:
Never miss a BBM or text message: Blend brings all your BBM and text messages from your BlackBerry smartphone to an integrated messaging hub now conveniently available on your computer and tablet.
Use your smartphone as a mobile network hub: Gain secure access to work email, calendars and important files on any device connected to Blend.
Transfer files across devices: Save files from your computer to your BlackBerry smartphone so they are accessible on any device connected to BlackBerry Blend.
BlackBerry security, across your devices: Powered by the BlackBerry device through the BlackBerry network, this seamless experience is also secure. And IT Administrators can rest easy, as they have the ability to set BlackBerry Blend parameters for users that match their security guidelines.
Unified Calendar Management: BlackBerry Blend merges all of your work meetings, personal appointments and events into one view.
Connect anywhere, anytime: BlackBerry Blend can connect wirelessly via Wi-Fi or cellular connection, or wired through the USB port on your PC. Once connected, use your BlackBerry ID on your computer and tablet to connect to BlackBerry Blend.
I've been using Blend myself for a few weeks now. Here's all of the time-saving benefits I've found:
Blend at Work
When I'm in the office, I tend to set my device on my desk. My Windows computer becomes my main screen as I manage my day and complete tasks. With my phone sitting on my desk, I often miss BBM side conversations or text messages as I power through my busy day. With BlackBerry Blend, I get notified when these messages come in on my screen. I then can read and respond right from my PC.
Blend at Home
When I'm at home, I prefer not to use my company laptop. It's cumbersome, often outdated and requires an annoying VPN connection to tap into the office. With BlackBerry Blend, I can use the technology I've chosen to own, whether it be my Mac laptop or an Android tablet or soon, iPad. I can access my work email, calendar, files and contacts. I can even access corporate intranet sites using the work browser all with the BlackBerry security that IT managers rely on to control information.
Blend on the Road
For any of you who are frequent travelers, you know that time in-flight can be invaluable for managing your inbox. Normally, you'd open up your PC's email client, work in Offline Mode and have to wait until you're settled at your Hotel before you can connect to the internet (often with charges, I might add). BlackBerry Blend enables you to be much more efficient. While connected to my laptop via USB in Airplane Mode, I can use Blend to respond and send emails in-flight. As soon as we land, I turn off Airplane Mode, and voila! All of the messages I've worked on on my laptop are sent immediately via my BlackBerry phone through Blend, often before we've taxied to the gate.
Now that you've seen how BlackBerry Blend works, go and download and try it for yourself and let us know what ways you're planning to use this new app below in the comments.
---
BlackBerry Blend may take up to 24 hours to appear live for download.
BlackBerry Blend is launching today on the BlackBerry Passport and the Porsche Design P'9983 from BlackBerry, and will work across desktop operating systems, including Mac OS X 10.7 + and Windows 7+ and Android tablets running Android 4.4+. BlackBerry is also working to bring the Blend experience on other tablets soon. The downloadable version of BlackBerry Blend for Macs and PCs is available today at http://www.BlackBerry.com/Blend, or via the Google Play Store for Android tablets.
BlackBerry Blend comes free on BlackBerry Passport at launch.  Additional enterprise features will be available through a subscription program. Details of the enterprise offering will be announced in the coming weeks.