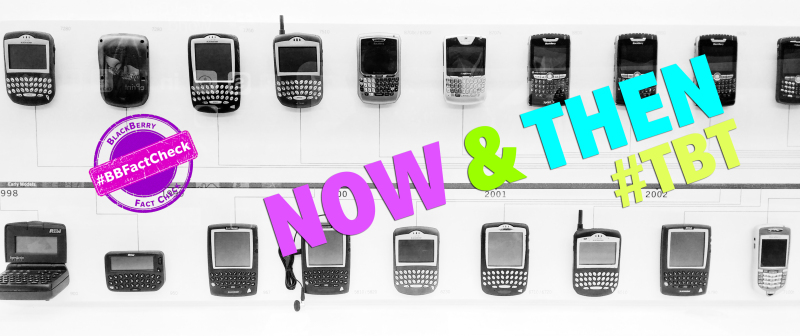 In this week's Throwback Thursday (#TBT) post, we will focus on a CNN Money article from October 2, 2013, Oops! BlackBerry even worse off than it thought. Reading their words today it's clear: a lot can happen in less than a year. Let's take a look at what CNN Money said — and where BlackBerry is today.
CNN Money, October 2013:
"BlackBerry (BBRY) said the 4,500 employees it is laying off by the end of the year will cost $400 million — four times as much as the company had previously expected. That's particularly bad news, since BlackBerry is racking up giant quarterly losses and rapidly burning through its cash."
BlackBerry today:
Turnarounds are challenging. But, tough action was taken — and the result is that BlackBerry today is in much better financial shape than it was a mere four quarters ago. BlackBerry's restructuring process has ended and certain areas of the business will be looking to hire new employees excited about driving the business forward.
---
CNN Money, October 2013:
"Wednesday's financial release was an update to its latest quarterly report on Friday. BlackBerry announced a $965 million quarterly loss, which included a $934 million charge for unsold BlackBerry Z10 devices, the first phone launched on the new BlackBerry 10 operating system."
BlackBerry today:
At the most recent earnings call, John Chen said he expected BlackBerry would be cash flow neutral by the end of this fiscal year. More importantly, analysts are convinced that BlackBerry can deliver. The Financial Post reported that CIBC World Markets analyst Todd Coupland actually expected BlackBerry to be cash flow positive by the fourth quarter of fiscal year 2015 (quarter ending February 28, 2015).
---
CNN Money, October 2013:
"The company is also quickly losing its appeal in key markets … customers in typically loyal international markets are switching allegiances to Google (GOOG) Android devices."
BlackBerry today:
CNN Money couldn't have predicted that BlackBerry would partner with Foxconn to get a new phone aimed at fast-growing markets — the BlackBerry Z3 — ready to launch quickly and efficiently. And, we were very proud when the BlackBerry Z3 sold out on the first day it was launched in Indonesia.
---
CNN Money, October 2013:
"BlackBerry also said consumers are looking for devices with the largest number of apps. That's definitely not BlackBerry's forte."
BlackBerry today:
We've heard consumers' pleas for more apps on BlackBerry devices. When the BlackBerry 10.3 OS update launches later this year, the Amazon Appstore will be available to BlackBerry users. Now users can watch movies on Netflix, snag deals on Groupon and share crafty ideas on Pinterest while also still enjoying the popular business and productivity-focused apps available in BlackBerry World. We're continually looking to provide users with more choice and the combined power and of the Amazon Appstore and BlackBerry World will do just that.
---
CNN Money, October 2013:
"Long delays in the BlackBerry 10 platform have angered corporate IT departments, which like to deploy new BlackBerry phones and software together. Many business professionals have been demanding Apple (AAPL) iPhones and Android devices for years."
BlackBerry today:
Recognizing that our enterprise customers have embraced diversity, so have we: BlackBerry Enterprise Service 10 (BES10) not only manages BlackBerry devices — it also helps companies secure their iOS and Android devices. This fall, we will launch BES12, which will add support for managing Windows Phone devices.
---
BlackBerry is the only enterprise mobility management solution that can support whatever device approach an enterprise wants to take — from the most secured Corporate Owned, Business Only (COBO) approaches, all the way to more flexible Bring Your Own Device (BYOD) policies. More importantly, it can accommodate different policies as needed for different employees across multiple platforms — all from a single console.
Enterprise customers are embracing this open approach. Through our EZ Pass program, more than 2,600 enterprises have claimed 1.2 million client access licenses for BES10. Companies are also continuing to migrate over to the BlackBerry platform from competitors. Under EZ Pass, more than 100,000 client access licenses have been traded in from competitors such as MobileIron. All licenses claimed under the EZ Pass program will be entitled to a free upgrade to BES12.
We can go on — and we will in future #TBT posts. The point is, despite a very challenging situation, the current BlackBerry executive team has made the difficult choices needed to stabilize the company and prepare for the future. With a solid business plan and exciting new products and services coming to market, BlackBerry is looking to the future — the one that CNN Money (and others) were convinced we didn't have.