There's a truth fans of hardware keyboards have known for a long time: physical QWERTY keyboards are best for inputting text accurately.
It's not just anecdotal. In a new study, BlackBerry tested users of the BlackBerry Passport and found that they were almost 4 times more accurate than users of BlackBerry 10 devices sporting virtual, touchscreen keyboards.
Keep in mind that the virtual keyboards on BlackBerry 10 devices such as the Z10 and Z30 are best-in-class. They're equipped with software in BlackBerry OS 10 that learns your writing style and intelligently suggests words that you can then Flick to Type. Both enable pretty-darn good accuracy and blazing-fast typing.


Check out more on the BlackBerry Passport keyboard HERE

Work Wide and 3 Other Advantages of BlackBerry Passport Keyboard

So how can BlackBerry Passport make you even more accurate and efficient? Well, for starters, the keyboard team has more breathing room, meaning those with beefy fingers can fire off missives without having to thumb-wrestle themselves to hit the proper keys. That means less time-consuming going-back-and-making-corrections.
Second, the BlackBerry Passport was painstakingly engineered, user-tested and perfected by BlackBerry's design team. From the slope of the keys to the amount of resistance and the sound of the clicks, everything about the BlackBerry Passport keyboard was thoughtfully considered by its industrial designers. Watch this video to learn more.
Third, the device is running the new BlackBerry OS 10.3, meaning its touch-enabled keyboard enables the latest improvements in Auto-Predict, Flick to Type and Fine Cursor Control.
When you begin typing a word, for example, "weekend," three likely choices pop up on screen right above the keyboard.
It looks like this: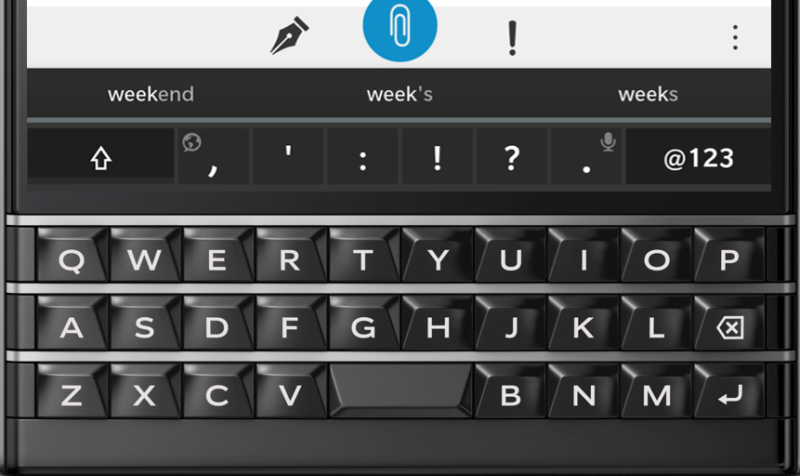 You just flick upwards on the corresponding part of the keyboard (left, middle or right) to input the word, with plenty of room to do so. That means no stopping what you're doing to actually tap a word selection, and translates to faster, error-free input.
Finally, there's something to the tactile nature of typing on physical keys that makes typists more confident. When you can feel the click under your fingertips, you know you're typing accurately, and that creates that nice feedback loop, so you can Keep Calm and Type On.
No wonder that BlackBerry Passport users in our study were able to enter on average 208 characters (42 words) per minute, while making fewer than 7 errors per minute.
Reviewers such as Fast Company's Harry McCracken agreed, writing that "What I liked most about it [BlackBerry Passport] is the accuracy: It's about as typo-free an experience as I've ever encountered on a mobile device."
Powerful Tools for Mobile Professionals
BlackBerry Passport, along with BlackBerry OS 10.3, aim to change the way we communicate, and the findings support that reality. These are powerful tools for power business users.
Fewer errors mean fewer chances to botch an email, BBM message, or document, and in an age where everything needs to happen five minutes ago, it's a valuable commodity.
On the off-chance you end up with a typo, or just want to change the word you just entered, you'll just swipe left on the keyboard to delete the word – It's that easy.
Add in fine cursor control via the touch-enabled keyboard, and you'll know you're at home on your new BlackBerry Passport.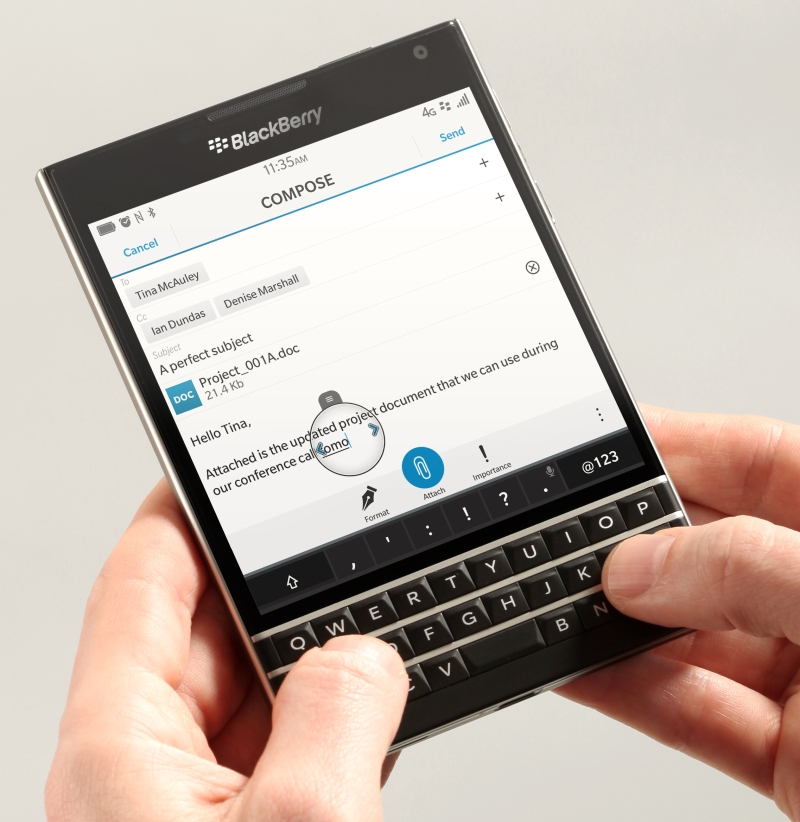 Pricing and Availability (UPDATED 3/15)

You can get your factory-unlocked BlackBerry Passport from ShopBlackBerry.com at these links:
Black (currently $599, regular $699)
White (currently $599, regular $699)
…and at Amazon HERE, with AT&T offering it for $649.99 unsubsidized or $199.99 with a 2-year contract. The BlackBerry Passport is also available in Canada via Rogers for $249 and Telus (for as low as $150 up front) and other carriers.
For those outside the North American market, you can get your BlackBerry Passport directly from us at our global shopping portal HERE.
(Check with your local carrier for device compatibility.)
Remember – the BlackBerry Passport has a battery capacity that exceeds all rivals in milliamp hours:*
| | |
| --- | --- |
| | Runtime |
| BlackBerry Passport | 30 hours |
| Samsung Galaxy S5 | 23 hours |
| iPhone 6 | 21 hours |
| iPhone 6 Plus | 25 hours |

(*Based on third-party lab testing sponsored by BlackBerry, under 4G and 3G wireless conditions, using a mixed-usage profile. Results will vary by carrier and network conditions.)