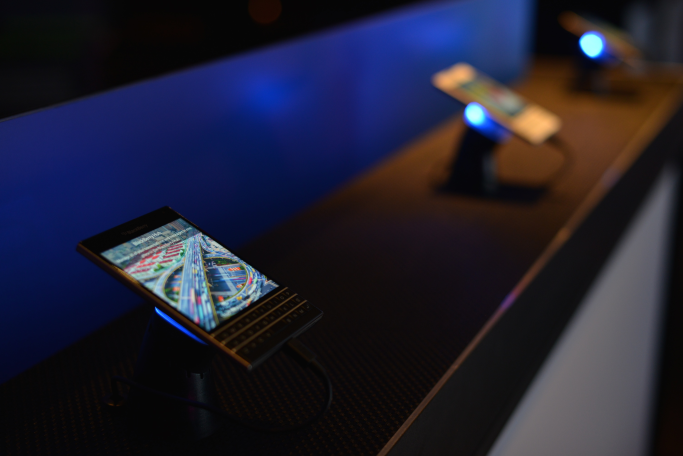 After months of anticipation, BlackBerry officially launched its BlackBerry Passport smartphone on Wednesday.
The launch, which took place near-simultaneously in three locations around the world (Toronto, London and Dubai), grabbed both headlines and the attention of social media users worldwide. #BlackBerryPassport was one of the hottest-trending topics on Twitter in the United States and Canada on Wednesday. Here's a text + photo recap (you can see the full photo album from the Toronto launch on the BlackBerry Facebook page).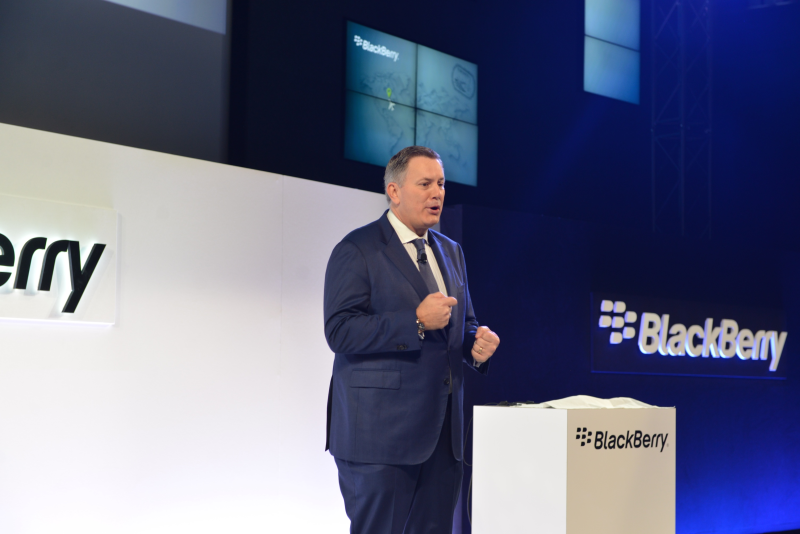 Tim Leiweke, CEO of MLSE Sports & Entertainment, the owners of Toronto Raptors, Maple Leafs, and other sports teams, and a BlackBerry corporate user, speaking at the Toronto launch.
In Canada, the BlackBerry Passport is available today, at a special, limited time price of $200 from Telus (on contract). In the U.S., consumers will be able to buy it via our exclusive carrier, AT&T.  Unlocked versions of the BlackBerry Passport will be available for a limited time via ShopBlackBerry.com, Amazon.com and other retailers. The phone will be available in 30 countries by year's end.
Get all of the details about the new device, including videos, official pricing and availability at Inside BlackBerry blogs.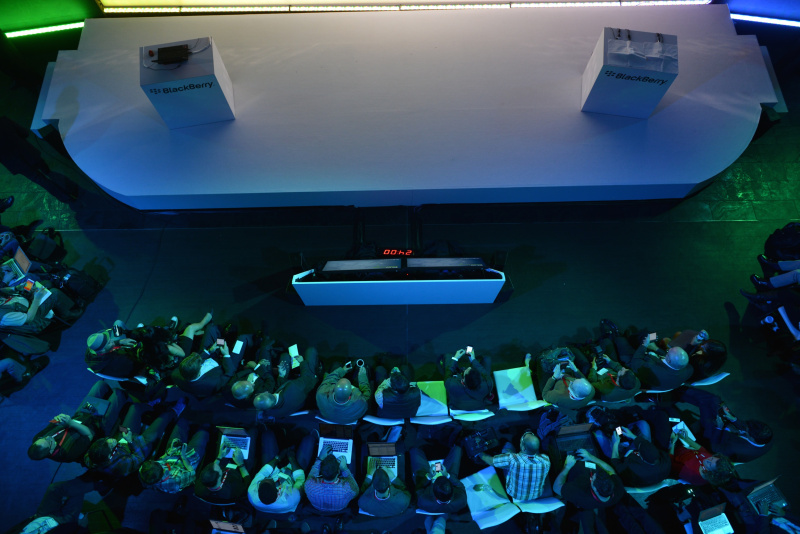 Top view of the Real Sports Bar & Grill in downtown Toronto, where the Canada launch was held.
While BlackBerry continues its evolution into a software-focused provider of high-security solutions for enterprises and governments, the BlackBerry Passport is a high-productivity piece of the overall enterprise puzzle that should appeal to many mobile professionals, who make up about 30% of the market, says Jeff Gadway, a product marketing lead at BlackBerry.
"We think that many of them will be comfortable switching away from the glass slab form factor if they can find value," he said on stage in Toronto. Value, in the form of:
– BlackBerry Passport's 30 hour battery life (thanks to its 3,450 mAh battery),
– innovative, touch-enabled keyboard,
– massive 4.5-inch 1,440 x 1,440 screen,
– superior audio and call quality due to its Natural Sound technology,
– one free Android app a day courtesy of Amazon Appstore, which comes integrated into the BlackBerry Passport, and offers easy access to hundreds of thousands of Android apps.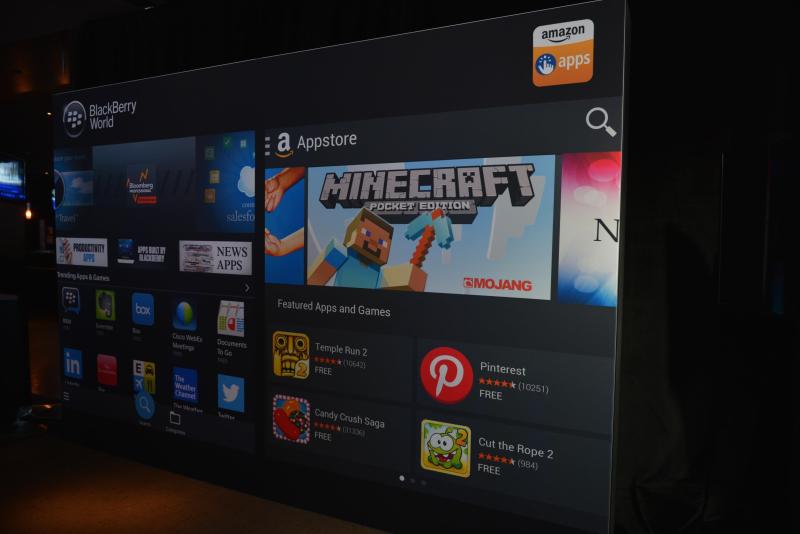 The BlackBerry Passport will feature the best of two appstores – BlackBerry World and the Amazon Appstore for Android apps.
Current Android and iOS users will be able to download a Device Switch app to ease porting their data over to BlackBerry Passport and other BlackBerry 10 devices. Potential buyers can also download a free 100-page e-book, 'Discover the BlackBerry Passport', that helps new users make the switch and teaches them a number of productivity tips and tricks in BlackBerry 10 OS.
BlackBerry CEO John Chen said that because of the BlackBerry Passport, he no longer has to carry a laptop to business meetings anymore.
"This is more than powerful enough of a tool for my productivity," he said, adding that the BlackBerry Passport's strong I-beam frame makes it tougher than competing phones possibly prone to warping.
"I will challenge you guys to bend our BlackBerry Passport," he said.
Canadian hockey hero-turned businessman Wayne Gretzky was the special guest at the Toronto launch. Declaring himself to be "BlackBerry user since day one," Gretzky said that with the BlackBerry Passport that he is testing "I never have to worry about plugging it in" for a recharge.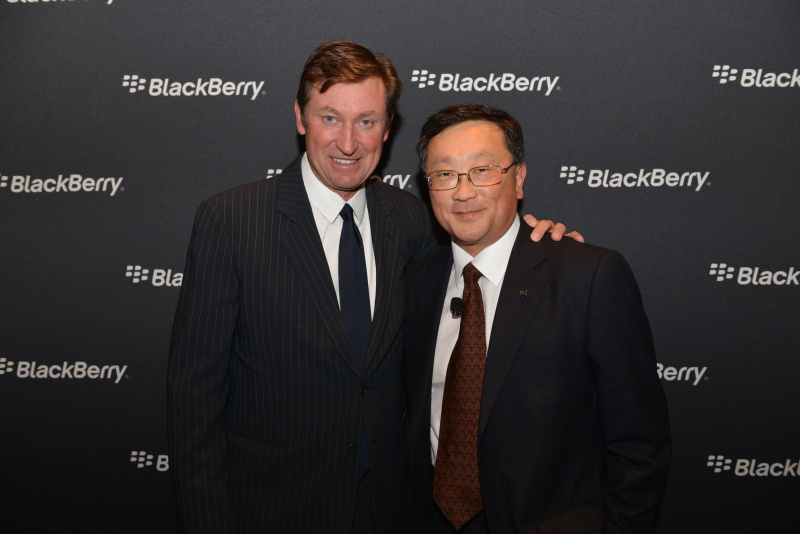 BlackBerry CEO John Chen (right) with hockey legend, Wayne Gretzky. Chen introduced our surprise guest by saying, "he's known for being able to skate reasonably well…"
Enterprises may find these features of the BlackBerry Passport extremely useful. For instance, Canadian carrier Telus is porting its health monitoring solution to the new phone, in order to be a good tool for home healthcare providers, which also reduces the need for unnecessary visits.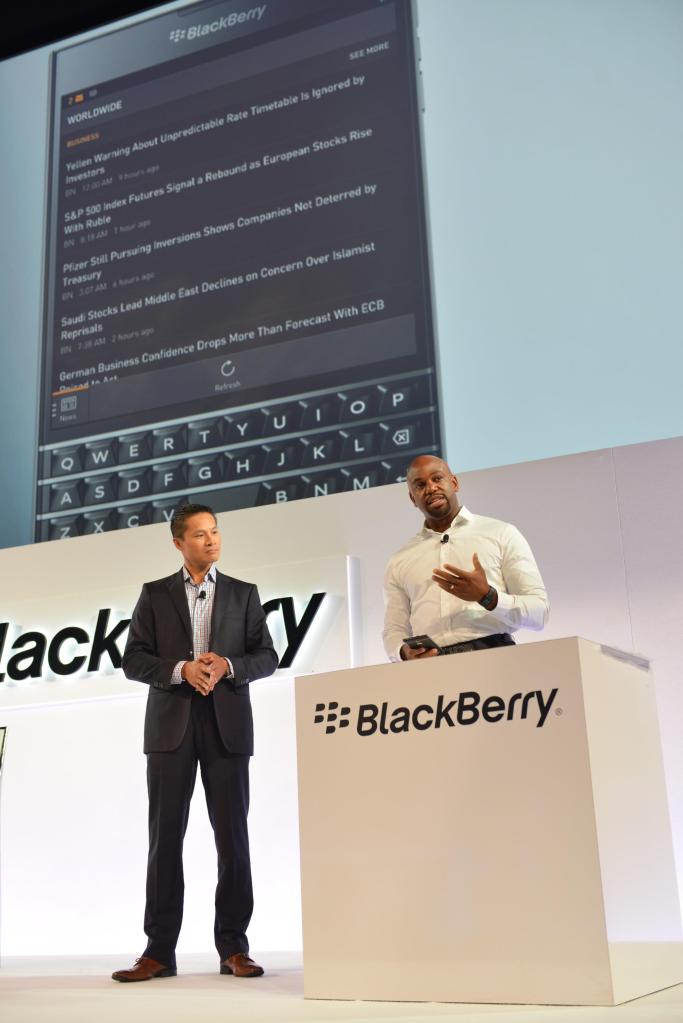 Bloomberg has built a new app aimed at professional investors that takes advantage of the phone's oversized screen to deliver "a new information density approach that we've never done on a mobile device," said Oke Okaro, general manager of mobile and connected devices at Bloomberg (above).
Pronto Forms' CEO Alvaro Pombo showed how the company's industry-specific apps were optimized for BlackBerry Passport, while Claron Technology gave a tour of how healthcare professionals can view chest x-rays and other medical images on the BlackBerry Passport's large screen.
Check out the full photo album from the Toronto launch on the BlackBerry Facebook page.
Pricing and Availability (UPDATED 3/15)

You can get your factory-unlocked BlackBerry Passport from ShopBlackBerry.com at these links:
Black (currently $599, regular $699)
White (currently $599, regular $699)
…and at Amazon HERE, with AT&T offering it for $649.99 unsubsidized or $199.99 with a 2-year contract. The BlackBerry Passport is also available in Canada via Rogers for $249 and Telus (for as low as $150 up front) and other carriers.
For those outside the North American market, you can get your BlackBerry Passport directly from us at our global shopping portal HERE.
(Check with your local carrier for device compatibility.)
Remember – the BlackBerry Passport has a battery capacity that exceeds all rivals in milliamp hours:*
| | |
| --- | --- |
| | Runtime |
| BlackBerry Passport | 30 hours |
| Samsung Galaxy S5 | 23 hours |
| iPhone 6 | 21 hours |
| iPhone 6 Plus | 25 hours |

(*Based on third-party lab testing sponsored by BlackBerry, under 4G and 3G wireless conditions, using a mixed-usage profile. Results will vary by carrier and network conditions.)