Journalists in three major international cities were treated to launch events as the BlackBerry Passport marked its debut in Toronto, London and Dubai on Wednesday, accompanied by a slew of information on BlackBerry OS 10.3, BlackBerry Blend, and leading productivity apps at home in an ideal environment for business professionals.
TORONTO:
It was a bit of a homecoming at the Toronto launch, and Canadian pride was on display with an appearance from Canada's own Tim Leiweke, CEO of MLSE Sports & Entertainment, and a crowd-pleasing turn by hockey great Wayne Gretzky. (You can read more about the event on our blog HERE.)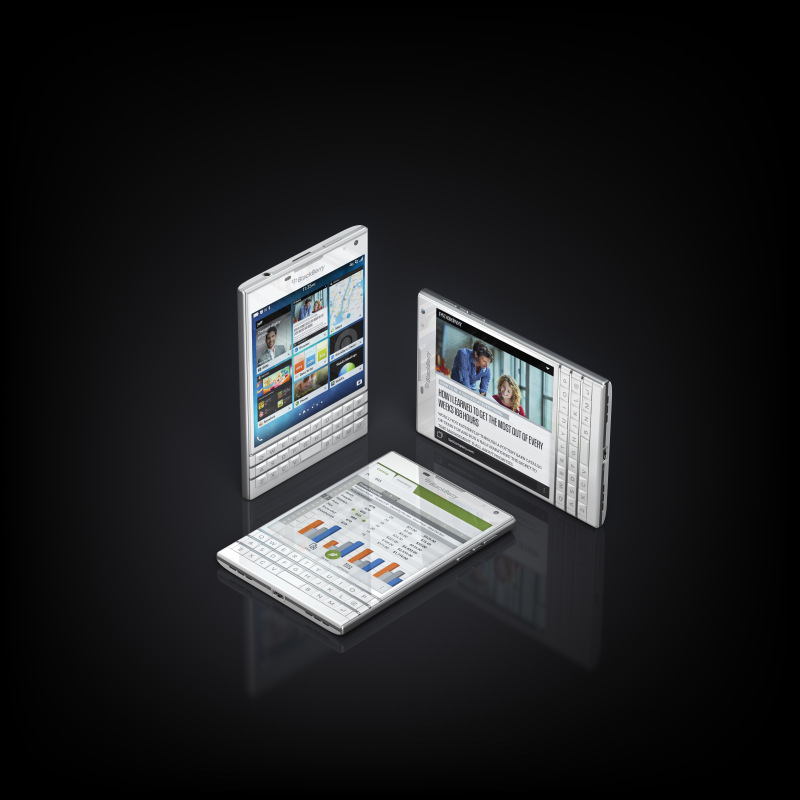 Still, the event was for the press, and they had plenty to say.
The Financial Post's April Fong live-blogged throughout the event, pointing out John Chen's understated humor: "'This is the time I'm supposed to show you the Passport,' Chen says. He then pulls out a Canadian passport booklet. 'Oh no, not this one.'"
On the Bloomberg app: "I can see a lot of finance and Bay Street mobile users loving this app for [BlackBerry] Passport" and "Looks pretty easy to read, especially for a smartphone."
Fong also noted the slick streaming capabilities: "BlackBerry's Passport streaming has gone pretty smoothly so far. People on Twitter are noticing…" citing user "HARRY.HAYDE," who tweeted:
Also from the Financial Post, Toronto-based tech writer Armina Ligaya also covered the Toronto launch. In a video, she ran the device by colleagues to note their reactions, which ran from the feel of the device – "It feels substantial, like it has a long battery life" – to the screen: "The screen looks good."
As for keyboard, the wow-factor was evident:
"So the keys are part of the screen almost. Nice."
"You can scroll on the keypad! That is nifty."
"Wow, that is something I've never seen. How did they do that? That's amazing. That is a really original, cool feature."
Ligaya's colleagues also were impressed by the general usability of the BlackBerry Passport: "It is deceivingly easy to use, and works better than I would presume by just looking at it." One coworker even rated it perfectly, saying, "I think that this little trick you taught me with the keyboard might upgrade it to a 5 out of 5. It's a shame I can't keep it."
Not to worry – BlackBerry Passport is up for sale today.
LONDON:
Meanwhile, across the pond in London, Tech2 news staff covered the London launch event.
"Its design and wide form factor is head-turning, while BlackBerry is promising a touch typing experience unlike any other with its new keyboard," they wrote.
Some highlights from their live coverage:
"Excited to see the launch of BB Passport."
"Want to see BlackBerry back what it was 10 yrs before by competing with Apple and Android."
"Everyone's waiting for doors to open. Will this W-I-D-E smartphone that's perhaps the only truly innovative smartphone being launched this year be a success for BlackBerry?"
"Dying to get a feel of PASSPORT…..and put my hands on that über sexy Passport "keyboard," that capacitive keyboard looks and works like charm I hope…"
"Now on the BlackBerry Hub. This is certainly one of my favourite BlackBerry 10 features. A single inbox that converges email, IM, social and more. [BlackBerry] doesn't need to sell this to me."
Yes, BlackBerry Hub *is* awesome, isn't it?
DUBAI:
Over in Dubai, Gulf Business's Aarti Nagraj covered the Middle Eastern launch. Nagraj cited some of the local feedback:
"Speaking to Gulf Business, Neelesh Bhatnagar, CEO of Emax, said the phone was good for travelling businessmen and that some of its features were impressive.
'Its shape and size is something unique, which might attract some people, but I think more than that, some of the features have been fairly good. Connectivity between multiple gadgets was something unique and interesting.'
Ashish Panjabi, COO of Jacky's Group also said that the BlackBerry Blend was a great value-add. 'The BlackBerry Blend is the killer app in the device – the ability to move from device to device is unique.'"
This is merely the opening sprint for BlackBerry Passport. Stay tuned to INSIDE BlackBerry for all your BlackBerry Passport news in the days and weeks ahead.
Pricing and Availability (UPDATED 3/15)

You can get your factory-unlocked BlackBerry Passport from ShopBlackBerry.com at these links:
Black (currently $599, regular $699)
White (currently $599, regular $699)
…and at Amazon HERE, with AT&T offering it for $649.99 unsubsidized or $199.99 with a 2-year contract. The BlackBerry Passport is also available in Canada via Rogers for $249 and Telus (for as low as $150 up front) and other carriers.
For those outside the North American market, you can get your BlackBerry Passport directly from us at our global shopping portal HERE.
(Check with your local carrier for device compatibility.)
Remember – the BlackBerry Passport has a battery capacity that exceeds all rivals in milliamp hours:*
| | |
| --- | --- |
| | Runtime |
| BlackBerry Passport | 30 hours |
| Samsung Galaxy S5 | 23 hours |
| iPhone 6 | 21 hours |
| iPhone 6 Plus | 25 hours |

(*Based on third-party lab testing sponsored by BlackBerry, under 4G and 3G wireless conditions, using a mixed-usage profile. Results will vary by carrier and network conditions.)