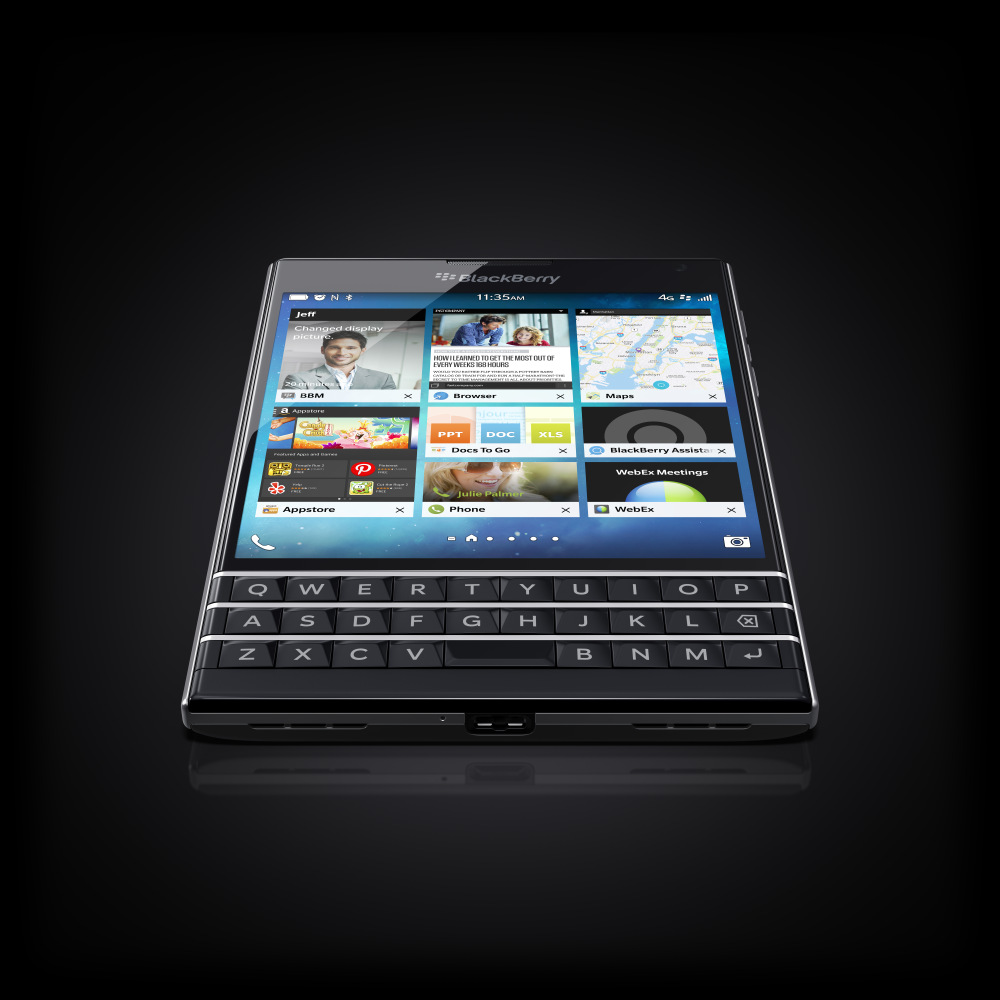 We knew that BlackBerry Passport, with its striking, high-style design, would turn heads. We expected that our single-minded focus on making mobile professionals productive would confound some consumer-focused reviewers.
So it was gratifying to see how many BlackBerry Passport reviewers did understand how hardware features like the touch-enabled, accuracy-improving keyboard and large, square touchscreen, and software features such as BlackBerry Hub and BlackBerry Assistant, could combine into the ultimate package for enabling you to Work Wide.
(Get pricing and availability details here. And see another round-up of reporters and analysts praising the BlackBerry Passport.)
Here's a sampling of reviews from the tech media (my emphasis):
"Skeptics of the shape will question how it fits in a pocket, but it slips in about as easily as its namesake, the universally pocketable passport. It will be a snug fit in skinny jeans, but this phone won't bend in there—unlike the iPhone 6 Plus…The software is likely to surprise people who give it a try. The Passport runs Android 4.4 apps remarkably smoothly, thanks to an emulator."
"It definitely puts BlackBerry back in the game."
"The Passport is an original and innovative design to address the demands of enterprises, but it could also seduce the general public."
"…BlackBerry loyalists are going to love this device."
"Reading websites, e-mails, and documents is, in my experience with a test unit, more pleasant on the BlackBerry than on your standard rectangle-shaped smartphone…The keyboard has some very clever word-recognition functions…There's a lot of that going on with the Passport."
"With its physical keyboard – a smartphone feature nearly extinct outside of BlackBerryland – and businessy software, it is indeed a productivity-centric machine rather than a would-be iPhone slayer. But it also happens to be inventive in a way that few phones, BlackBerry or otherwise, have been in eons. … BlackBerry finally has a little of its swagger back."
"I approached this phone with reservations, and came away as something of a fan – it's really nice!"
"The BlackBerry Passport is just about the most exciting handset BlackBerry has ever produced."
 "The camera is a beast, a 13-megapixel sensor that competes with the best in the Android ecosystem…Everyone who spotted me with it during the review period – at my desk, on the street – wanted to pick it up, marvel at it and remark on its dimensions."
"But one colleague, who once worked as a City trader, virtually tore it out of my hands and stared at it with an almost tearful reverence. 'I so miss my old Blackberry,' he cried. This fit of nostalgia was set off by one aspect of the device – its keyboard. For that is at the heart of the Passport…"
"Audacious form factor but relevant, smart keyboard, amazing battery life, gifted for image and sound, integrating an OS which is intuitive as ever, even the ecosystem which was criticized is going in the right direction. Even if the distribution will target enterprises and professionals with dedicated packages, this BlackBerry Passport has it all to do a remake of the Bold which seduced the general public in 2008/2009. Recommended for the pros, of course, and above all to those who want something different in their hands."
"It's rare now for any smartphone to have a true new iconic form factor, but BlackBerry Passport has just such an iconic innovative design."
"One thing the company does better than its competitors is multi-tasking, with its BlackBerry Hub feature. It's not new, but a central spot with all running apps was one of the best things about the company's OS and remains one of their top selling points."
"BlackBerry isn't going to be ripping up the hit parade with this, but it's seriously put itself back in contention with a powerful and practical phone for grown-ups, and grabs the 'Think Different' laurels back from Apple."
We also saw positive tweets come through from key analysts:
Marc Saltzman(@marc_saltzman)
Sascha Segan (@saschasegan), PCMag.com
I've been playing with the @BlackBerry #passport for the past three months — it's AWESOME. especially for email/writing/spreadsheets

— jason (@Jason) September 25, 2014
Mike Yawney (@Gadget_Guy)
Ryan Reith (@ryanreith), IDC
Bob Egan (@bobegan), CEO @ The Sepharim Group
If you'd like to learn more, watch the unboxing video or learn how to get started once you have your BlackBerry Passport.
Pricing and Availability (UPDATED 3/15)

You can get your factory-unlocked BlackBerry Passport from ShopBlackBerry.com at these links:
Black (currently $599, regular $699)
White (currently $599, regular $699)
…and at Amazon HERE, with AT&T offering it for $649.99 unsubsidized or $199.99 with a 2-year contract. The BlackBerry Passport is also available in Canada via Rogers for $249 and Telus (for as low as $150 up front) and other carriers.
For those outside the North American market, you can get your BlackBerry Passport directly from us at our global shopping portal HERE.
(Check with your local carrier for device compatibility.)
Remember – the BlackBerry Passport has a battery capacity that exceeds all rivals in milliamp hours:*
| | |
| --- | --- |
| | Runtime |
| BlackBerry Passport | 30 hours |
| Samsung Galaxy S5 | 23 hours |
| iPhone 6 | 21 hours |
| iPhone 6 Plus | 25 hours |

(*Based on third-party lab testing sponsored by BlackBerry, under 4G and 3G wireless conditions, using a mixed-usage profile. Results will vary by carrier and network conditions.)