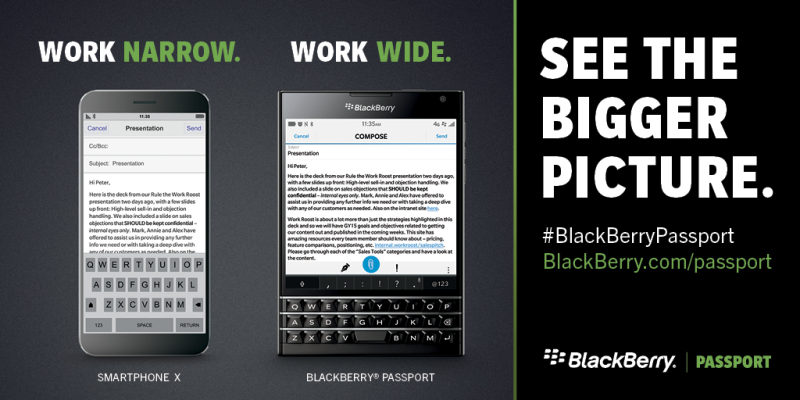 It's no secret that BlackBerry is focused on keeping mobile professionals productive. With the full unveiling of our latest device, the BlackBerry Passport, a new size and form factor built entirely around being able to work is here. Mobile innovation his been a priority since day one for the company and in two newly released videos, we establish our firm understanding of our customers and the market opportunity for BlackBerry solutions.
In a "more complex, competitive and intense world of business, that spins 24/7 one thing is for certain. Those most driven to achieve and the technology that empowers them will never stand still."
The concept of Work Wide is all about being able to view and accomplish more on a mobile device. The large square touchscreen on the BlackBerry Passport and touch-enabled keyboard combine to create a device that is a powerhouse for both consumption and output. For those mobile moments when professionals have to take action, this device will empower them, not impede them from being able to do so. While smartphones have provided professionals the ability to conduct business when mobile, many tasks are a challenge on the narrow all touch screens that we've become used to.
"You not only need to be able to see the big picture, but understand it at a glance. . . to make a big decision, we must leave behind a narrow vision and Work Wide."
When actions need to be taken, decisions need to be made, or lives are on the line. BlackBerry Passport shows there is a better, wider way to accomplish more. It is available now starting from $599 US (unlocked) through Amazon.com and ShopBlackBerry.com – get yours today. Read more about the BlackBerry Passport in our FREE 100 page eBook "Discover BlackBerry Passport".
Pricing and Availability (UPDATED 3/15)

You can get your factory-unlocked BlackBerry Passport from ShopBlackBerry.com at these links:
Black (currently $599, regular $699)
White (currently $599, regular $699)
…and at Amazon HERE, with AT&T offering it for $649.99 unsubsidized or $199.99 with a 2-year contract. The BlackBerry Passport is also available in Canada via Rogers for $249 and Telus (for as low as $150 up front) and other carriers.
For those outside the North American market, you can get your BlackBerry Passport directly from us at our global shopping portal HERE.
(Check with your local carrier for device compatibility.)
Remember – the BlackBerry Passport has a battery capacity that exceeds all rivals in milliamp hours:*
| | |
| --- | --- |
| | Runtime |
| BlackBerry Passport | 30 hours |
| Samsung Galaxy S5 | 23 hours |
| iPhone 6 | 21 hours |
| iPhone 6 Plus | 25 hours |

(*Based on third-party lab testing sponsored by BlackBerry, under 4G and 3G wireless conditions, using a mixed-usage profile. Results will vary by carrier and network conditions.)