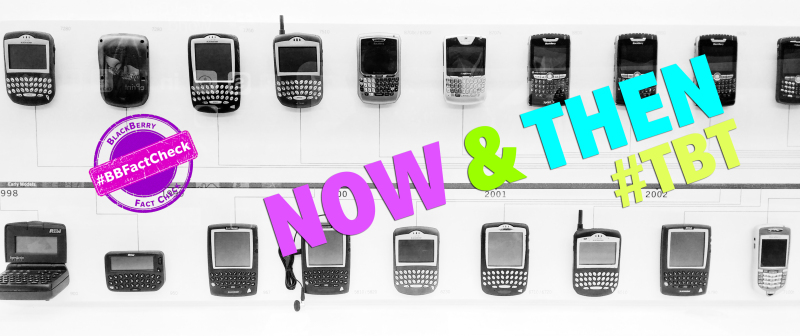 Welcome back to #TBT, ThrowBack Thursday – BlackBerry Edition. Today we're looking at comments made by AirWatch CEO John Marshall in August 2013 in CIO.

This past May, we announced that we'd welcome a more open ecosystem, allowing other Mobile Device Management (MDM) vendors – including AirWatch – to directly manage BlackBerry 10 smartphones. This step characterizes how we are listening to our customers and providing them with what they need to be successful in their mobile environments.

BlackBerry's multi-platform capabilities are best-in-class when it comes to securely managing devices running iOS, Android and BlackBerry 10 (Windows Phone will also be supported with the launch of BES12). Our award-winning Secure Work Space for iOS and Android solution allows enterprises to securely manage iOS and Android devices through containerization, app wrapping and secure connectivity capabilities, opening up more mobile device choices for users in BYOD and COPE environments.
We're also continuing to win customers back from competitors. As of September 2014, more than 840,000 of the 3.4 million licenses traded in through our EZ Pass migration program have come from competitors, including AirWatch and MobileIron.

BlackBerry inked an agreement with Amazon to bring the Amazon Appstore to BlackBerry 10 devices, starting with BlackBerry 10 OS 10.3, which runs on the BlackBerry Passport and P'9983 smartphones. All existing BlackBerry 10 users will have access to the Amazon Appstore when BlackBerry 10 OS 10.3.1 becomes available. That means that BlackBerry 10 users have their choice of two app ecosystems: BlackBerry World for business and productivity apps and Amazon Appstore for popular games and apps.

Under the leadership of CEO John Chen, BlackBerry has focused on its core strengths in enterprise and security and created the BlackBerry Technology Solutions business unit under the direction of Dr. Sandeep Chennakeshu. We're remaining laser-focused on our customers' needs, as evidenced by our highly-successful BlackBerry Passport launch targeted toward high-productivity enterprise users, the launch of the eBBM Suite, and the upcoming launches of BES12 and BlackBerry Classic. BlackBerry continues to be the most secure end-to-end provider of enterprise mobility management for customers.
AirWatch clearly had the wrong idea of where BlackBerry was headed just over 12 months ago. The enterprise mobility landscape is changing rapidly, and BlackBerry is committed to evolving with it, with both of our "feet" firmly on the ground.