Privacy and control. At BBM, we recognize that these two ideas are more important today than ever before for users of IM apps. People are looking for simple ways to help guard against their messages getting in to the wrong hands and being seen by anyone other than the intended recipient. There are lots of scenarios out there, from someone picking up the sender's phone and snooping around, to the recipient showing a message or picture to others around them, or maybe those times when a message is sent to someone by mistake. No matter how you look at it, no one likes being out of control.
Here at BBM, we believe that when people can chat and share with privacy and control, they are able to communicate with more discretion and freedom. That's why today, we're excited to give you a preview of two incredible new premium features coming to BBM in our next release.  With these new features, what you share is yours to control  – even once it's left your phone.
Timed Messages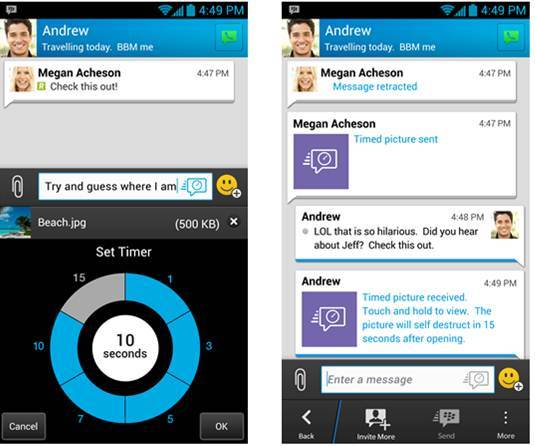 By setting a timer you can control how long messages and pictures you share with contacts can be viewed within BBM. Setting the timer is super easy: Before you send your message or picture, you just tap on the timer icon next to the text bar and choose a length of time you want the recipient to be able to view that message. The message is hidden until the recipient touches and holds on the chat. Then, once the timer has expired (or if the recipient takes their finger off the screen), the message is no longer visible. What I love about the timer is that I can move seamlessly between timed messages and normal messages in a single chat depending on what I'm sending. Oh, and don't get any smart ideas about screen shots…if a screen shot is detected, the sender is notified.
Message Retraction
We've all been there, that time when you sent a message to the wrong person. Wouldn't it be great if you could recall that message before they see it? Or maybe you've sent a piece of sensitive info to a contact – like your credit card number so they can buy some concert tix for you – and you don't want that information to remain in the BBM chat it… Well, now you can retract your message to remove it from your BBM chat. Just touch and hold on the message you want to retract and choose 'retract message' from the menu. This one works with messages, not pictures, and is only available in one-to-one chats.
If you want to see these new premium features in action check out this video demo.  We're testing these now in a limited beta for users on Android and BlackBerry 10. Timer and Retract will be available in the 2.5 release of BBM for iPhone, Android and BlackBerry 10 coming very, very soon.
---
Note:  While these features are designed to remove the message or picture the recipient's BBM chat view, they do not prevent recipients from capturing an image of the content by taking a screenshot or using an image capture device.  Retracting a message after it has been read by the recipient will remove the message from the BBM chat view, but will not affect copies of the message that the recipient may have made prior to the message being retracted.