To our loyal (current and former) BlackBerry users:
BlackBerry is driven by an urgent, obsessive focus on what matters: you. When we lose sight of what you want and you need, we lose you.
It's tempting in a rapidly changing, rapidly growing mobile market to change for the sake of change – to mimic what's trendy and match the industry-standard, kitchen-sink approach of trying to be all things to all people.
But there's also something to be said for the classic adage, if it ain't broke don't fix it.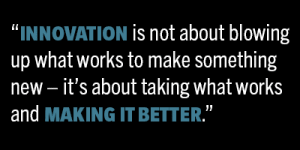 BlackBerry Classic reflects that. It is classic BlackBerry – complete with a top row of navigation keys and a trackpad. It's the device that has always felt right in your hands and always felt right in your busy day.
Of course, we've made quite a few enhancements around the edges and on the inside. The screen is bigger and sharper. Our application catalogue is growing. The BlackBerry 10 operating system incorporates all the best productivity and collaboration features on any mobile device, including the BlackBerry Hub and our all-new BlackBerry Blend.
Sure, we've got new BlackBerry devices that break the mold, including the BlackBerry Passport. But we also recognize that a lot of you continue to hang on to your Bold devices because they get the job done, day in and day out – just like you.
We get it, and we've got you covered.
Innovation is a word that gets used too often and carelessly. Innovation is not about blowing up what works to make something new – it's about taking what works and making it better. In that sense, BlackBerry Classic represents the kind of innovation BlackBerry – and you – strive toward every day.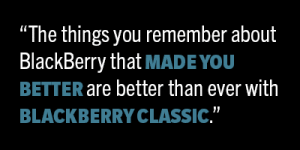 You don't reinvent yourself every day; you take what you learned yesterday and sharpen it today. You drive change – often on your terms, but sometimes not. That you keep going regardless is what distinguishes you as a grown-up. You're in it for the long haul.
So is BlackBerry. The things you remember about BlackBerry that made you better are better than ever with BlackBerry Classic. BlackBerry Classic is for you, as is everything we do every day.
We are committed to earning your business – or earning it back, if that's the case. In the weeks ahead, BlackBerry will be sharing more details about Classic that we think you'll like. In the meantime, we encourage you to visit BlackBerry.com/Classic to see for yourself why BlackBerry Classic is aptly named.
Sincerely,
John S. Chen  
Executive Chair and CEO
---
Pre-Register Here for BlackBerry Classic Information