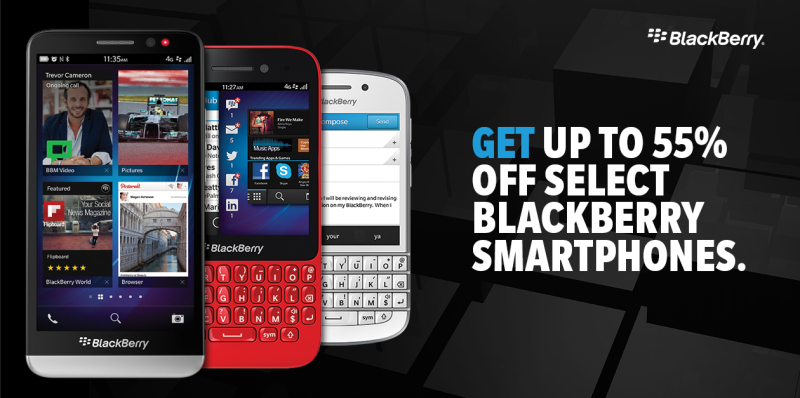 Whether it's filling up your car's gas tank or negotiating the interest rate on your home mortgage, everyone wants a good deal. And with Christmas season and all that entails just around the corner, getting a good deal is even more important. Well, starting today, you can get a GREAT deal on BlackBerry 10 smartphones including the keyboard-enabled Q5 and Q10 and the all-touch Z10 and Z30.
For example, the price of the colorful Q5 (comes in black, white, red and pink) will drop to $159 from its current $349 for shoppers at the U.S. ShopBlackBerry. That's 55% off! Meanwhile, U.S. shoppers will be able to save $200 on the Q10, choice of security-conscious German Chancellor, Angela Merkel, and the Z30, with a 5-inch screen and 2,880 mAh battery that enables 25 hour runtime. And all three models were recent winners of prestigious Red Dot design awards.
Visit our official November sale page for US buyers, from where you can also go to the page of discounted phones for Canadian buyers, as well as for UK buyers.
I should add that the discounted phones are all unlocked, meaning you can take them to the carrier of your choice, including prepaid and other discount carriers. Always make sure to check that your carrier of choice supports the network bands available on the phone you're looking to buy. Here's a great primer by my colleague Matt Young on how to switch carriers by swapping SIM cards on your BlackBerry 10 phones.
Finally, these phones are all upgradeable from our award-winning BlackBerry OS 10.2 to BlackBerry OS 10.3.1, the coming update that will bring 18 significant new features, including built-in access to the Amazon Appstore and a huge selection of Android apps. Owners of the BlackBerry Passport already enjoy the features of version 10.3.
Enterprises can order these phones in bulk, too! However, you should hurry – these phone deals will be available on ShopBlackBerry only until December 1st. A few other restrictions and other legal language I must mention: only for customers accepting delivery in the United States, Canada and UK. Exact prices and discounts will vary by country, as will the availability of models and colors. These discounts are NOT valid on previous ShopBlackBerry purchases. Quantities are limited and the offer can change at any time.