We all know the BlackBerry Passport was designed to go places, but there's at least one person using it to take him places.
As Adrian Archer of New York City told me, "You can write screenplays on a BlackBerry Passport!" Archer spends his time crafting worlds and characters as a screenwriter when he's not working as a Program Coordinator for the Manhattan District Attorney's office. He's had two screenplays optioned and landed some awards in screenwriting competitions.
In both roles, his BlackBerry Passport has proved itself to be essential. (His enthusiasm for the Passport sounds similar to that of other professionals BlackBerry has already profiled, including a software customer support manager, a clinical research CEO, and a professor.)
Archer has high hopes for his time spent writing: "Hopefully, I'll be behind one of the first feature screenplays written and edited on the BlackBerry Passport."
Young: How important is security to you, considering the nature of your IP as a screenwriter?
Archer: Security is of the utmost importance to me. My number one business goal is to protect the ownership of my projects for as long as possible. Nothing fouls up that plan more than leaks. It's hard for a spec screenwriter to prove IP theft when there are so many similar ideas floating around. Working on a BlackBerry gives me a peace of mind. The Passport allows me to focus on the story instead of worrying if my encryption is sound.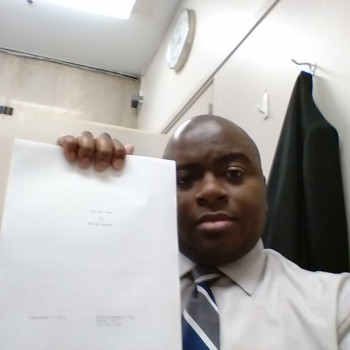 Young: How does the BlackBerry Passport meet your mobile productivity needs? What features do you find yourself using heavily?
Archer: I love the UI on the Passport – it's nice and clean, and the Hub is so beautiful with 10.3, I don't want to swipe out of it.
The Hub has been a godsend for me. Instant actions, search, pinch to zoom, and the ease of attaching documents have made networking a breeze. Facebook, BBM, and email are all a swipe away. I can even access my appointments. The Hub has helped me retire my iPad, and I don't fire up my laptop as often either.
Young: The build quality stands out, too, doesn't it?
Archer: The build of the phone is sturdy, but light. I use a hard shell, which protects the corners and allows me to Flip to Save. Otherwise, I wouldn't mind using the phone without the case. I like the professional finish of the back.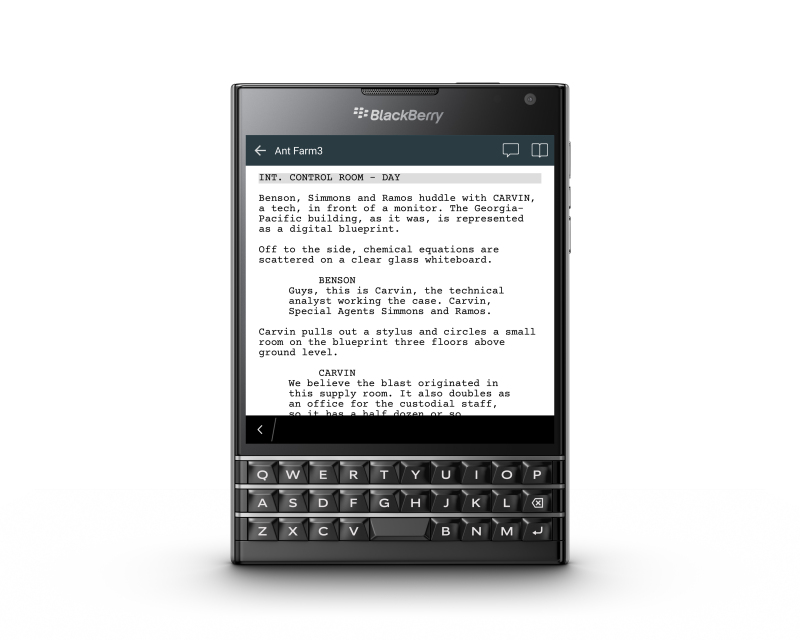 Young: What would you try out on the BlackBerry Passport that you wouldn't even want to bother with on a different platform/device?
Archer: For the first time, I can view and edit spreadsheets on a phone. With the Passport's 1:1 screen, I can do some of my day job work from home, while I'm on a "sick" day working on a script. Being a screenwriter with a day job is like living a double life. By day, I manage data for the Manhattan DA's office. Every other waking hour, I'm creating stories about ordinary people with extraordinary lives. The BlackBerry Passport is invaluable to me in both aspects. It's truly an exceptional device.
Young: Do you have a work email account set up with the District Attorney's office that you access on the Passport?
Archer: That's a great question, as that is one of the main reasons I got the Passport. We have a remote web app for our work email (it's Outlook, pretty much), which I prefer to access using my phone. The drop-down menus don't work on a rectangular phone, so I found it hard to select actions or collapse/expand email chains. When I heard about the Passport, I had an inkling those functions would work on a square screen. Accessing my work email through the web has been a dream. I can't get this functionality with any other phone. People at work with a Samsung Galaxy or iPhone have the same problem. I've been telling as many people at work as I can!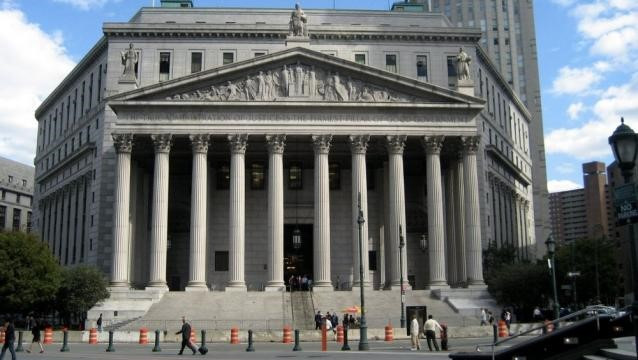 Young: How does the battery life affect you? With 30 hours of mixed use, you probably don't have to sweat grabbing a charge during the day.
Archer: The Passport has the best battery life of any phone I've ever had. I took my phone off the charger on a Thursday morning, and didn't have to charge it again until Sunday night. Even during the work week, I'm getting 36 hours easy. I don't use a lot of data because I have pretty consistent Wi-Fi access. The Wi-Fi at both my work and home are encrypted.
Young: Have you used your BlackBerry Passport to show off documents or pictures (or screenplays) to anyone? What has the response been like?
Archer: I've been showing off the Passport at work profusely. Pictures, spreadsheets, PDFs, you name it. People are so afraid of change! However, they are really impressed by the Passport. People are pumped because of the innovation, but it's a big change for some. More exposure, and more people loving it, will bring them around. It's like a cult classic.
Pricing and Availability
You can get your factory-unlocked BlackBerry Passport from ShopBlackBerry.com at these links:
Black (currently $599, regular $699)
White (currently $599, regular $699)
…and at Amazon HERE, with AT&T offering it for $649.99 unsubsidized or $199.99 with a 2-year contract. The BlackBerry Passport is also available in Canada via Rogers for $249 and Telus (for as low as $150 up front) and other carriers.
For those outside the North American market, you can get your BlackBerry Passport directly from us at our global shopping portal HERE.
(Check with your local carrier for device compatibility.)
Remember – the BlackBerry Passport has a battery capacity that exceeds all rivals in milliamp hours:*
| | |
| --- | --- |
| | Runtime |
| BlackBerry Passport | 30 hours |
| Samsung Galaxy S5 | 23 hours |
| iPhone 6 | 21 hours |
| iPhone 6 Plus | 25 hours |

(*Based on third-party lab testing sponsored by BlackBerry, under 4G and 3G wireless conditions, using a mixed-usage profile. Results will vary by carrier and network conditions.)