BlackBerry Passport has been out for a week, and early-bird professionals who jumped at the chance to buy one are now enjoying the productivity benefits. We're starting to profile professionals in different industries to illustrate the real-world, on-the-job benefits of our device.
Reggie 'Fox' (for professional reasons, he preferred we not use his real name) works for a large health insurance company in sales in the New York City metro area. I tracked him down after seeing his unboxing video (check out ours HERE) of the BlackBerry Passport on YouTube.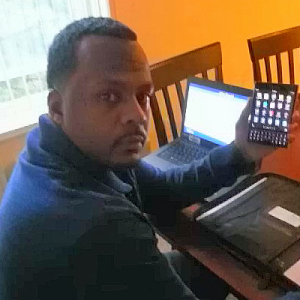 Fox shared his thoughts about his new tech with me in a Q&A after working with it for a week.
He starts out, "I figured the Passport would do well, so I made sure to order mine the moment it was available. It was a blind buy that was totally worth it."
Smart move, my friend, since it sold out in hours.
(Note: Some of the photos were supplied by Fox or taken from his YouTube video with permission.)
Young: With so many options in phones out there, what drew you to the BlackBerry Passport?
Fox: What drew me? I thought, finally, my prayers have been answered after begging the phone gods to just give me a phone with a large screen and a physical keyboard. In my opinion, you won't find a better option for your phone, with those two things being my priorities.
Young: Working in sales for a big company, how is the BlackBerry Passport proving useful in your job?
Fox: The Passport has already shown to be very useful in my line of work, where being out in the field is not an option – it's a must. The BlackBerry Assistant works wonders here.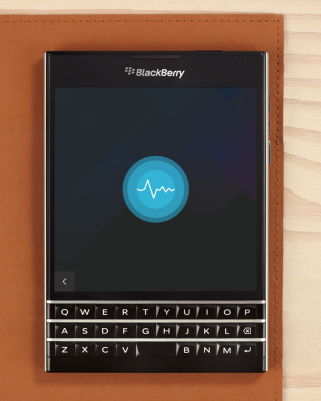 Young: How does it make being away from the office easier for you?
Fox: I'm able to link BlackBerry Assistant to my Bluetooth. It allows me to ask my Passport what my day looks like, and then looks into my calendar, reads my appointments and navigates me to my destination. I am also able to schedule new appointments, as well as delete and edit existing ones, and I can share my schedule with clients as well as colleagues. This is all done hands free – the BlackBerry Assistant provides ease-of-access on the go.
Young: In what other areas of your career is the BlackBerry Passport helpful?
Fox: The Passport can identify when I'm in meetings and automatically puts the phone on silent or vibrate. This feature works great and allows me to give clients my undivided attention without interruptions.
Because of the unique design I can even make simple edits to spreadsheets without opening my laptop.
Speaking of laptops – allows me to share information between my laptop and phone. For example if I receive a BBM it will pop up on my computer screen. I can't tell you how great that feature is when you are away from your phone, but still being able to respond to messages keeps me connected. For some that may be a bad thing, but for me, staying connected is a must.
Young: Do you find helpful, where you have your "personal" and "work" spaces distinct from each other?
Fox: Yeah, it allows me to separate work contacts, emails and sensitive data from my personal accounts.
Young:  So interacting with clients is part of how you use your BlackBerry Passport?
Fox: The ability to enroll members right on my phone, creating a quote, or going over a benefit summary with a client on such a wide screen is a joy. I mean try going over a benefit summary with a 75-year-old on an iPhone 4 screen, or a Q10 for that matter.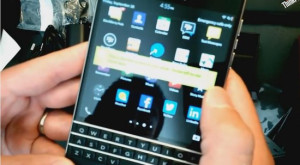 Young: So, it sounds like the user experience has been pretty good, right?
Fox: The user experience has been great. The phone is super-fast and responsive. Once the initial shock of the phone's size goes away, you really begin to appreciate the keyboard. My cousin, who has a Samsung Galaxy Note 3, challenged the BlackBerry Assistant with Google Now – It blew him away when BlackBerry Assistant was able to play a song from my library, turn on the phone's flash light, read calendar appointments, etc. Google Now just kept searching the web when asked to do the same task!
Young:  How are the core experiences, like typing, browsing, email, the Hub, and all that?
Fox: Typing is just as good as you would expect from a BlackBerry. I thought only having three rows would be an issue, but I was wrong.
The Hub was always great, but having the ability to now respond to messages directly from the Hub makes life that much easier.
Browsing the Internet is a real pleasure – turning the phone to landscape mode and using the keyboard to scroll through content feels so natural I can't picture doing it any other way now.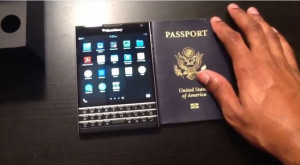 I don't want to sound like I am gushing, but this phone is really a beast. Battery life almost lasts too long if that even makes sense – I don't like to charge my phone until it's about only 10%. With this phone, that doesn't happen until I'm sleeping far away in dream-land.
Young: Yeah, getting used to such an extended battery life can change your rhythms up a bit. So, overall, how would you rate the BlackBerry Passport?
Fox: Overall, I would rate it as a solid "8 1/2." I really love this phone. No bugs; solid build; great keyboard; amazing screen and the best battery life I've ever had in a phone. It's fast with lots of memory and a real "wow factor" – people will always ask to see your phone.
Young:  Got it! Well, Reggie, thanks for your time, and enjoy your BlackBerry Passport!
Pricing and Availability
You can get your factory-unlocked BlackBerry Passport from ShopBlackBerry.com at these links:
Black (currently $599, regular $699)
White (currently $599, regular $699)
…and at Amazon HERE, with AT&T offering it for $649.99 unsubsidized or $199.99 with a 2-year contract. The BlackBerry Passport is also available in Canada via Rogers for $249 and Telus (for as low as $150 up front) and other carriers.
For those outside the North American market, you can get your BlackBerry Passport directly from us at our global shopping portal HERE.
(Check with your local carrier for device compatibility.)
Remember – the BlackBerry Passport has a battery capacity that exceeds all rivals in milliamp hours:*
| | |
| --- | --- |
| | Runtime |
| BlackBerry Passport | 30 hours |
| Samsung Galaxy S5 | 23 hours |
| iPhone 6 | 21 hours |
| iPhone 6 Plus | 25 hours |

(*Based on third-party lab testing sponsored by BlackBerry, under 4G and 3G wireless conditions, using a mixed-usage profile. Results will vary by carrier and network conditions.)