For the last 31 years, Todd Moody has taught philosophy to a few generations of students seeking to expand their minds. Now at Saint Joseph's University in Philadelphia, Pennsylvania, Moody has watched information and communications technologies move over the years from the basement to the pocket.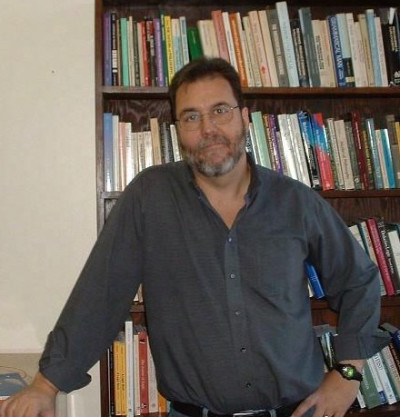 A longtime tech enthusiast, he says he was one of the first faculty members to jump on email, and now, he utilizes his BlackBerry Passport to plow through what he says is "a lot of reading and writing" in his profession.
Young: What made you choose to upgrade to the BlackBerry Passport?
Moody: I've used BlackBerry smartphones since 2007, when I bought a Curve 8320. Since then, my expectations for a smartphone have only risen, and now I have a BlackBerry Passport. Before that, I was using a Q10, and a Z10 before that. And I've ventured onto other platforms as well, especially Android; but I've kept returning to BlackBerry.
Young: Being a teacher in a university setting, you're probably accustomed to seeing students with their noses pressed up to a variety of devices, right?
Moody: I'm up in front of a room of undergraduates, and every one of them has a smartphone. They're on them constantly, not only for social purposes but also for communicating with me. Like the professionals they aspire to become, they expect on-demand communication and updates.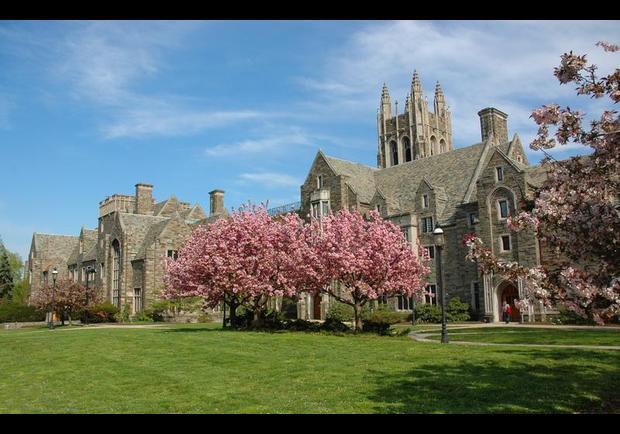 Saint Joseph's University. Photo Credit: Forbes
Young: Have you had any students ask you about your BlackBerry Passport?
Moody: The first time I took the Passport out of my shirt pocket, they noticed. A couple knew what it was; the rest wanted to know. They were definitely interested. Over 90% of them are currently iPhone users. I showed them the Hub and how to peek into it. Nobody asked if it'd fit into a pocket, since they just saw me take it out of a pocket.
Young: So where does it come in to play?
Moody: Well, at my university, we use the Blackboard software as our primary interface between students, faculty, and administration. Blackboard is a complex suite of applications accessible through a web app.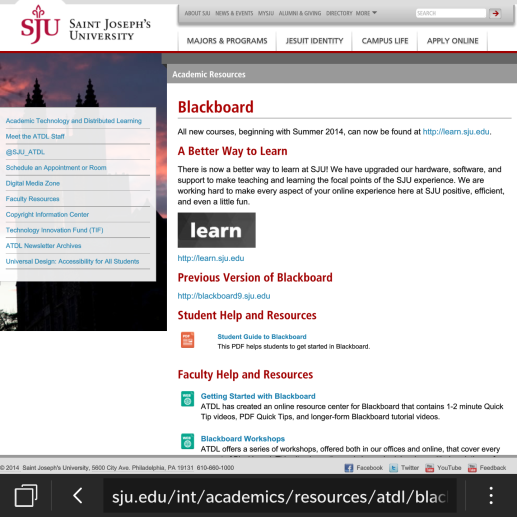 To use it effectively, a powerful browser is necessary, and a large screen is a definite plus. For example, using the Blackboard web interface, I input and update student grades, send emails to individual students or groups, post course announcements, comment on course discussion boards, post links to web content for courses, and even submit midterm and final course grades to the registrar for processing.
Young: Sounds like that would be challenging – if even possible – from a run-of-the-mill mobile.
Moody: Most of the time, I'd do these things from a laptop or desktop machine, but there are times when that's not an option. If I'm away from campus at a conference, I may need to do something on Blackboard from my phone, and in fact I've been able to post announcements and update grades in Blackboard from the browser on my Q10 while waiting in an airport. But doing so is not exactly easy, given the small screen. When I got the Passport, one of the first things I tried was Blackboard in the browser. What a difference! The big square screen lets me see what I'm doing very effectively, and the experience of using Blackboard is much more comparable to the laptop experience.
Young: So you do a lot of reading and writing? Most smartphones are designed primarily for watching videos and playing games.
Moody: I actually began to depend on a Kindle e-reader a few years ago. The Android Kindle app on the Passport provides a nice large screen for reading books, and adding highlights and annotations. I'm constantly composing notes and jotting down half-baked ideas for possible use later in articles or even books of my own.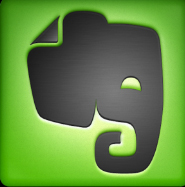 The Remember app with Evernote sync is essential for this – it allows me to access the notes later from a laptop and do something with them.
Young: Do you find the innovations with the touch-enabled keyboard helpful juggling all of those words?
Moody: Absolutely. I was just going to say that the other part of that is the keyboard. As a long-time BlackBerry user, I've built up a large library of Word Substitution (formerly auto-text) entries.
Young: So you're able to have your own, personalized dictionary/word choices on tap when you're entering text? That's useful, probably even more so in your profession.
Moody: Right. In effect, I've created a personal shorthand that enables me to create text very quickly and accurately. Technical terms from my discipline and abbreviations for many common English words. It's really useful with the BB10 word prediction. Anyway, Word Substitution works best for me with a physical keyboard, which is why I was eager to try the Passport, combining a large screen with a physical keyboard for the best of both worlds. The Passport keyboard is a bit different from previous BlackBerry keyboards, so it took a day or two to get used to, but now I'm as good with it as I was with my Q10 and previous BlackBerrys with physical keyboards.
Young: Let's talk a little more about the screen. You said the large screen is important to you?
Moody: I realize that young people tend to have great eyesight and don't mind setting their smartphones to a very small font size. But contrary to popular belief, not all smartphone users are young – and none of them stay young! To avoid having to squint, I keep my font size large. On the Passport I can keep the font size large and still have a substantial full screen of content.
Young: How does the long battery life impact you?
Moody: It lets me use the phone without disabling features to save juice. On another phone I had, I used to turn off the swipe to wake option, because it needed a trickle of power to keep the screen sensitive. On the Passport I don't have to worry about such things.
Young: Have you utilized BlackBerry Assistant yet? Or BlackBerry Blend, where you can use it with a computer?
Moody: Yes to both. So far, I use BlackBerry Assistant mainly to create calendar events. I find it easier than typing in the details. As for Blend, I discovered it's a solution to a problem I've had for years. My office is in an old stone building and the reception is terrible, unless I keep the phone near the window, which isn't convenient at all, especially since my wife and son use BBM to contact me from their Android phones. With Blend, it's not a problem to leave the Passport on the sill where the reception is good and still have the use of many features. Except for phone calls!
Young: It looks like the BlackBerry Passport was just what you needed!
Moody: Absolutely. Look – the nature of personal computing is changing. Smartphone screens are larger, because people are expecting to use them for more and more. That means they're using laptops and desktop machines less, and expecting their mobile devices to take over more of the work.
In my opinion, the BlackBerry Passport is the closest thing to a "pocket laptop" on the market at this time. With continued software updates, I only expect it to get better.
Even old professors can learn new tricks!
Pricing and Availability
You can get your factory-unlocked BlackBerry Passport from ShopBlackBerry.com at these links:
Black (currently $599, regular $699)
White (currently $599, regular $699)
…and at Amazon HERE, with AT&T offering it for $649.99 unsubsidized or $199.99 with a 2-year contract. The BlackBerry Passport is also available in Canada via Rogers for $249 and Telus (for as low as $150 up front) and other carriers.
For those outside the North American market, you can get your BlackBerry Passport directly from us at our global shopping portal HERE.
(Check with your local carrier for device compatibility.)
Remember – the BlackBerry Passport has a battery capacity that exceeds all rivals in milliamp hours:*
| | |
| --- | --- |
| | Runtime |
| BlackBerry Passport | 30 hours |
| Samsung Galaxy S5 | 23 hours |
| iPhone 6 | 21 hours |
| iPhone 6 Plus | 25 hours |

(*Based on third-party lab testing sponsored by BlackBerry, under 4G and 3G wireless conditions, using a mixed-usage profile. Results will vary by carrier and network conditions.)