As people around the world get their hands on the BlackBerry Passport, they're discovering all that their ticket to productivity offers, and people are taking note. It's too good not to talk about – and as technology analyst Bob Egan of the Sepharim Group is discovering, the feedback from a little "show-and-tell" with the vox populi is strong.
A few days ago, Egan penned a piece for Forbes Magazine on the street-level reactions to the BlackBerry Passport. "BlackBerry's new Passport is eye-catching," he writes. "Women call it 'sexy.' Men say it's 'cool.' And once they use it, iPhone owners apologetically concede that they 'only have an iPhone.'"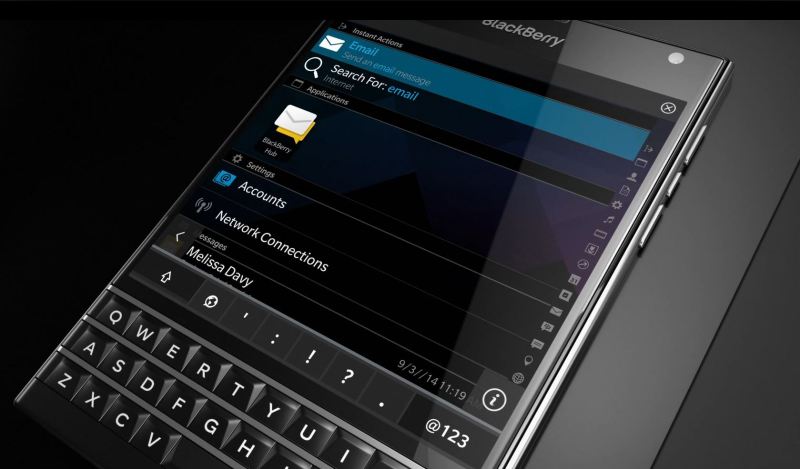 Calling the BlackBerry Passport "an elegant, modern conversation starter," Egan conducted what he describes as "an informal experiment" in which he spoke with about 50 people and "shared it with random people so I could hear their opinions, too."
Let's take a look at the chart he produced for Forbes, documenting their reactions: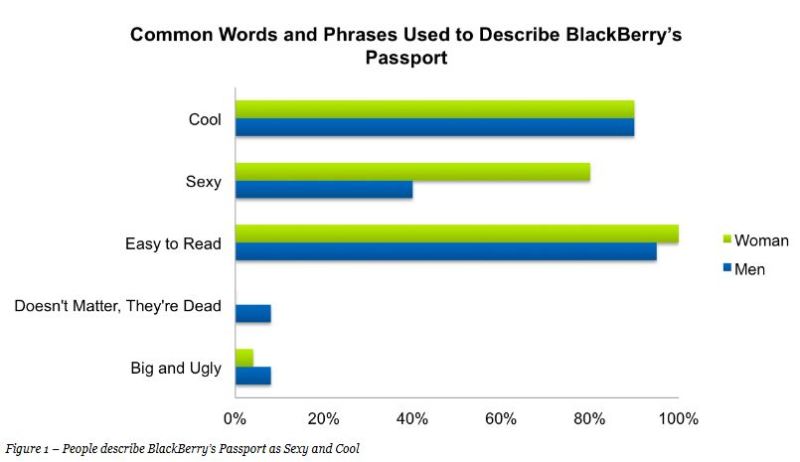 According to the feedback he received, Egan found over 90% of people he spoke with found the BlackBerry Passport "cool," with over 80% of the women he interacted with describing the BlackBerry Passport as "sexy." Close to 100% of men and women felt the BlackBerry Passport's 1,440 x 1,440, 4.5-inch screen made documents, web pages, and more "easy to read."
This flies in the face of some reviewers who have been spoiling for a spectacle, but people like what they like, and they like the BlackBerry Passport.
Egan writes,
"Whether I was standing in a TSA line at an airport, or minding my own business during a flight, people near me asked about the Passport. During a recent trip between Boston and Atlanta, Alexander, a Delta flight attendant, actually leaned over the passenger sitting next to me and asked, 'Hey, is that the new BlackBerry? How do you like it?' Mind you, I was actually typing the first draft of this post on my Passport when he interrupted. I handed him the device and told him to try it out for a while. Then there was Sandra, a well-known graphic illustrator and personal friend, whom I just happened to run into. 'What the heck is that?' was quickly followed by, 'This device is damn sexy! Is it really a BlackBerry? Can you get me one?'"
Similar stories are popping up around the web, including at the BlackBerry-enthusiast site Crackberry.com, where Amsterdam-based user "H4zN" posted about this amusing scenario which he says occurred in the middle of writing about his BlackBerry Passport:
"As I'm doing thing this write-up, there are 3 business men talking about their mobile phones . . . . They're talking about apps, battery life, e-mail, etc. One of them turns around (I think he already saw my Passport laying on the table) and says 'I wonder what phone this gentleman has.'
"I picked up my Passport and showed it to them. One of then literally said "WOW, WHAT'S THAT?!" and I told them it's a BlackBerry. He asked right away what model and I said it's the Passport, after which I asked him if he has a passport with him. He pulled it out of his pocket and I held it against the phone and he went crazy . . . I showed them the Device Monitor . . . . The Android guys were blown away since they were talking about battery life initially . . . . They eventually asked me how much it costs and were surprised that it was cheaper than the iPhone and Android flagships."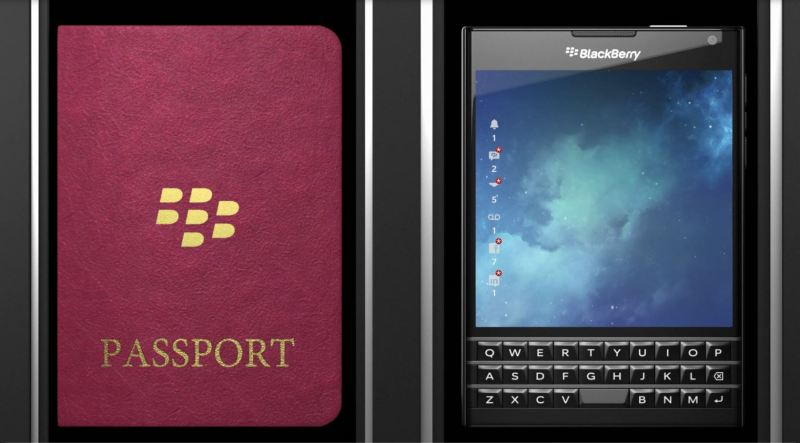 Fellow Crackberry poster "crackbridge" of the city of Lethbridge in Alberta, Canada, received similar attention at a movie theater:
"Was waiting in line for 10 minutes at the movie theatre, and had no less than 8-10 people either ask me directly about it or I overheard them mention it. 'I think that guy has that new BlackBerry, looks actually pretty cool.' A few people wanted to hold it and see the keyboard . . .  [I] had few more on the way out of theatre ask me about it as I was messaging some buddies. [It] always receives looks and comments whenever it's in my hands."
It's not just businessmen and movie theater crowds scoping the BlackBerry Passport, either. Philosophy Professor Todd Moody (read our Q-and-A with him HERE) of Saint Joseph's University in Philadelphia, Pennsylvania, wrote in the same forums about the reaction he got from one of the school's IT workers when he came to check out Moody's school laptop.
Moody, who goes by "ubizmo" on Crackberry, describes the exchange:
We know there are many, many more stories developing out in the wild where people are beginning to use and show off their devices, and we want to hear yours. Tell us in the comments below.
I'll leave you with this final anecdote from Egan:
"Based on my own research, people want the Passport because it's different from the Apple norm we've been seeing since the first iPhone was introduced seven years ago. It has 'cool' and 'I'm important' written all over it. If BlackBerry can succeed in 'bringing sexy back,' the Passport – and perhaps BlackBerry – has a real shot at becoming the new status symbol for a population desperately looking for something new."
Here's to that.
Pricing and Availability
You can get your factory-unlocked BlackBerry Passport from ShopBlackBerry.com at these links:
Black (currently $599, regular $699)
White (currently $599, regular $699)
…and at Amazon HERE, with AT&T offering it for $649.99 unsubsidized or $199.99 with a 2-year contract. The BlackBerry Passport is also available in Canada via Rogers for $249 and Telus (for as low as $150 up front) and other carriers.
For those outside the North American market, you can get your BlackBerry Passport directly from us at our global shopping portal HERE.
(Check with your local carrier for device compatibility.)
Remember – the BlackBerry Passport has a battery capacity that exceeds all rivals in milliamp hours:*
| | |
| --- | --- |
| | Runtime |
| BlackBerry Passport | 30 hours |
| Samsung Galaxy S5 | 23 hours |
| iPhone 6 | 21 hours |
| iPhone 6 Plus | 25 hours |

(*Based on third-party lab testing sponsored by BlackBerry, under 4G and 3G wireless conditions, using a mixed-usage profile. Results will vary by carrier and network conditions.)