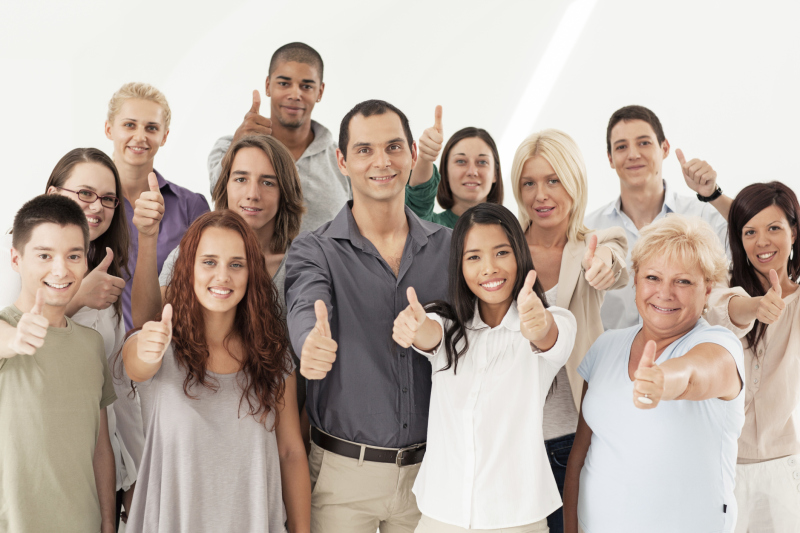 About a month ago, we ran a blog post on Amazon customer reviews of the BlackBerry Passport. At the time, there were 58 customer ratings (average 4.8 out of 5 stars) and 51 in-depth customer reviews.
A month later, the BlackBerry Passport remains at a stellar 4.7 out of 5 stars, even while the number of reviews has tripled to 166. 87% of reviewers have given our new phone a full five stars. Another 9 have given it 4 stars. In other words, 93% of reviewers gave the BlackBerry Passport either 4 or 5 stars. That's a pretty solid track record.
Furthermore, Amazon began several weeks ago to let its reviewers confirm that they had purchased a BlackBerry Passport via its site. Nearly 70 (43%) of the reviews are from "Verified Purchases." As Amazon says,
"Customers can add this label to their review only if we can verify the item being reviewed was purchased at Amazon.com. Customers reading an Amazon Verified Purchase review can use this information to help them decide which reviews are most helpful in their purchasing decisions."
Well, it may be a no-brainier, but those verified customers have high praise for the productivity powerhouse.
(Also read our Q&As with professionals talking about how the BlackBerry Passport makes them productive on the job. They include screenwriter, software customer support manager, a clinical research CEO, and a professor.)
"Exceeded Expectations"
"This phone is AMAZING," writes john f mensing jr in his five-star review. "Built like a brick house, wonderful tactile PLUS virtual keyboard . . . large screen that won't ruin your vision from hours of staring at it, PHENOMENAL BATTERY LIFE, super fast browsing capability and plenty of options for those who use apps and play games . . . [T]his phone has exceeded all of my expectations."

"Perfect, exceeded expectations," says Adil A. "Battery life very good. Physical keyboard really makes life so much easier. Would recommend to anyone who uses his or her phone for work/emails/etc."

Same sentiments from Chris: "This Phone completely surpassed my expectations. This is truly a business phone."


"The Best Phone I've Ever Owned"
Many users are flat-out calling their BlackBerry Passports the "best phone" they've ever owned.
One Amazon customer (name not given, but with nine reviews under the profile) switched over from Android devices:
"Never owned a Blackberry but am intimately familiar with Android. There is no comparison. If productivity a major focus in your choice of cellphone, and you desire customization unachievable with iPhone apps, Blackberry is worthy of your every consideration. Battery life has been my most pleasant experience, then the Hub . . . I'm no geek, but I appreciate simplicity and speed. Love the keyboard and the Assistant feature is impressive. For the latter to be effective the voice recognition had to be virtually flawless. Am pleased to report that such is the case. Text editing nowhere near as frustrating as in the past. Simply put, this the best phone I've ever owned."

Amazon customer Anthony calls the BlackBerry Passport the "best phone on the market today":
"Received my new Blackberry Passport yesterday after waiting for it for almost three weeks . . . This phone is truly the best phone on the market for getting things done. It has all the strength of BB 10 plus an amazing beautiful screen and an awesome keyboard . . . This is the business phone to replace the Bold 9900. This is it! Absolutely love this phone and would recommend it to anyone I meet."

Fabian B. agrees:
"After three days of using the BlackBerry Passport I have adjusted to its broad shape and weird keyboard. And while writing a blog on the Passport it occurred to me that no other smartphone will ever be good enough again."

"It'll definitely stand out from the rest of today's smartphones (in a good way!), Jerome Carty writes. "After using it for two weeks, I'd have to say this is THE best phone I've owned. It's innovative and quirky yet cool. It feels premium, the screen is crystal clear and the battery life is AMAZING."

Virginia Bonilla loves the typing experience:
"Best phone I have ever had. I can finally text without wanting to break the phone. As someone who has rental properties and invest in the stock market, you can't beat the experience. Finally a phone for big girls and boys."

Apple Family Enjoys a Taste of BlackBerry
JJK comes to the BlackBerry Passport from the realm of iOS, and hails it as "an adult phone":
"Just couldn't be more impressed with my new Blackberry Passport. It's just a hell of a phone optimized to be a communications center rather than an entertainment device. We're all Apple fans in my family and love Apple products, including our iPhones, but Passport running the new OS 10.3+ is just another animal altogether, setting the standard, in effect, for what an "adult" smartphone can and should be."

"No Compromises"
"Best phone on the market by far," writes Stau. "Battery life blows my mind . . . Keyboard is excellent and the swipe functionality to insert suggested words is fantastic. Screen resolution is great and I love the fact that I don't need to swipe on the screen if I don't want to when I navigate a page . . . The processor is super-fast. The size of the screen makes it possible to work on large files and spreadsheets as well as watch videos with superior performance. Speakers are loud and excellent quality of sound. Camera is comparable to iPhone. Usability is very good and very intuitive. Our household has 1 HTC, 2 iPhone 5s and a Samsung S4. The Passport is by far the best by admission of all family members . . . This is an excellent phone that successfully satisfies both entertainment and business needs with no compromises."
Not Just Amazon, Either
The BlackBerry Passport is pulling strong numbers elsewhere around the world as well, with high scores (5 out of 5 stars from 28 ratings) from the Canadian Best Buy website:

…as well as Canada's Future Shop website (4.9 out of 5 starrs from 24 ratings):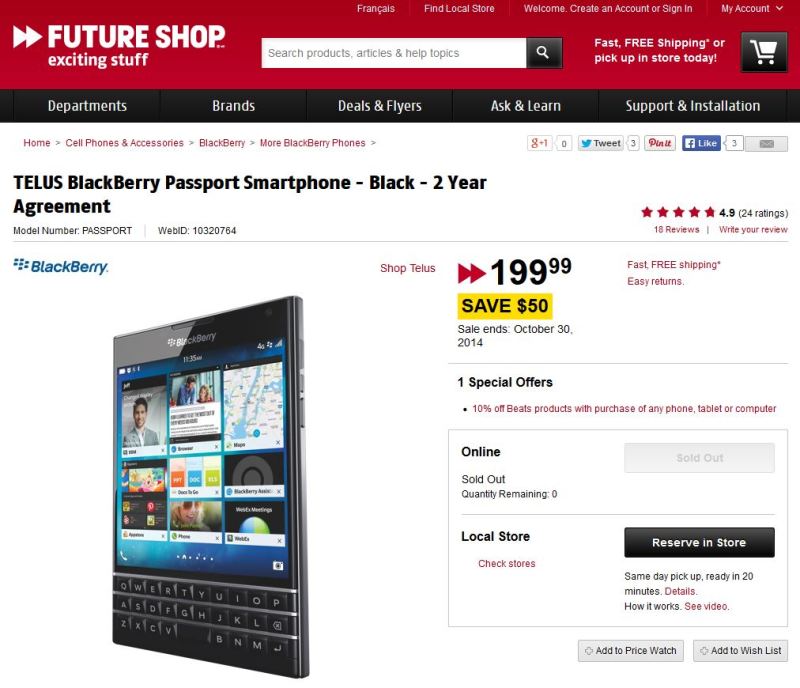 …and the Indian mega-site, FlipKart (5 out of 5 stars from 33 reviews):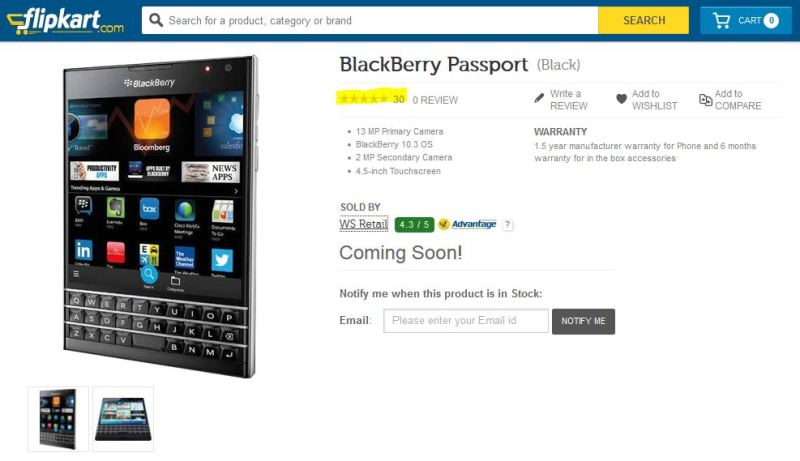 Where I come from, they call that high of a percentage of high reviews a "consensus," and the consensus from actual customers seems to be this: they're loving all that their BlackBerry Passports offer them.
The fact that it has insane battery life isn't anything to scoff at either:
The BlackBerry Passport has the best runtime among ALL rivals*:
| | |
| --- | --- |
| | Runtime |
| BlackBerry Passport | 30 hours |
| Samsung Galaxy S5 | 23 hours |
| iPhone 6 | 21 hours |
| iPhone 6 Plus | 25 hours |

(*Based on third-party lab testing sponsored by BlackBerry, under 4G and 3G wireless conditions, using a mixed-usage profile. Results will vary by carrier and network conditions.)
Pricing and Availability
You can get your factory-unlocked BlackBerry Passport from ShopBlackBerry.com at these links:
Black (currently $599, regular $699)
White (currently $599, regular $699)
…and at Amazon HERE, with AT&T offering it for $649.99 unsubsidized or $199.99 with a 2-year contract. The BlackBerry Passport is also available in Canada via Rogers for $249 and Telus (for as low as $150 up front) and other carriers.
For those outside the North American market, you can get your BlackBerry Passport directly from us at our global shopping portal HERE.
(Check with your local carrier for device compatibility.)
Do you have a great story about your BlackBerry Passport? Tell us in the comments below!