There has been quite a bit of buzz around the BlackBerry Passport. You've seen what the media has said and have read the excellent feedback we've received on Amazon. People are loving how the BlackBerry Passport handles their business. With strong chops in business applications, it only makes sense that good things are being said by big names about the big phone. Here are a few things that a few heavyweights in the business, sporting and entertainment worlds have said about the smartphone that helps you to Work Wide.
A self-made billionaire, Lord Alan Sugar is a UK tech entrepreneur and host of The Apprentice UK television show.
I've been playing with the @BlackBerry #passport for the past three months — it's AWESOME. especially for email/writing/spreadsheets

— jason (@Jason) September 25, 2014
Jason Calacanis is a Silicon Valley technology investor, entrepreneur and blogger. His hits include gadget blog Engadget and fast-rising car-sharing service, Uber.
Milos Raonic is the top Canadian male tennis player, ranked 8th in the world. Learn more about him here.
Tyler Florence is a San Franciso Bay Area-based-chef, television host of several Food Network shows, and entrepreneur involved in eight companies, including restaurants, retail shops, media production companies, and technology startups.
Comedian Tim Allen touted the BlackBerry Passport on Jimmy Kimmel Live.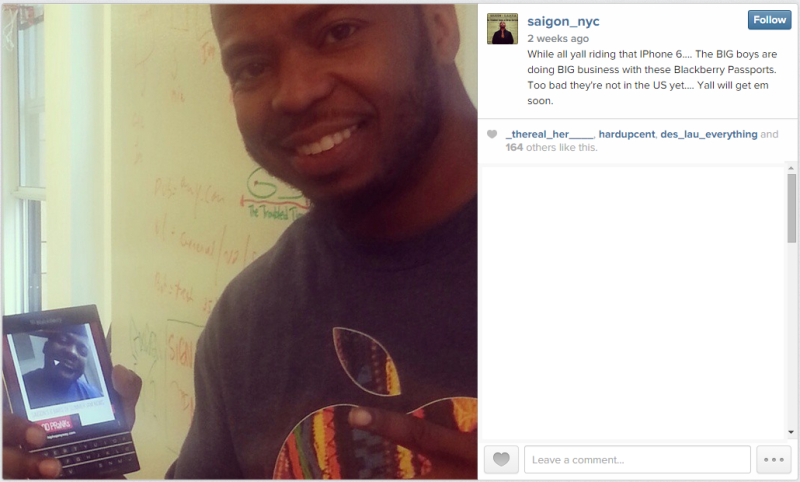 Brian Carenard is a rapper better known by his stage name, Saigon. He is all about big business. "While all yall riding that iPhone 6…The BIG boys are doing BIG business with these BlackBerry Passports," he wrote on Instagram.
Bayern Munich and Peruvian national team football star Claudio Pizarro is working wide.
Kevin Pietersen, @KP24, is a world -renowed international Cricket player who also owns various businesses in London.
"The BlackBerry Passport has made a huge difference for me. It's like a real passport. It's the key to everything: pictures, emails, work stuff you have to type up, my calendar. Trust me, I'm always on my calendar and schedule. You're typing fast, you're receiving fast, and that's daily life. It's 24/7 and it flows."
Masai Uriji is president and general manager of the Toronto Raptors professional basketball team.
UK journalist and former CNN host Piers Morgan wants to get his hands on a BlackBerry Passport, too.
Camarotti is a media executive who is founder/CEO of the Brazilian editions of Forbes and Billboard magazines.
Very excited for having received my @BlackBerry #Passport today! #smartphones #BlackBerry pic.twitter.com/UE2pTpXUz1

— Dimitris G.E. Tsigos (@tsigos) October 6, 2014
Dimitris Tsigos is President of YES, a European group representing young entrepreneurs, and founder & CEO at a Greek startup incubator.
Pricing and Availability
You can get your factory-unlocked BlackBerry Passport from ShopBlackBerry.com at these links:
Black (currently $599, regular $699)
White (currently $599, regular $699)
…and at Amazon HERE, with AT&T offering it for $649.99 unsubsidized or $199.99 with a 2-year contract. The BlackBerry Passport is also available in Canada via Rogers for $249 and Telus (for as low as $150 up front) and other carriers.
For those outside the North American market, you can get your BlackBerry Passport directly from us at our global shopping portal HERE.
(Check with your local carrier for device compatibility.)
Remember – the BlackBerry Passport has a battery capacity that exceeds all rivals in milliamp hours:*
| | |
| --- | --- |
| | Runtime |
| BlackBerry Passport | 30 hours |
| Samsung Galaxy S5 | 23 hours |
| iPhone 6 | 21 hours |
| iPhone 6 Plus | 25 hours |

(*Based on third-party lab testing sponsored by BlackBerry, under 4G and 3G wireless conditions, using a mixed-usage profile. Results will vary by carrier and network conditions.)