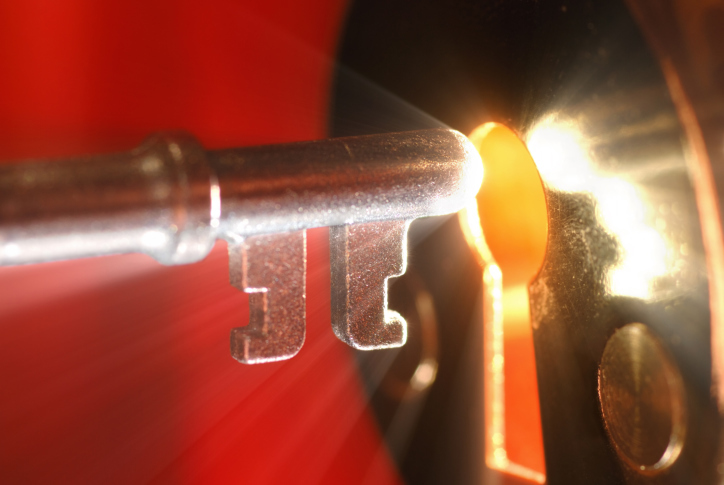 For many mobile phone users, it can pay to think outside of the box – the signature box of a two-year wireless contract. Going with a contract brings a wide selection of smartphones at a low upfront price. It can be a safe choice if cash flow is your primary concern, which is why it's so popular.
But going the tried-and-true route will, in the long run, probably cost you more. Consumers who buy an unlocked phone and shop around for a discount prepaid or pay-as-you-go deal can save up to $1,000 over two years (I'll explain how in more detail later). They also enjoy other benefits that customers locked into a wireless contract don't, such as being able to switch carriers in case of life changes (new job, moving cross-country or abroad, etc.), travel, and other reasons.
And what if you could get a top-notch unlocked phone for the same upfront price as competing carrier-locked models? At ShopBlackBerry.com during the month of November, we've dropped the prices of BlackBerry 10 phones such as the Z10, Z30, Q5 and Q10 up to 55%. The keyboard-enabled Q5 and Q10 are available for $159 and $199, respectively, while the all-touch Z30 costs just $299. Discounts available in the US, Canada, UK, France and Germany-click on the banner below.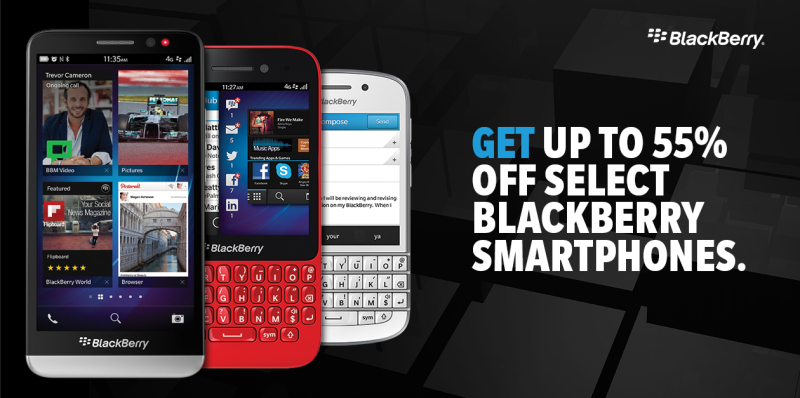 (Meanwhile, our new, highly-demanded phone, the BlackBerry Passport, is back in stock, unlocked, and on sale for $100 off.)
Demystifying Unlocked
For those not in the know, unlocked phones may carry a whiff of impropriety. Actually, unlocked merely means that the carrier didn't provide you with a SIM card locking you to its service. That leaves you free to comparison shop and switch between different carriers operating on the same wireless technology – either GSM or CDMA. Here's a great primer by my colleague Matt Young on how to swap SIM cards and change carriers with your BlackBerry 10 smartphone.
Don't confuse unlocked phones with those that are "jailbroken" or "rooted." Such phones have been hacked post-purchase so that they can download unapproved apps and get services that carriers might not approve of. BlackBerry phones purchased at ShopBlackBerry (or Amazon.com) are only unlocked.
Real-World Example
Orun Bhuiyan is a living, breathing example of all the benefits of going unlocked. A 26-year-old marketing technologist at SEOcial in Toronto, Bhuiyan uses a BlackBerry Z10 with a small Canadian carrier. He pays $50 per month for unlimited talk, text, some data and extras. That, he figures, is a 55% monthly savings over what he'd pay on a mainstream carrier contract.
"Aside from saving on monthly fees, going with an unlocked phone is advantageous because I can use it while traveling to other countries without incurring roaming charges," Bhuiyan says. He does that by buying a SIM card at his destination and using a local number.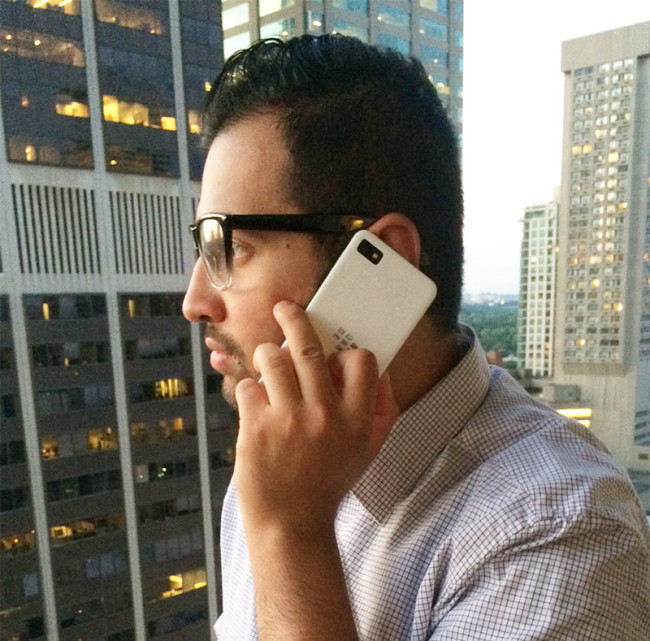 Orun Bhuiyan has saved 55% on his monthly phone bill by switching to a Z10 and a discount Canadian carrier.
Bhuiyan also gets to keep the secure phone of his choice. "What I love about the Z10 is the emphasis on security across numerous touch points of the user interface," he says. "As a security-conscious power user this is very appealing to me. It's an advantage that Android and iOS just don't have."
Calculating Your Total Cost
You could choose an unlocked phone of any brand, but you'd maximize your savings by going BlackBerry during the month of November.
As of November 7, a refurbished, unlocked iPhone 32 GB 5s costs $499 on Amazon.com, while a 16 GB Samsung Galaxy S5 (in white) costs $529. That is 60% to 330% more expensive than the BlackBerry 10 smartphones on discount in November.
As for your total cost, I know that wading through all the contracts and service plans is a gruelling task that might make Sisyphus go offline. To give you a sense of how much you could save, I've done some real-world comparisons using actual price data from two pay-as-you-go carriers in the United States. I assumed users would chose 3 GB/month plans. Note that these costs don't include activation and other fees, and that costs can drop with smaller data plans.
---
Prepaid Carrier No. 1 vs. Large Contract Carrier:*
Z30 via Shop BlackBerry: $299; Q10: $199; 16 GB iPhone 5S on contract with large carrier: $100
Prepaid carrier: $35/month for 3GB/month of data; Large, contract carrier: $80/month for 3GB/month of data
Z30 TCO (24 months): $1,139; Q10 TCO (24 months): $1,039
iPhone 5S TCO (24 months): $2,020
Two-year savings with BlackBerry Z30: $881, or 44%
Two-year savings with BlackBerry Q10: $981, or 49%
Prepaid Carrier No. 2 vs Large Contract Carrier:*
Q10 via Shop BlackBerry: $199; Q5: $159; Samsung Galaxy S4 via large contract carrier: $80
Pre-paid carrier: $45/month for 3GB/month of high-speed data (lower-speed data after that)
Large, contract carrier: $80/month for 3GB/month of data
Q10 TCO (24 months): $1,279; Q5 TCO (24 months): $1,239
Samsung Galaxy S4 TCO (24 months): $2,000
Two-year savings with BlackBerry Q10: $721, or 36%
Two-year savings with BlackBerry Q5: $761, or 38%
---
By keeping your mind open to less-well-known providers, you could save up to $1,000 over two years, slashing your total bill by as much as half. Of course, in the pay-as-you-go world, service quality and coverage can vary just as much as the prices, so please ask your friends and do your own research.
Looking Beyond the Short-Term
The good thing, though, is that if you're not happy with your pay-as-you-go provider, you can just switch services at the end of the month without paying an early termination fee (ETF) like your on-contract counterparts.
Besides flexibility, there are other benefits. While an unlocked phone may cost more than a locked one, you'll get more money for it when you trade it in or sell it on Craigslist or Kijiji. That's due to the greater flexibility of unlocked phones, their relative scarcity, and the reality that unlocking a phone via a third party service can cost money.
Also, remember that with unlocked phones on pay-as-you-services, you can sell your existing handset anytime and buy a new, upgraded phone to keep the newest technology in your hands. And as Bhuiyan can testify, an unlocked phone is also easier – and cheaper – to set up for overseas use when traveling.
---
* These scenarios are estimates calculated based on information available on the day of publication. They do not guarantee any savings and are solely intended for demonstration purposes.