Causing break-ups is never our intention, but if BlackBerry is your true love, we won't stand in anyone's way. Through Instagram I discovered Tamara Clarke, a Middle East-based tech lifestyle journalist who has reconsidered her relationship with Apple after getting introduced to the BlackBerry Passport. We don't go around ruining happy homes – Tamara proudly shares that the BlackBerry Curve was her first love, so it's about time she came back to us.
(Check out National Post journalist Jonathan Kay's article 'Why I ditched my iPhone for BlackBerry's massive new Passport') as well as our other profiles of BlackBerry Passport users, including this university professor, pharmaceutical CEO, software manager, and insurance salesman.)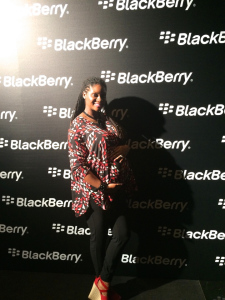 Watts: What is it about the BlackBerry Passport that made you revert back to BlackBerry?
Clarke:  Initially, I was drawn to the innovative, square-ish shape of the BlackBerry Passport. The concept of a larger smartphone that let me "work wide" as opposed to "work narrow" piqued my interest. After having it and discovering it's packed with features that are useful for businesses and consumers, I think it will do well.
Watts:  Interesting that the "work wide" concept appealed to you. As a woman you weren't concerned about the phone being too big?
Clarke: Nope, the BlackBerry Passport hasn't felt awkward or oversized. In fact, I'd be more prone to describe the Passport as "sexy." I recall tweeting that I needed a new pair of black Christian Louboutins to complement my new gadget.
The only interference I've noted is from having long fingernails. I usually keep my nails short, but as they've grown out, I've had to be more deliberate when using the keyboard. Other than that, it isn't too big or masculine.
Watts: At least you always have a reason to get a manicure. But tell me, how does the BlackBerry Passport fit into your line of work?
Clarke: I am a tech journalist who contributes a monthly feature called #TamTalksTech to Entrepreneur Magazine Middle East. The BlackBerry Passport has added mobility to my document management. There are tasks I used to do exclusively on my laptop that I can now complete from the Passport, like adding information to a spreadsheet. BlackBerry Blend also aids in mobility management by allowing me to access files from any device. With BlackBerry Blend, I can access my Passport documents from my laptop and continue working.
The Passport also allows me to stay better connected to my Editor-in-Chief, who is a BlackBerry loyalist, via BBM. I can quickly message her about anything, and, for added flexibility, submit and edit assignments on the go. I definitely see the long-term usage of the BlackBerry Passport. It's a productivity tool.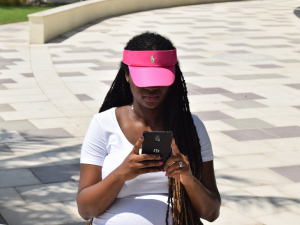 Watts: How has the user experience with your new phone been so far?
Clarke: So far, so good! After using an iPhone almost exclusively for the last four years, I've had to get acclimated to a full keyboard again. Getting used to the gestures has taken some time, but I've used it to get things done in a timely manner.
And I as stated earlier, the BlackBerry Passport is a new addition to my productivity toolset.
Watts: How are the core experiences, such as typing, browsing, email and BlackBerry Hub?
Clarke: Typing, as I mentioned just takes some getting used to when coming from a device that is touchscreen-only. It has a Virtual Assistant that I've seen in action, and it understands context! It's better than Siri.
Browsing is adequate. I appreciate being able to see up to nine thumbnails of open browsers on a single screen. BlackBerry Hub also presents a new way to track notifications. I like that the notifications all remain in one place until I delete them. It gives Type A personalities like myself even more control over the experience and lets me stay on top of things.
Email was seamless and easy to set up. The Yahoo client (yes, I still use Yahoo Mail) was only a two-step process requiring basic information. I was also able to set up my self-hosted email in a matter of minutes using IMAP.
Watts:  What reactions has your Passport received from peers, colleagues, and friends?
Clarke: It has received positive reactions from friends and followers. It was launched in the Middle East and North Africa region the same week another notable smartphone maker released a new line of devices. I attended both events and posted pictures and facts about both phones on Instagram. The photos of the BlackBerry Passport outperformed its competitor; the black model received 63% more likes on Instagram, while the white Passport received 69% more likes than the other manufacturer's phone posted that week.
Watts: Thanks, Tamara. We appreciate your feedback! We can't wait to hear about any new discoveries you make with the BlackBerry Passport via #TamTalksTech.
Pricing and Availability
You can get your factory-unlocked BlackBerry Passport from ShopBlackBerry.com at these links:
Black (currently $599, regular $699)
White (currently $599, regular $699)
…and at Amazon HERE, with AT&T offering it for $649.99 unsubsidized or $199.99 with a 2-year contract. The BlackBerry Passport is also available in Canada via Rogers for $249 and Telus (for as low as $150 up front) and other carriers.
For those outside the North American market, you can get your BlackBerry Passport directly from us at our global shopping portal HERE.
(Check with your local carrier for device compatibility.)
Remember – the BlackBerry Passport has a battery capacity that exceeds all rivals in milliamp hours:*
| | |
| --- | --- |
| | Runtime |
| BlackBerry Passport | 30 hours |
| Samsung Galaxy S5 | 23 hours |
| iPhone 6 | 21 hours |
| iPhone 6 Plus | 25 hours |

(*Based on third-party lab testing sponsored by BlackBerry, under 4G and 3G wireless conditions, using a mixed-usage profile. Results will vary by carrier and network conditions.)