How Masai Ujiri, President and General Manager, Toronto Raptors is using the BlackBerry Passport to Work Wide From YYZ to ZAR and Back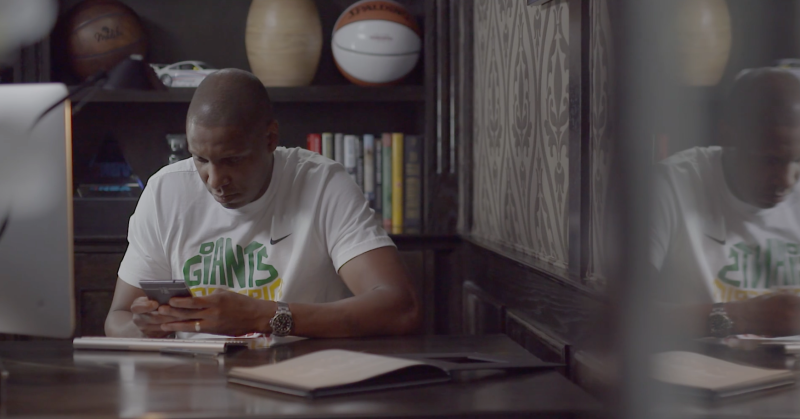 Maple Leaf Sports & Entertainment is Toronto's dominant sports entertainment operator, running the Toronto Maple Leafs pro hockey team, Toronto Raptors NBA basketball team, Toronto FC soccer team, the stadiums and arenas these teams play in, and more. MLSE's sports executives are among the busiest on the planet. The BlackBerry Passport is proving to be such an invaluable productivity tool for them.
We sat down with Masai Ujiri, President and General Manager of the Toronto Raptors and founder of the non-profit organization, Giants of Africa, to talk Raptors, his work with Giants of Africa, and how his BlackBerry Passport helps Ujiri stay on track and productive.
A native of Zaria, Nigeria, Masai became the first African-born GM in the NBA in 2010 with the Denver Nuggets before moving into his role at MLSE. In addition to his work in the NBA, Ujiri founded Giants of Africa in 2003 to use basketball as a means to educate and enrich the lives of African youth. Those are some serious responsibilities. That's why Ujiri uses his BlackBerry Passport to work wide and see the bigger picture.
Mitchell: Between the Raptors and Giants of Africa, how does your BlackBerry Passport help you stay on top of everything?
Ujiri: Well this thing is crazy – it's our life now, right? The BlackBerry Passport has made a huge difference for me. It's like a real passport; it's the key to everything. Pictures, emails, work stuff you have to type up, my calendar…trust me. I'm always on my calendar and schedule. You're typing fast, you're receiving fast, and that's daily life. It's 24/7 and it flows.

Everyone looks at me and says, 'you're always on your phone' – it's the first thing and last thing I think about. Is it charged, is it there? Are there any messages, texts, emails? I think it's incredible the way that the world moves around this.
Mitchell: Which features of the Passport do you find help you the most?
Ujiri: What I found with the Blackberries is when it comes to battery time, it doesn't entirely run out. It sustains for me and I love it. It keeps me going. I'm always on the plane, and the first thing I look at when I land is my phone. You see everything on the screen. They've gone bigger and that makes it so much better. I like seeing bigger pictures of my daughter, and my emails. For me, the size is what makes it convenient. I can't wait to see a picture of my daughter, a text from my wife, and then I read all the emails I got.

Whether it's my staff, players, the NBA office, my business, my family, my owners, there are so many things I'm juggling and I can do it all in one place. This morning riding the bike at home I sent 10 emails – which to me is the easiest thing to do, easiest thing on the Passport. Send your e-mails, and you're done.

BlackBerry Assistant helps me work faster, too. I can activate things from my email or the content on my phone through voice assistant. It's the easiest thing to do. It's a fast device.
Mitchell: Tell us more about your involvement in Giants of Africa? And how does your BlackBerry Passport help you there?
Ujiri: Giants of Africa started about 12 years ago. We just had this idea of camps in Africa to give kids opportunities through sports and through basketball. When I was growing up, I went to one camp. There are very, very few camps in Africa and Nigeria and I thought it would be a great way to give kids opportunity.

The scope of the work is just going back, organizing camps, helping kids, trying to show them some kind of pathway. Maybe it's through school, education…it's using basketball as a tool to grow. Basically, like, just figure out a way to help African youth using basketball and sports as a tool. Sports bring people together, and that's what we (Giants of Africa) are all about.

I talked about being in Africa – being in remote areas, and you turn your BlackBerry on and it's all right there. You see that 3G or 4G, you got your service, and boom! Everything shows up on there! You do all your work on it, like you can be anywhere. You can get your messages and your e-mails through as fast as anything in the world. I think a BlackBerry is the most convenient thing in this day and age in terms of whether its corporate communication or work you do daily.
Mitchell: Thanks so much for taking the time to speak with us, Masai. Best of luck to the Raptors this season! To learn more about Giants of Africa, please visit http://www.giantsofafrica.org.
Pricing and Availability
You can get your factory-unlocked BlackBerry Passport from ShopBlackBerry.com at these links:
Black (currently $599, regular $699)
White (currently $599, regular $699)
…and at Amazon HERE, with AT&T offering it for $649.99 unsubsidized or $199.99 with a 2-year contract. The BlackBerry Passport is also available in Canada via Rogers for $249 and Telus (for as low as $150 up front) and other carriers.
For those outside the North American market, you can get your BlackBerry Passport directly from us at our global shopping portal HERE.
(Check with your local carrier for device compatibility.)
Remember – the BlackBerry Passport has a battery capacity that exceeds all rivals in milliamp hours:*
| | |
| --- | --- |
| | Runtime |
| BlackBerry Passport | 30 hours |
| Samsung Galaxy S5 | 23 hours |
| iPhone 6 | 21 hours |
| iPhone 6 Plus | 25 hours |