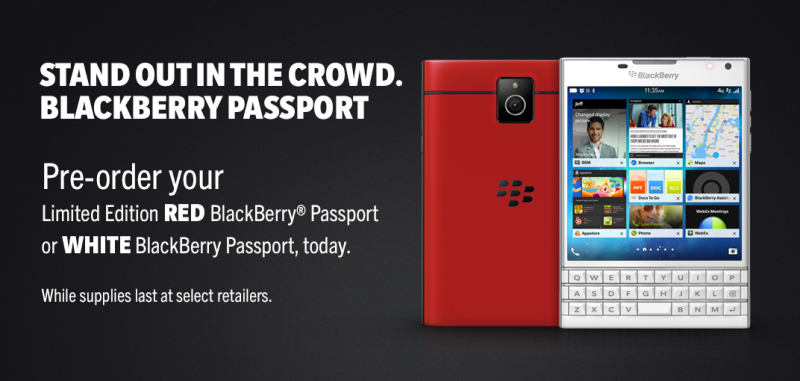 New Colors Celebrate the Holidays and Offer Users Choice to Best Suit Their Styles
A few weeks ago at the BlackBerry Enterprise Portfolio launch, John Chen gave you a glimpse of the red BlackBerry Passport. It's available for North American customers to pre-order starting today from ShopBlackBerry.com and will be on sale on November 28th. Customers in the United States may also buy it from Amazon.com. We're introducing a white BlackBerry Passport as well, just in time for the holiday shopping season. It is available on ShopBlackBerry.com for pre-order, today and the white BlackBerry Passport is also available for pre-order, in the U.S., from Amazon.com.
When you combine this news with the recently-announced Black Friday deal for the BlackBerry Passport in black, enthusiasts definitely have something to celebrate. Scroll down right away if you're impatient to see some beauty shots of these new models.
In a press release, John Chen, Executive Chair and CEO at BlackBerry, had this to say:
"We are thrilled with the positive reception the BlackBerry Passport has received since we launched in September. The introduction of the red and the white BlackBerry Passport colors underscores our commitment to break through the sea of rectangular, all-touch devices, offering different styles that meet mobile professionals' personalities."
For months, the unique BlackBerry Passport has been turning heads – in any color – because of its shape, large square touchscreen and incredibly innovative touch-enabled keyboard. I've been using the black model for months now . . . and mine is performing amazingly. Don't just take my word for it: The 4.8 out of 5 rating on Amazon speaks volumes. Though, admittedly the geek inside me wants to get my hands on a red BlackBerry Passport ASAP. Just look at it!

With the powerful battery life, productivity apps available in BlackBerry World and swath of Android apps  via the Amazon Appstore, these new models will no doubt be on the wish list of productivity devotees worldwide who want to Work Wide (see what I did there?).
If you like what you're reading, you can pick up the BlackBerry Passport today from ShopBlackBerry.com. If red or white isn't for you, you can get a fantastic deal on the BlackBerry Passport in black.
Online pre-orders for red and white begin to roll out on November 24 and they go on sale November 28 through ShopBlackBerry.com and Amazon.com for delivery in North America.
More details about market availability will be announced in the coming weeks. If you're eager and want to learn more about the BlackBerry Passport, check out BlackBerry.com/Passport. Or learn how to pair it with Blend by visiting BlackBerry.com/Blend.
Let us know how you feel about the #RedPassport or #WhitePassport. . . full-on high resolution beauty shots below.
And don't forget:
The BlackBerry Passport has the best runtime among ALL rivals*:
| | |
| --- | --- |
| | Runtime |
| BlackBerry Passport | 30 hours |
| Samsung Galaxy S5 | 23 hours |
| iPhone 6 | 21 hours |
| iPhone 6 Plus | 25 hours |
(*Based on third-party lab testing sponsored by BlackBerry, under 4G and 3G wireless conditions, using a mixed-usage profile. Results will vary by carrier and network conditions.)
Pricing and Availability
You can get your factory-unlocked BlackBerry Passport from ShopBlackBerry.com at these links:
Black (currently $599, regular $699)
White (currently $599, regular $699)
…and at Amazon HERE, with AT&T offering it for $649.99 unsubsidized or $199.99 with a 2-year contract. The BlackBerry Passport is also available in Canada via Rogers for $249 and Telus (for as low as $150 up front) and other carriers.
For those outside the North American market, you can get your BlackBerry Passport directly from us at our global shopping portal HERE.
(Check with your local carrier for device compatibility.)