Who rushes out the door to work before his morning coffee and forgets his BlackBerry in the house?
This guy (thumbs pointed at self). And, evidently, that guy: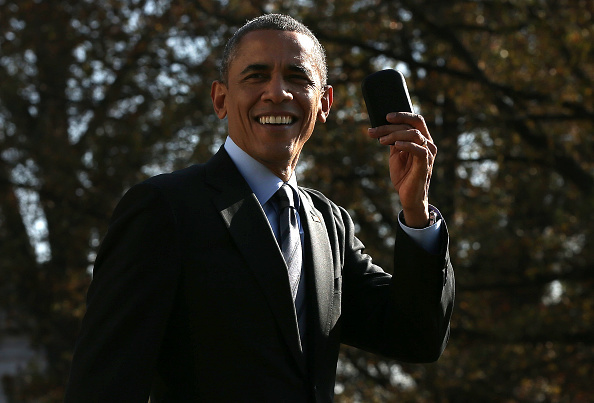 Source: Getty Images
The media were rife Friday morning with pictures of President Barack Obama sprinting back from the Presidential helicopter back into the White House to retrieve his trusty, secure phone (here's a video).
As the Wall Street Journal described it: "President Barack Obama is still a BlackBerry fan. The president's attachment to the device was on full display Friday. Mr. Obama left the White House and crossed the lawn to get on Marine One, the first step in his trip to Las Vegas for an immigration speech later in the day. But he quickly got off the helicopter and headed back into the White House. He told reporters: 'I forgot something.'
After re-emerging from the White House, he said: 'Didn't you guys ever forget something?' Asked what he forgot, he held up his phone. 'My BlackBerry,' he said as he got back on Marine One."
That Obama. Forget for a moment that he's the leader of the world's most powerful nation. He makes the same regular-guy mistakes as the rest of us.
Of course, there are great reasons why Obama continues to use BlackBerry. Not only does the keyboard keep him ultra-productive, but also ultra-secure. The Wall Street Journal: "Mr. Obama has cited security concerns as one reason he has stuck with the brand. 'I am not allowed, for security reasons, to have an iPhone,' Mr. Obama told a group of young people back in 2013."
Other political players feel the same way. "They love 'em [BlackBerry devices] in D.C.," Kara Swisher, executive editor of Silicon Valley tech publication Re/Code, said on CNBC. "It's security issues."
Obama is far from the only world leader choosing us. As we've noted on this blog, UK Prime Minister David Cameron, German Chancellor Angela Merkel, Danish Prime Minister Helle Thorning-Schmidt are among the world leaders who are known to use BlackBerry devices. Merkel uses a BlackBerry Q10 specially-augmented with voice encryption technology from our recent acquisition, SecuSmart.
Personally, I'm a little surprised Obama got all the way to the helicopter before running back in. As a professed CrackBerry addict, wouldn't he have missed this immediately?