This is a guest post by Silicon Valley-based engineer and startup advisor, Jim Opfer.
I admit that I've been a BlackBerry user since the late '90s. I've used just about every BlackBerry ever made, starting with a 950-series pager through the Pearls, all the way to the present BlackBerry 10 devices. Want proof? Take a look:

For the past year, the Z30 was my favorite workhorse device. It's the size of the new iPhone 6 and has been out for over a year. I had gotten totally comfortable with the all-touch keyboard, but I just had to try out the Passport. A game changer? You be the judge.
I learned that there are 11 hurdles one has to get over before they can fall madly in love with the Passport:
A phone is not supposed to have a wide, square screen. The Passport is a WIDE phone with a square screen. BlackBerry's message is "work wide." Here it is, next to the iPhone 6. It's exactly the size of your passport.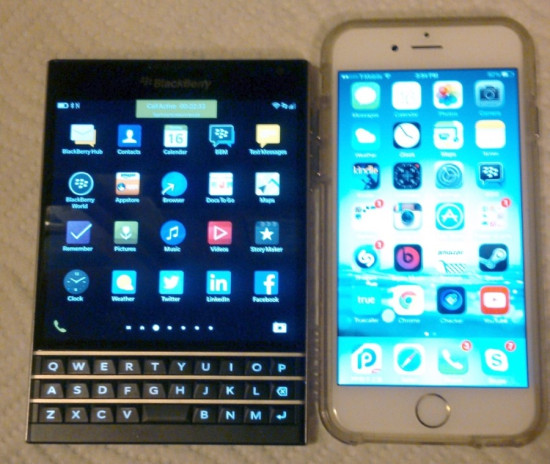 This clearly shows the size difference between the two phones. It's definitely "working wide."
Phones aren't supposed to have keyboards anymore.
The Passport's keyboard is elegantly designed, with only three rows of keys, but the real value is the predictive type. I typed "the quick brown fox jumps over the lazy dog," and I only had to hit three keys. The word suggestions pop up on the screen as you type, and then you just tap the word of choice.
Only laptops have trackpads.
But the Passport has a trackpad built into the keyboard. It sounds crazy until you use it. The whole three-row keyboard is capacitive touch – up, down, left, right. This works for everything from scrolling through emails to scrolling through web pages.
A BlackBerry isn't supposed to have access to too many applications or games, but the Passport has access to too many!
The Passport is marketed as a business phone, but with the Android run time and a quad-core processor, it can run thousands of games perfectly. There goes the business productivity!
A phone can't possibly have all notifications and messages in one app, but the Passport does.
The feature called BlackBerry Hub has been around for over two years on BlackBerry OS 10.0, but it really shines on the wide Passport! In a nutshell, ALL messages and notifications are in one place – emails, phone calls, Twitter, Facebook, LinkedIn, Skype, etc. This capability doesn't exist on any iOS or Android device.
A phone this rugged isn't supposed to be beautiful and sexy.
But it is! See this link for people-on-the-street reactions: http://blogs.blackberry.com/2014/10/street-level-reaction-passport/.
The Passport has a stainless steel I-beam frame construction and uses Corning Gorilla glass. Watch this video of two guys throwing it, trying to break it: http://crackberry.com/axiom-puts-blackberry-passport-through-some-extreme-drop-testing.
For me, the phone is too elegant to put inside a case. My solution is to attach a lanyard tab to the back (available on Amazon). See picture below.

A BlackBerry camera isn't supposed to be as good as an iPhone or Samsung Galaxy camera, but it is.
I won't spend much time on this one. You can check it out for yourself here: 13 MP, 4128 x 3096 pixels, autofocus, optical image stabilization, LED flash, check quality.
For complete Passport specs: http://www.gsmarena.com/blackberry_passport-6457.php.
A phone doesn't need more than 16-32 GB of memory.
But the Passport supports up to 160 GB of storage. The phone comes with 3 GB of RAM, another 32 GB of memory, and supports Micro SD Cards up to 128 GB. And the Passport costs $100 less than the iPhone 6.
A phone isn't supposed to support heavy use all day without needing a charge.
The Passport sports a powerful non-removable Li-Ion 3450 mAh battery. The talk time is actually advertised at 23 hours on 3G! It's a good idea to remind yourself to charge it every other day.
BlackBerry isn't supposed to have a voice assistant that's as good as Siri.
But it basically matches Siri, and in many cases is even better. Try asking Siri to show you all emails from "xxx." You can watch a comparison video here: https://www.youtube.com/watch?v=QdJ4_kxL8v4.
A phone isn't supposed to have a lock screen that is more secure than the iPhone's fingerprint reader.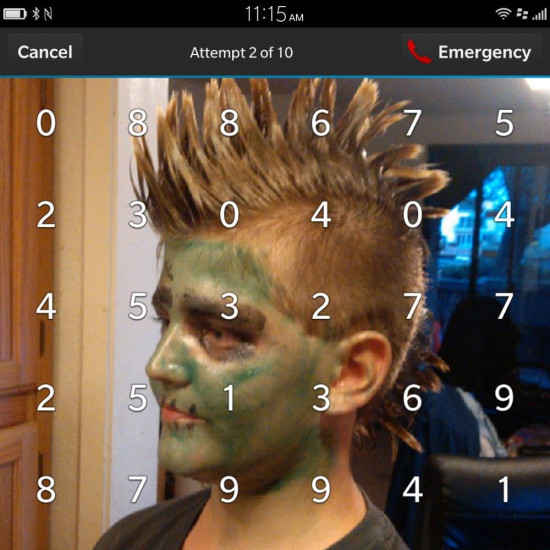 Well, read this: "7-Year-Old Boy Uses Sleeping Dad's Finger to Unlock iPhone."

The Passport has Picture Password Unlock as an option. You basically drag a selected number from 0-9 over an exact location (previously set) on a picture of your choice. My 11-year-old son has watched me use it many times, and he still can't figure it out. Fail more than 10 times, and the Passport wipes itself clean.
Here's my Picture Password to the right. I challenge anyone to figure it out. If they do, I'll send them a free Passport.
Summary:
Once you work wide, you'll never go back! After using the Passport for three hours, I held it next to my trusty Z30. OMG, that Z30 is too narrow for productive work! Now it's been three weeks, and I'll never go back!
Pricing and Availability
You can get your factory-unlocked BlackBerry Passport from ShopBlackBerry.com at these links:
Black (currently $599, regular $699)
White (currently $599, regular $699)
…and at Amazon HERE, with AT&T offering it for $649.99 unsubsidized or $199.99 with a 2-year contract. The BlackBerry Passport is also available in Canada via Rogers for $249 and Telus (for as low as $150 up front) and other carriers.
For those outside the North American market, you can get your BlackBerry Passport directly from us at our global shopping portal HERE.
(Check with your local carrier for device compatibility)
Remember – the BlackBerry Passport has a battery capacity that exceeds all rivals in milliamp hours:*
| | |
| --- | --- |
| | Runtime |
| BlackBerry Passport | 30 hours |
| Samsung Galaxy S5 | 23 hours |
| iPhone 6 | 21 hours |
| iPhone 6 Plus | 25 hours |
(*Based on third-party lab testing sponsored by BlackBerry, under 4G and 3G wireless conditions, using a mixed-usage profile. Results will vary by carrier and network conditions.)